Wall Street Breakfast: Must-Know News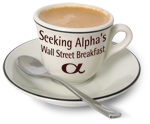 Google uncensored. Google (GOOG) confirmed that it has stopped censoring its search engine in China, though it plans to maintain sales and R&D teams there. Visitors to Google.cn are being redirected to Google.hk, and Google says it's completely legal to have the Hong Kong service deliver uncensored results in simplified Chinese. The Chinese government says Google has broken its promise and is "totally wrong," while the U.S. government is "disappointed" that Google and China failed to reach a compromise. Residents of mainland China expressed regret at Google's decision, worried that China will choose to simply shut Google's site down rather than let it exploit the "one country, two systems" loophole.
Google wins EU trademark case. The European Court of Justice ruled this morning that Google (GOOG) hadn't violated the rights of luxury goods maker Louis Vuitton (LVMUY.PK) and two other firms by allowing advertisers to buy keywords identical to trademarks. Google may be liable for policing trademark infringements in advertising content on its site, but that is up to a national court to decide.
Senate panel approves financial reform. The Senate Banking Committee approved a financial regulatory reform bill in a 13-10 vote along party lines, sending the 1,336-page bill to the full Senate for review in April. If approved, the bill will create a regulators council to oversee risk, create a wind-down process for failing financial firms, tighten legislation for the derivatives market and take steps to prevent a future financial crisis.
Pay czar takes a closer look at past pay. Ken Feinberg, the "pay czar," reportedly plans to examine past payouts to executives at 419 firms that received TARP funds, including Goldman Sachs (GS), JPMorgan (JPM) and Morgan Stanley (MS). In particular, Feinberg will check whether the top 25 executives at any of these firms received more than $500,000 between October 2008 and February 2009, the window in which firms had received TARP funds but weren't yet subject to executive-compensation restrictions. Though Feinberg doesn't have enforcement authority, he can seek to negotiate if he finds any payments that were excessive or contrary to public interest.
Jones Soda ends Reed's exclusivity clause. Jones Soda (JSDA) has terminated the exclusivity provision of a potential merger deal with Reed's (REED) in order to explore an unsolicited bid by a third party. Earlier this month, struggling Jones Soda had signed a letter of intent to be acquired by Reed's for about $9.7M in cash and stock. Separately, Jones Soda received a letter from Nasdaq that its shares haven't regained compliance with the $1/share minimum requirement, and trading of its common stock will be suspended as of March 25 unless Jones Soda requests a hearing to appeal by today. JSDA rose 25% in after hours trading to $0.65.
Zale considers Sun Capital financing offer. Sources said Zale (ZLC) has rejected an offer by Apollo Management to buy a stake in the struggling jewelry retailer, but is seriously considering a less-ambitious financing offer from private-equity firm Sun Capital. Sun Capital reportedly offered to invest $50M-100M for preferred stock that could eventually give it a majority stake in Zale, and would provide a bridge loan while Zale tries to refinance its debt. ZLC +2.8% premarket (7:00 ET).
Biogen makes concession to Icahn. Biogen Idec (BIIB) reached an agreement with Carl Icahn in which it will add two members to its board, one of whom was on the three-person slate Icahn nominated in January. Icahn said he "applaud[s] the board for acting so responsibly," and will push for a sale of the company. "Biogen has a great pipeline with great drugs, that at the right price" should be sold to a big pharmaceutical company, he said.
Geithner: Housing finance system needs change. Treasury's Geithner will testify before Congress later today on the need for change in the current housing finance system. According to prepared testimony, Geithner will argue that "private gains can no longer be supported by the umbrella of public protection, capital standards must be higher and excessive risk-taking must be appropriately restrained." Though the effective nationalization of Fannie Mae (FNM) and Freddie Mac (FRE) was a mistake, "there should be no uncertainty" that the government will continue to support the two mortgage giants during the transition to a new system.
Rio employees admit to charges in China trial. The trial of four Rio Tinto (RTP) employees in China is not turning out as Rio had expected. All four defendants have admitted to at least some of the bribery charges that were leveled against them, embarrassing Rio Tinto which had previously said the charges were "without foundation." However, it's possible that the admissions are a legal strategy; pleas of innocence are hard to defend in Chinese courts, whereas pleading guilty while downplaying the extent of the wrongdoing can often bring lighter sentences. The trial continues today with charges of stealing commercial secrets.
Toshiba confirms nuclear plans. Toshiba (TOSBF.PK) confirmed that it may team up with Bill Gates and his company TerraPower to develop an advanced nuclear reactor. According to media reports, the new reactor would be able operate for up to 100 years without refueling, as opposed to current light-water reactors which must be refueled every few years. The news sent Toshiba shares up 3.6% in Tokyo trading (7:00 ET).
Apollo Management plans IPO. Apollo Management filed for an initial public offering on the New York Stock Exchange, with plans to offer up to $50 of shares. Apollo, which currently trades on a private exchange, had previously announced its intention to move it shares to the NYSE, but hadn't previously proposed a share offering in the process. The $50M of shares would represent only a small percentage of the overall company.
Berkshire slakes its thirst. Berkshire Hathaway (BRK.A) agreed to buy Kahn Ventures Inc, a wholesale distributor of distilled spirits, wine and beer in Georgia and North Carolina, just weeks after completing a $26.5B takeover of railroad company Burlington Northern Santa Fe. Berkshire expects the acquisition will "provide us with a solid platform for potentially acquiring other similar high quality wholesale distributors." Terms of the deal were not disclosed.
MGM bids fall short. Time Warner (TWX), Lions Gate Entertainment (LGF) and Access Industries reportedly placed bids for studio Metro-Goldwyn-Mayer. Time Warner's bid is said to be the highest of the three, which all fell in the $1.2B-$1.5B range, far short of the $2B MGM had hoped for. MGM confirmed it "received a number of bids" which it will review over the next "several weeks."
Earnings: Monday After Close
Phillips-Van Heusen (PVH): Q4 EPS of $0.61 beats by $0.02. Revenue of $615M (+9.5%) vs. $609M. Guides Q1 EPS in-line, revenue above consensus. Shares +1% AH. (PR)
Today's Markets
In Asia, Nikkei -0.5% to 10774. Hang Seng +0.3% to 20988. Shanghai -0.7% to 3053. BSE +0.2% to 17451.
In Europe at midday, London +0.8% to 5692. Paris +0.6% to 3952. Frankfurt +0.5% to 6017.
Futures: Dow +0.1%. S&P +0.15%. Nasdaq +0.15%. Crude flat at $81.25. Gold +0.1% to $1100.60.
Tuesday's Economic Calendar
6:00 Fed's Plosser: Policy Rules in an Uncertain Environment 7:45 ICSC Retail Store Sales 8:55 Redbook Chain Store Sales 10:00 Existing Home Sales 10:00 FHFA Housing Price Index 10:00 Richmond Fed Mfg. 10:00 Hearing: Perspectives on Housing Finance 3:00 PM Fed's Yellen: Economic Outlook 5:00 PM ABC Consumer Confidence Index
Notable earnings before Tuesday's open: CCL, KBH, WAG
Notable earnings after Tuesday's close: ADBE, DRI, JBL, SONC
Seeking Alpha editors Eli Hoffmann and Jason Aycock contributed to this post.Complete Story »