Wall Street Breakfast: Must-Know News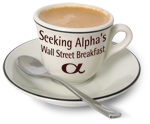 Borders loses two execs. More bad news for troubled Borders (BGP), after the announcement late yesterday that general counsel Thomas Carney and chief information officer D. Scott Laverty had both resigned their posts. When asked for further comments, Borders said that as part of its previously disclosed efforts to improve liquidity, "we have evaluated our leadership structure and, as a result, some positions have been eliminated." The news follows Borders' disclosure last week that it would delay payments to some vendors as it tries to refinance senior credit facilities, and this week's announcement by publisher Rowman & Littlefield that it would temporarily halt shipments to Borders. In AH trading, shares -8.3%.
New option for AIG's Taiwan unit. Taiwan Secom Group put forth a proposal this morning to jointly run AIG's (AIG) Taiwan unit in partnership with the bailed-out insurer, the latest twist in AIG's protracted efforts to offload the unit. Taiwan Secom didn't participate in the first round of bidding that AIG held last month for its Nan Shan unit, but says it's 'serious' about its proposal and is setting up a holding company with Hong Kong investment firm Primus Financial to acquire a stake in Nan Shan. It's unclear whether AIG is amenable to the option of co-running the unit.
iGate's Patni investment delayed. iGate (IGTE) is still planning to move ahead with a $900M-plus investment to buy a majority stake in India's Patni Computer Services (PTI), sources said, despite the fact that iGate earlier this week canceled a press conference and said "the significant corporate development that was set to be announced on Monday is off." Apparently the hold-up is related to some last-minute tax issues, but the deal is reportedly still on and expected to be finalized next week.
White House clears some Gulf drillers. Facing heavy pressure from the oil industry, the Obama administration said it would clear the way for 13 companies to resume work on deepwater wells in the Gulf of Mexico. The thirteen firms in question, including Chevron (CVX) and Shell (RDS.A), had already received approval for their wells and work was underway before a temporary drilling moratorium was put in place. Though the moratorium was lifted in October, firms haven't been allowed to go back to work yet; industry leaders praised the decision but said more details were needed.
CFTC needs Plan B for swaps oversight. The CFTC is counting on a $92M budget increase this year, and even more in 2012, to cover the costs of its expanded responsibilities, including the oversight of the $600T swaps market. In the agency's bluntest comments on the matter to date, CFTC commissioner Scott O'Malia said "We may not get more dollars, so what are we going to do next? What's our Plan B?" O'Malia said the chronically underfunded agency is considering its options, including asking for help from private industry regulators, especially as shifting political winds may push lawmakers to slash government budgets.
Consumer bankruptcies climb. Consumer bankruptcies reached a five-year high in 2010, rising 9% from the year before to 1.53M filings, reported the American Bankruptcy Institute. Given that there's usually a 12-18 month lag between declines in consumer spending and bankruptcy levels, consumer bankruptcies may not peak until sometime this year.
Office market begins to bounce back. The amount of occupied U.S. office space increased for the first time in almost three years last quarter, and office rents rose by 0.2%, a modest increase but notable since it's the first uptick since Q2 2008. The office-market's recovery remains weak and the national vacancy rate of 17.6% is the highest in nearly two decades, but the data suggests more companies are slowly easing their way back into the leasing market.
Today's Markets
In Asia, Japan +1.6% to 10398.1. Hong Kong +1.0% to 23668. China +1.6% to 2853. India -0.3% to 20499.
In Europe, at midday, London +2.3%. Paris +1.0%. Frankfurt +0.3%.
Futures at 7:00: Dow +0.35%. S&P +0.3%. Nasdaq +0.3%. Crude +0.5% to $91.98. Gold -1.05% to $1407.90.
Tuesday's Economic Calendar
Auto sales 7:45 ICSC Retail Store Sales 8:55 Redbook Chain Store Sales 10:00 Factory Orders 2:00 PM FOMC minutes
Notable earnings after Tuesday's close: MOS
The SA Currents team contributed to this post.Complete Story »