Wall Street Breakfast: Must-Know News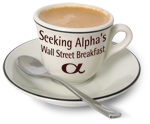 Goldman invests in Facebook. Goldman Sachs (GS) and Russia's Digital Sky Technologies have reportedly invested $500M in Facebook in a deal that values the social networking site at $50B. Goldman put in $450M, sources said, and Digital Sky, which has already invested around $500M in Facebook, contributed another $50M. Goldman now plans to create a special investment vehicle to allow its high-net worth clients to privately invest in Facebook, though growing pressure on Facebook may force it to go public sooner than it wants.
Tensions rise between airlines, travel sites. Expedia (EXPE) upped the ante in the showdown between airlines and online travel agencies, dropping American Airlines (AMR) from its listings. Last month, American pulled its listings from Expedia rival Orbitz (OWW) and Delta (DAL) pulled its listings from three travel websites. Airlines are getting more selective about where their flights may be listed, and are trying to promote their own brands while cutting the costs paid to third-party websites. Online travel agencies that may yet get involved: Priceline.com (PCLN) and Travelocity.com.
VW hangs onto chief. Volkswagen (VLKAY.PK) extended Martin Winterkorn's contract, keeping the chief executive in place for another five years as the company works to complete a merger with Porsche (POAHF.PK). Winterkorn became CEO in 2007, and has set some ambitious goals for the company, including trying to beat Toyota (TM), the largest carmaker, in sales and profit by 2018.
2011: The year of corporate spending? After taking some time to rebuild their balance sheets, U.S. companies flush with cash may finally feel comfortable enough to start spending again during 2011 on everything from new factories, increased hiring, acquisitions and expansion into faster-growing markets. As of Q3 2010, cash held by the 419 non-financial S&P firms was up 49% from pre-recession levels. Profits are higher too, with Q3 corporate profits of $1.64T, the highest in four years.
The unofficial drilling ban. The government's moratorium on deepwater-drilling in the Gulf of Mexico was lifted two months ago, but oil companies are still impatiently waiting for approval to resume drilling. The Obama administration, lauded by environmental groups, says it's simply trying to enforce new, stricter safety regulations in the aftermath of the Gulf spill, but experts say the foot-dragging will likely mean oil companies won't get the green light until at least the second half of 2011, if not in 2012. In the meantime, major firms like Chevron (CVX) and Shell (RDS.A) are paying hundreds of thousands of dollars a day for rigs that aren't allowed to drill, and smaller firms like ATP Oil & Gas (ATPG) are being hit even harder.
Today's Markets
In Asia, Japan closed. Hong Kong +1.7% to 23436. China closed. India +0.3% to 20561.
In Europe, at midday, London closed. Paris +1.7%. Frankfurt +1.5%.
Futures at 7:00: Dow +0.6%. S&P +0.6%. Nasdaq +0.8%. Crude +0.8% to $92.13. Gold -0.1% to $1420.20.
Monday's Economic Calendar
10:00 ISM Manufacturing Index10:00 Construction Spending
The SA Currents team contributed to this post.Complete Story »