Wall Street Breakfast: Must-Know News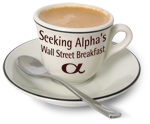 China cuts rare earth exports. China has once again reduced its rare earth export quota, with its first round of permits for 2011 allotting 14,446 metric tons of rare earth exports split between 31 companies. This is 11% less than 2010's first round of exports. China also said last month it would raise the export tax on some rare earth elements. The new restrictions should further boost North American rare earth miners like Molycorp (MCP) and Rare Element Resources (REE), both of which have posted triple-digit percentage gains this year.
Apple sued for privacy breach. A lawsuit brought against Apple (AAPL) claims the company allowed various apps to give users' personal information to advertisers without customers' consent. The suit, which is seeking class-action status, alleges that both the iPhone and iPad are encoded with identifying devices that can't be blocked and that allow advertisers to track such information as which apps were downloaded, how frequently they're used and for how long, while some apps actually sell user information such as gender, age, location, income and so on.
Ally reaches loan settlement with Fannie Mae. Ally Financial agreed to pay Fannie Mae (FNMA.OB) $462M in lieu of having to repurchase poorly underwritten mortgages. In the days when Ally was GMAC, it sold $292B of loans to Fannie. Ally had reached a smaller settlement with Freddie Mac (FMCC.OB) in March. The agreement removes on more hurdle to Ally's expected 2011 IPO.
Nasdaq eyes Japanese market. Nasdaq OMX Group (NDAQ) is considering a second attempt at setting up a market in Japan. According to domestic media reports, Nasdaq could open the exchange as soon as Jan. 2012 as it seeks to attract investors from emerging Asian economies, and the new market may allow trading of stocks listed on the Tokyo Stock Exchange. The Nasdaq Japan market, first opened in 2000, was closed two years later after the company's order-matching system failed to find favor with Japan's major brokerages.
China opens anti-dumping probe. China said it will begin an anti-dumping probe into U.S. sales of livestock feed. The feed in question, known as distiller's dried grains, is a byproduct of ethanol production from corn, and is expected to be a key new export for U.S. farmers. China's imports of the feed rose five-fold over the last year.
Today's Markets
In Asia, Japan -0.6% to 10293. Hong Kong -0.9% to 22622. China -1.7% to 2733. India flat at 20025.
In Europe, at midday, London closed. Paris +0.4%. Frankfurt +0.1%.
Futures at 7:00: Dow +0.2%. S&P +0.2%. Nasdaq +0.2%. Crude +0.3% to $91.27. Gold +1.1% to $1397.80.
Tuesday's Economic Calendar
7:45 ICSC Retail Store Sales 8:55 Redbook Chain Store Sales 9:00 S&P Case-Shiller Home Price Index 10:00 Consumer Confidence 10:00 Richmond Fed Mfg. 10:00 State Street Investor Confidence Index 1:00 PM Results of $35B, 5-Year Note Auction
The SA Currents team contributed to this post.Complete Story »