Wall Street Breakfast: Must-Know News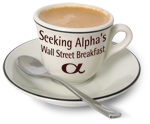 Deutsche Bank settles tax-shelter case. Deutsche Bank (DB) agreed to pay $554M and admit criminal wrongdoing as part of a settlement with the Justice Department of a long-running probe into illegal tax-shelters that allowed clients to avoid paying billions of dollars in U.S. taxes. The infractions occurred between 1996 and 2002. Deutsche Bank had already set aside provisions for the penalty and said there will be no effect on profitability.
Genzyme softening on Sanofi's offer. Genzyme (GENZ) is unexpectedly softening in its resistance to Sanofi-Aventis' (SNY) courtship, sources said, after the company reached out to other possible suitors including Pfizer (PFE), J&J (JNJ) and Merck (MRK) but found no serious takers. There's still plenty of disagreement between Genzyme and Sanofi over the $18.5B offer on the table, but advisers to both sides are reportedly discussing a deal structure known as contingent value right, or CVR, which would provide Genzyme with greater upside if its Campath drug proves as effective as it expects against multiple sclerosis. If talks on price and the CVR progress, the next step would be to allow Sanofi access to Genzyme's books.
Ernst & Young faces Lehman fraud charges. As expected, New York Attorney General Andrew Cuomo filed a civil fraud lawsuit against Ernst & Young, accusing the accounting firm of helping Lehman Brothers (LEHMQ.PK) hide its financial weakness from investors for years before the bank collapsed in 2008. Cuomo said the firm, which pocketed $150M in fees from Lehman, "directly facilitated a major accounting fraud, and... must be held accountable." It's worth noting that it's the New York Attorney General, and not the Office of the Comptroller of the Currency, that's filing the charges, adding weight to the public's gripe that bank regulators have taken shockingly little action in the wake of the financial crisis.
FCC rolls out net neutrality rules. The FCC voted 3-to-2 in favor of launching net neutrality rules, which would go into effect early next year. The uproar was immediate, as legal experts suggested the rules could be tied up in court for years and Republican lawmakers threatened to overturn them. Even if net neutrality isn't fully overturned, strong opposition from courts and Congress will likely dilute rules that were already called too weak by some of the FCC members who voted in favor of the new regime.
Mystery trader corners copper market. A mystery trader has acquired ownership of 80-90% of the copper sitting in London Metal Exchange warehouses, equal to around half the world's exchange-registered copper stockpile and worth about $3B. The news came as copper prices reached a record high yesterday of $4.2705 per pound, and the metal has notched a 28% gain this year. As the price of copper, as well as other commodities, continues to climb, investors are growing increasingly wary of the ability of a few traders to dominate the markets.
FTC approves Intel-McAfee deal. The FTC approved Intel's (INTC) proposed $7.68B acquisition of McAfee (MFE), as expected. But Intel still faces an antitrust review from the European Union which could seriously delay the merger's close. Intel is buying McAfee to help it expand beyond providing chips for personal computers, and in order to build security into computer chips and other hardware.
Liberty Global eyes German cable firm. Cable operator Liberty Global (LBTYA) is reportedly considering a bid for Kabel Baden-Wuerttemberg, Germany's No. 3 cable company. A deal for Kabel BW could be worth as much as €2B ($2.6B), and would follow Liberty Global's previous purchase of Unitymedia, Germany's No. 2 cable operator, for €2B plus €1.5B in assumed debt. Sources said a deal could happen in the first half of next year, depending on the markets.
EXCO buys Marcellus shale assets. EXCO Resources (XCO) announced yesterday that it would buy some Marcellus shale assets for $459.4M from Chief Oil & Gas and related parties. EXCO's joint venture partner, BG Group (BRGYY.PK), will have the right to purchase 50% of the assets.
Earnings: Wednesday Before Open
Navistar International (NAV): Q3 EPS of $0.54 misses by $0.06. Revenue of $3.37B (+2.6%) vs. $3.21B. (PR)
Earnings: Tuesday After Close
Cintas (CTAS): FQ2 EPS of $0.38 in-line. Revenue of $937M (+5.9%) vs. $916M. Shares -1.4% AH. (PR, earnings call transcript)
Nike (NKE): FQ2 EPS of $0.94 beats by $0.06. Revenue of $4.8B (+9.9%) in-line. Shares -5.7% AH. (PR, earnings call transcript)
Red Hat (RHT): Q3 EPS of $0.20 in-line. Revenue of $236M (+21%) vs. $227M. Shares -2.7% AH. (PR, earnings call transcript)
TIBCO Software (TIBX): FQ4 EPS of $0.31 beats by $0.03. Revenue of $241M (+23.3%) vs. $228M. Shares +5% AH. (PR, earnings call transcript)
Today's Markets
In Asia, Japan -0.2% to 10346. Hong Kong +0.2% to 23045. China -0.9% to 2878. India -0.2% to 20016.
In Europe, at midday, London +0.2%. Paris -0.1%. Frankfurt flat.
Futures at 7:00: Dow flat. S&P flat. Nasdaq -0.1%. Crude +0.6% to $90.32. Gold +0.1% to $1390.
Wednesday's Economic Calendar
7:00 MBA Mortgage Applications 8:30 GDP Q3 8:30 Corporate Profits 10:00 Existing Home Sales 10:00 FHFA Housing Price Index 10:30 EIA Petroleum Inventories
Notable earnings before Wednesday's open: NAV, WAG
Notable earnings after Wednesday's close: BBBY, MU
The SA Currents team contributed to this post.Complete Story »