Wall Street Breakfast: Must-Know News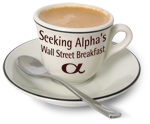 Financial reform presses along. As promised, Sen. Chris Dodd unveiled his draft legislation yesterday for financial regulatory reform. It includes provisions that would allow regulators to oversee the over-the-counter derivatives market, force large hedge funds to register with the SEC and give the Federal Reserve the ability to break up large firms that pose a "grave threat" to the economy. Though the proposed curb on proprietary trading was slightly tougher than many on Wall Street had been prepared for, skeptics argued the bill is just a watered-down version of the one Dodd introduced last year. Republicans said the bill is close to a product they could support. Bank stocks showed little reaction to the draft, as it contained no surprises.
Lehman resurrected, sort of. Lehman Brothers (LEHMQ.PK) filed a plan in bankruptcy court yesterday to wind down its operations, and to create a new business called LAMCO which would manage Lehman's remaining assets. The plan also addresses payments for the roughly 65,000 creditors demanding around $875B from the bank. Lehman will contest some of the claims, but on the whole will pay creditors in cash as part of a "fair economic resolution." The amount creditors can expect to recover wasn't clear from the court filings.
Feeling wan about the yuan. A letter signed by 130 members of Congress was sent to Treasury's Geithner and Commerce Secretary Gary Locke, demanding tougher U.S. actions against Chinese currency policies, including higher tariffs on Chinese-made imports and a formal label as currency manipulator. Lawmakers will be drafting legislation and holding hearings on the impact of the yuan on U.S. companies, with estimates suggesting the yuan could be undervalued by as much as 25-40%. Meanwhile, China is holding firm, saying this morning that its currency isn't behind its large trade surplus and promising to keep the yuan stable to support exports.
Deutsche Bank confirms income, sees new normal. Deutsche Bank (DB) confirmed 2009 net income of €5B ($6.9B) and said it expects the banking sector to slowly progress toward "a new form of normality" over this year and next. The current year will see improvements but remain difficult, while 2011 could see €10B in pretax profit from core businesses. The bank also confirmed earlier estimates that 2009 revenue more than doubled to €28B. Total compensation for its eight-member executive board surged to around €39M for 2009, a nearly nine-fold increase from the year before. DB +1.4% premarket (7:00 ET).
Goldman, JPMorgan use their size to make collateral demands. Goldman Sachs (GS) and JPMorgan (JPM), two of the largest players in the over-the-counter derivatives market, are taking advantage of their dominance to generate billions of dollars in cheap funding. They're both making unequal arrangements with hedge funds, in which the funds are forced to post more cash collateral to offset risks while Goldman and JPMorgan put up less cash of their own. The practice furnished Goldman with an extra $110B as of the end of December, which it could then invest in higher-yielding assets.
RBS considers debt buy-back. Royal Bank of Scotland (RBS) is reportedly planning a major balance sheet restructuring to shore up both its capital and its standing with bond investors. The bank may end up buying back at least £10B ($15B) of its £28B in debt at a premium to current prices. An announcement could come in the next two weeks. RBS +0.6% premarket (7:00 ET)
Barclays aimed for UBS before Lehman deal. Before Barclays (BCS) bought U.S. assets from the collapsed Lehman Brothers (LEHMQ.PK), it considered UBS (UBS) to be its preferred merger target. Though nothing came of it, the fact that UBS was the initial target underscores just how high Barclays' risk appetite was in its drive to build one of the world's largest investment banks.
Renault, Daimler discuss partnership. Daimler (DAI) and Renault are reportedly in talks to take equity stakes in one another with the goal of creating a long-term partnership. The possible alliance would extend beyond the cooperation on small cars which the companies are already discussing.
PVH may face downgrade on Hilfiger deal. Clothing conglomerate Phillips-Van Heusen confirmed yesterday that it's buying Tommy Hilfiger Corp. for €2.2B ($3B), marking the first major acquisition in the retail industry in years. Shares of PVH climbed nearly 10% in trading yesterday, but Moody's and S&P say they may cut PVH's ratings because of debt the company will take on to fund its Hilfiger acquisition. If the deal goes forward, Moody's will lower PVH one notch to Ba3, three levels below investment grade, and S&P would downgrade PVH into junk territory from its current BBB-.
Astellas goes to OSI shareholders after rejection. OSI Pharmaceuticals (OSIP) rejected Astellas Pharma's hostile $3.5B takeover bid, saying it didn't "fully reflect OSI's fundamental, intrinsic value." Instead, OSI said it will look for other potential deals. Astellas plans to take its offer directly to shareholders, and a shareholder lawsuit was bought against OSI to prevent the board from hindering Astellas' takeover efforts.
First TARP fraud case. A banking executive was arrested yesterday on charges that he tried to fraudulently obtain around $11M of TARP funds in order to keep his New York bank from failing. Charles J. Antonucci Sr., the former president and CEO of the Park Avenue Bank of New York, is the first person to be criminally charged for attempting to defraud TARP.
Eurozone ready to help Greece. Eurozone leaders said yesterday that they're prepared to help Greece, should that be necessary, by creating an emergency financial support facility for the first time in the euro's history. However, they didn't promise any specific sums to Greece and provided few details on their plan aside from the fact that it would likely be based on bilateral loans.
New lending takes a dive. Loans by the top nine TARP recipients fell $19.3B in January to $35.9B, the lowest origination total since October's $41.6B. The Treasury, which said the drop may be a result of heavy new lending in November and December, said this is the last time it will publish a summary analysis of the bank survey because "aggregate month to month changes are no longer meaningful."
Senate to vote on jobs bill. After a key procedural vote in the Senate yesterday, a final vote on a bill aimed at spurring private-sector job creation will likely occur today.
NAHB index shows weakness. The NAHB Housing Market Index dipped down 2 points to 15, matching a nine-month low. The current sales conditions also fell 2 points to 15, while expectations for the next six months dropped 3 points to 24 and prospective buyer traffic dipped 2 points to 10. NAHB Chairman Bob Jones noted that "unusually poor weather conditions certainly had a negative effect on builders' business in February," but inventory is low and the group expects a 25% improvement this year in new-home construction.
Earnings: Monday After Close
Medivation (MDVN): Q4 EPS of -$0.78 misses by $0.19. Revenue of $69M (+452%). Shares -1.6% AH. (PR)
Sequenom (SQNM): Q4 EPS of -$0.30 misses by $0.05. Revenue of $11M (-11.5%) vs. $9M. Shares -20.5% AH. (PR, earnings call transcript)
Today's Markets
In Asia, Nikkei -0.3% to 10722. Hang Seng -0.3% to 21023. Shanghai +0.5% to 2993. BSE +1.3% to 17383.
In Europe at midday, London +0.5% to 5623. Paris +0.9% to 3927. Frankfurt +0.8% to 5948.
Futures: Dow +0.2%. S&P flat. Nasdaq flat. Crude +0.04% to $79.83. Gold +0.7% to $1113.60.
Tuesday's Economic Calendar
7:45 ICSC Retail Store Sales 8:30 Housing Starts 8:30 Import/Export Prices 8:55 Redbook Chain Store Sales 2:15 PM FOMC Rate Decision 5:00 PM ABC Consumer Confidence Index
Notable earnings before Tuesday's open: ARIA
Notable earnings after Tuesday's close: ABK, DFS, FMCN
Seeking Alpha editors Eli Hoffmann and Jason Aycock contributed to this post.Complete Story »