Wall Street Breakfast: Must-Know News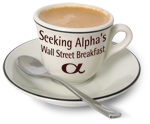 GE to buy Wellstream. General Electric (GE) agreed to buy British oilfield services firm Wellstream Holdings for £800M ($1.3B). The 786 pence/share offer is a 29% premium to Wellstream's closing price on Sept. 20, the day Wellstream announced it had received takeover approaches, and is also an improvement from GE's initial 755 pence/share offer which Wellstream rejected in October. The acquisition is GE's second industry acquisition this year as the company works to deploy some of its $20B war chest and boost its industrial business while cutting its reliance on its finance unit. Wellstream is up 5% in London trading (5:00 ET).
Sanofi extends its Genzyme offer. Sanofi-Aventis (SNY) extended its $18.5B offer for Genzyme (GENZ) to Jan. 21, and signaled further extensions may follow, as the company showed no sign of tiring in its pursuit of Genzyme. As of Friday's initial deadline, just under 1% of Genzyme's shareholders had tendered their shares. Sanofi may end up extending its offer until Genzyme's annual shareholder meeting in May, in hopes of being able to overturn Genzyme's board. Many analysts believe the delaying tactics may not be enough, and that a deal is unlikely to close unless Sanofi raises its offer.
A&P files for bankruptcy. Troubled grocer A&P (GAP) filed for bankruptcy yesterday, unable to handle both its heavy debt load and growing competition from low-price rivals; sources said A&P's inability to negotiate concessions from its main supplier was also a factor. A&P, once the nation's leading grocery-store chain, listed total debts of $3.2B and assets of $2.5B in its bankruptcy filing, and has secured $800M in debtor-in-possession financing from JPMorgan (JPM). The company does not have a prearranged restructuring deal in place with creditors.
BofA looks to sell toxic mortgages. Bank of America (BAC) is reportedly looking to sell at least $1B of toxic mortgage assets. BofA has already written those loans off, so the sale shouldn't negatively impact BofA's shares. Bids are due by the end of the month. The bank owns and services mortgage assets totaling $2.1T, so while this sale is small relative to BofA's overall holdings, analysts believe it is probably the assets most expensive to service. Premarket: BAC +1.3% (7:00 ET).
Credit Suisse looks to coco bonds. Credit Suisse (CS) CEO Brady Dougan said he hoped to begin issuing billions of dollars in contingent-capital bonds in the next year to help shore up the bank's finances before tougher capital rules go into effect. Credit Suisse has until 2019 to meet the new requirements, but wants to issue as much as $30B in so-called coco bonds over the next few years as a sign of strength meant to assure both investors and regulators. Coco bonds convert into equity or other capital if a bank's financial strength begins to weaken.
Economists raise U.S. outlook. Economists have grown more positive on the U.S. economic outlook, according to the most recent WSJ survey, and expect the expansion to accelerate in 2011. On average, respondents now expect GDP to grow 2.6% this quarter on a seasonally adjusted and annualized basis, up from previous forecasts of 2.4%. For 2011, respondents expect GDP growth of 3%, and most think there's a higher chance the economy will outperform their expectations than underperform them.
Wal-Mart shuts Moscow office. Wal-Mart (WMT) said it's shutting its business office in Moscow, but remains interested in entering the Russian market. CEO Doug McMillon said "since we have decided to enter the market through acquisition, not greenfield development, and since there is no clear acquisition partner in the near term, there is not a business reason to continue our Moscow representative office." The company remains on the lookout for an 'attractive' takeover target.
Friday's failures. Another two bank closures on Friday bring this year's failures to 151 so far. The closures in Michigan and Pennsylvania will cost the FDIC's insurance fund an estimated $113M.
Today's Markets
In Asia, Japan +0.8% to 10294. Hong Kong +0.7% to 23318. China +2.9% to 2923. India +0.9% to 19692.
In Europe, at midday, London +0.7%. Paris +0.8%. Frankfurt +0.3%.
Futures at 7:00: Dow +0.05%. S&P +0.1%. Nasdaq +0.1%. Crude +1.25% to $88.89. Gold +0.5% to $1391.40.
Monday's Economic Calendar
10:00 Wholesale Trade Quarterly Report
The SA Currents team contributed to this post.Complete Story »