Wall Street Breakfast: Must-Know News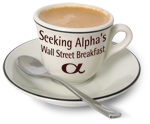 Walter Energy to merge with Western Coal. Walter Energy (WLT) agreed to a C$3.3B ($3.2B) merger with Western Coal (WTNCF.PK). The C$11.50/share offer is a 56% premium to Western Coal's Canadian close the day before deal talks were first announced last month. The combined firm will be one of the world's biggest providers of metallurgical coal.
Insider-trading probe expands to healthcare deals. Officials have reportedly expanded their insider-trading probe to include trading activity surrounding a number of healthcare deals, including AstraZeneca's (AZN) purchase of MedImmune, Merck's (MRK) purchase of Schering-Plough and Pfizer's (PFE) purchase of Wyeth. The focus isn't on the firms involved in the deals, but rather on hedge funds which made big bets on the health firms' stocks. Authorities are looking into share price spikes and heavy volume prior to the deal announcements, though some traders and hedge funds say consolidation in the healthcare industry was a common subject of speculation at the time, and increased volume should therefore be unsurprising.
Madoff trustee sues JPMorgan. Madoff trustee Irving Picard sued JPMorgan (JPM) for $6.4B yesterday, as he comes up against a Dec. 11 deadline to file clawback lawsuits related to the Ponzi scheme. The lawsuit was filed under seal so specific allegations weren't released, but a lawyer for Picard said JPMorgan, the primary bank for Madoff's firm, was "willfully blind to the fraud, even after learning about numerous red flags surrounding Madoff. [The bank] was at the very center of that fraud, and thoroughly complicit in it." JPMorgan called the accusations "utterly baseless and demonstrably false."
Nicor seeks a buyer. Natural gas utility company Nicor (GAS) is looking to sell itself and has hired JPMorgan (JPM) to advise on the sale, said a source close to the matter. JPMorgan has apparently been contacting other utility companies and infrastructure funds, but many have balked at Nicor's high price; the company has a $2B market value. Speculation about a possible sale sent shares of the company +7.15% in yesterday's trading.
Rio, Chinalco form China JV. Rio Tinto (RIO) and Chinalco (ACH) signed a non-binding memorandum of understanding to form a joint venture that will explore mainland China to find and develop coking coal and copper deposits. The JV, which will come into operation in the first half of next year, will start with three to five large area exploration projects. Premarket: RIO +1.45% (7:00 ET).
Macau rejects Sands request. Las Vegas Sands (LVS) disclosed the Macau government rejected its request to acquire exclusive rights to development sites in the lucrative Cotai area, a major setback for the company's development plans. Sands has already spent at least $100M in pre-construction costs and is expected to ask for a review or appeal the decision in court. Analysts said the announcement is "another reminder of the unpredictable nature of policy decisions in Macau," but shouldn't affect Sands' valuation given that the project wasn't likely to open until 2018 at the earliest. In yesterday's trading, shares closed -4.2%.
China to use 'prudent' monetary policy. China's top leaders decided today that the country is ready to switch to a prudent monetary policy from a moderately loose one, according to a report in the state Xinhua news agency. The possible change in description of monetary policy had been discussed internally for weeks, but endorsement by the Politburo marks a turning point in Chinese policy, allowing a new assortment of monetary policy tools to be used to control liquidity and inflation. Some economists now expect as many as five rate increases by the end of next year, a significant jump from China's sole rate hike this year.
Tech firms go local. Amazon (AMZN) and eBay (EBAY) both announced deals yesterday for online local services, as tech firms increasingly view 'local' as a lucrative market. Amazon will invest $175M in online coupon company LivingSocial, and eBay purchased Milo.com, which lets users see if items they're looking for are available on local store shelves, for an undisclosed price. The moves come amid chatter that Google (GOOG) is working on a deal to buy Groupon, a local coupon site, for as much as $6B. In yesterday's trading, shares of eBay closed +2.2%, and shares of smaller local-services site Local.com (LOCM) closed +28%.
Goldman considers mortgage servicing exit. Goldman Sachs (GS) is reportedly considering the sale of Litton Loan Servicing, the bank's mortgage servicing unit. Goldman bought Litton in 2007 but its foray into collecting on home loans and initiating foreclosures was poorly timed, and the unit is still feeling the repercussions from the financial crisis and the continuing foreclosure crisis. At least one potential buyer has already approached Goldman about the unit, but talks broke down over price.
Underwriters face conflict of interest lawsuits. A federal appeals court revived 24 lawsuits against a group of underwriters accused of conflicts of interest in initial public offerings. The plaintiffs accused investment banks including JPMorgan (JPM) and Morgan Stanley (MS) of engaging in prohibited 'short-swing' transactions related to IPOs in 1999 and 2000, and said the underwriters coordinated their activities with insiders at issuing companies in order to gain from post-IPO increases in the stock price.
Google buys Manhattan office building. Google (GOOG) has reportedly signed a deal to buy one of the largest office buildings in Manhattan for more than $1.8B, and has put down a 'substantial deposit' on the 15-story building. This would be the largest real estate deal this year, and a sign of Google's confidence in its own future. Sources expect the deal to close by the end of the year.
Treasury gets more money from GM IPO. The Treasury announced yesterday that it received another $1.8B from GM's (GM) IPO, bringing its total take from the offering to $13.5B. This second payment was the result of an overallotment option that had been exercised by the IPO's underwriters.
Earnings: Friday Before Open
Big Lots (BIG): FQ3 EPS of $0.23 misses by $0.01. Revenue of $1.06B (+2%) in-line. (PR)
Earnings: Thursday After Close
Novell (NOVL): FQ4 EPS of $0.07 in-line. Revenue of $207M (-4.2%) vs. $204M. Shares -0.2% AH. (PR)
Phillips-Van Heusen (PVH): Q3 EPS of $1.55 beats by $0.08. Revenue of $1.5B (+117.4%) vs. $1.4B. Shares -0.5% AH. (PR)
Veriphone (PAY): FQ4 EPS of $0.40 beats by $0.04. Revenue of $276M (+26.7%) vs. $263M. Shares +1.3% AH. (PR, earnings call transcript)
Today's Markets
In Asia, Japan +0.1% to 10178. Hong Kong -0.6% to 23321. China flat. India -0.1% to 19967.
In Europe, at midday, London -0.1%. Paris +0.4%. Frankfurt -0.1%.
Futures at 7:00: Dow flat. S&P flat. Nasdaq +0.1%. Crude +0.1% to $88.12. Gold +0.1% to $1391.
Friday's Economic Calendar
8:30 Nonfarm payrolls10:00 Factory Orders10:00 ISM Non-Manufacturing Index
Notable earnings before Friday's open: BIG
Seeking Alpha's Market Currents and Global Currents team contributed to this post.Complete Story »