Wall Street Breakfast: Must-Know News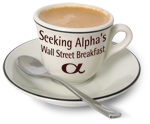 Ireland officially asks for aid. Ireland became the second eurozone country to ask for aid, and will begin talks with the EU and IMF over an aid package that could come in around €80B ($110B). The U.K. will make a bilateral loan of around £7B, and Sweden may extend a loan as well. Talks will focus on the government's deficit cutting plans and a restructuring of the country's ailing banking system. Premarket: AIB -2.4%, IRE -20.6%, euro flat against the dollar (7:00 ET). (More: Traders turn to Portugal, Spain.)
Genzyme considers alternate deal structuring. Genzyme (GENZ) is considering using a contingent value right, or CVR, deal structure to help break a months-long impasse over Sanofi-Aventis' (SNY) $69/share offer for the biotech company. A CVR structure, in which shareholders would receive an extra benefit if certain future targets are met, is often used when a buyer and seller disagree on a purchase price. In this case, it would largely be tied to the performance of Campath, a drug Genzyme believes will reach $3.5B in sales by 2017 while Sanofi forecasts a more modest $700M in sales. Sanofi has indicated it's open to a CVR, though sources say the main obstacle to a deal remains Sanofi's unwillingness to raise its offer price. Premarket: SNY +1.3% (7:00 ET).
AIG looks to sell rail-car unit. AIG (AIG) has reportedly put its $660M rail-car unit up for sale, though it's unclear how much the insurer is seeking for the business. GATX Corp. (GMT) chief Brian Kenney said his company, which competes with AIG's rail-car unit, was interested in the assets but that GATX and other strategic buyers were being excluded from the auction. AIG had no official comment, and sources said the unit is being pitched to private-equity firms and other potential buyers who don't already have a presence in the rail-car leasing business.
Exxon sells assets to Energy XXI. Energy XXI (EXXI) agreed to buy nine Exxon Mobil (XOM) gas and oil fields in the shallow waters of the Gulf of Mexico for $1.01B. The deal will boost Energy XXI's reserves and production by more than 70%. Exxon confirmed that it's also considering the sale of 100 gas stations in Scotland, but declined to comment on reports that it's considering the sale of $2B of North Sea assets.
U.S. banks face Basel III shortfall. U.S. banks face a capital shortfall of between $100B and $150B once Basel III rules go into effect, according to Barclays Capital, assuming that banks choose to create a one-point cushion above Basel requirements by aiming for a tier one capital ratio of 8%. The BarCap study also suggests that U.S. banks can cut their equity needs by $10B with every $125B reduction in risk-weighted assets, and that the country's top 35 banks will need to come up with another $500B in cash and easy-to-sell assets to meet new Basel liquidity requirements that take effect in 2015.
Currency volatility prompts Nissan output shift. Nissan (NSANY.PK) CEO Carlos Ghosn said his company will shift the balance of its production and support functions towards dollar-linked economies like the U.S. and China to minimize the impact of currency fluctuations. Ghosn said he doesn't intend to close down facilities in Japan, but can't expand there anymore, as there's a 'big imbalance' caused in costs and revenues by producing cars in one currency and selling them in another, given recent exchange rate volatility.
Friday's failures. Bank closures in Florida, Pennsylvania and Wisconsin brought this year's failures to 149 so far, and will cost the FDIC's insurance fund just under $200M.
Today's Markets
In Asia, Japan +0.9% to 10115. Hong Kong -0.3% to 23524. China -0.1% to 2884. India +1.9% to 19958.
In Europe, at midday, London -0.2%. Paris -0.1%. Frankfurt +0.3%.
Futures at 7:00: Dow +0.1%. S&P +0.1%. Nasdaq +0.3%. Crude +0.8% to $82.64. Gold +0.3% to $1356.60.
Monday's Economic Calendar
8:30 Chicago Fed National Activity Index 1:30 PM Fed's Kocherlakota speaks to business leaders
Notable earnings before Monday's open: TSN
Notable earnings after Monday's close: ADI, BRCD, FMCN, HPQ, NUAN
Seeking Alpha's Market Currents team contributed to this post.Complete Story »