Wall Street Breakfast: Must-Know News
SA Editor Eli Hoffmann submits: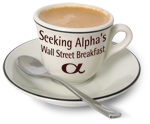 Hurd successor alarms H-P shareholders. Hewlett-Packard (HPQ) named former SAP (SAP) chief executive Leo Apotheker as president and CEO, succeeding Mark Hurd, and former Oracle (ORCL) president Ray Lane as non-executive chairman. Investors were not impressed with the surprising choice, sending shares down 2% after-hours. "I thought it would be difficult for H-P to hire an outsider and have its stock to go down, but this board seems to have found a way," analyst Brian Marshall said. H-P described Apotheker as a "strategic thinker with a passion for technology... and proven operational discipline," but analysts noted SAP's customer relationships and employee morale suffered badly during his reign.
Sinopec takes $7.1B stake in Repsol's Brazil unit. Repsol (REP) said Friday it will sell 40% of its Brazilian unit to China's Sinopec (SNP) for $7.1B. The joint-venture, valued at $17.8B overall, guarantees Repsol key funding to develop all of its current projects in Brazil, and to continue to explore its vast and coveted offshore stake in the country. The transaction also underscores China's growing presence in the international energy scene; the IEA had previously predicted that China's overseas energy investments in 2010 will broadly outflank the $18.2B spent in 2009. REP +6.5% premarket.
Jobs recovery nowhere to be seen. Despite a notable return to growth in the global economy, the outlook for employment has worsened significantly, the International Labour Organization said in a report Thursday. Assuming current policies persist, a return to pre-crisis levels won't happen until at least 2015, instead of the 2013 it projected last year. ILO warned that, "the coexistence of private-debt-led growth in certain developed countries with export-led growth in large emerging economies has proved to be the Achilles' heel of the world economy," and said any recovery will be fragile as long as the labor market remains weak "and the financial system remains dysfunctional."
Japan PM says huge debtload is unsustainable. Japan's fiscal situation is unsustainable given its huge public debt, and Beijing remains committed to curb a rise in the yen, PM Naoto Kan said this morning in a speech opening the first parliament session. Kan also hinted at further easing during the BOJ's policy meeting next week, saying the central bank is on board with the government's stance, and would "take further necessary policy actions to end deflation." Earlier today, Japan said core consumer prices fell for the 18th straight month in August.
BP boss predicts return of dividend. BP's (BP) new CEO Robert Dudley said it has set aside ample funds to cover potential lawsuits from the Macondo spill, and that he's confident BP will resume paying its dividend next year. Some experts believe the $32B charge BP took in July to pay for the spill was inadequate, and predict it may have to set aside $60B or more to meet the huge wave of penalties and legal claims expected in coming months. Separately, highlighting the potential difficulty BP could experience in returning to the Gulf of Mexico, it sold yesterday a 20% stake in its deepwater Tubular Bells development to Hess (HES) for $40M.
White House on TARP: We told you so. The financial bailout will cost taxpayers less than $50B, the White House said Thursday, slahsing a prior estimate by more than 50% partly due to a new plan to exit its stake in AIG (AIG) at a significant profit. The numbers are likely only to improve as the Treasury unwinds its positions in AIG, GM and Chrysler, spokesman Robert Gibbs said. TARP loses its legal authority to enter new positions on Sunday.
Hertz spurned, Avis set to drive away with Dollar Thrifty. Dollar Thrifty's (DTG) shareholders rejected Hertz's (HTZ) $1.46B takeover bid, likely signaling the end of Hertz's pursuit of the car rental company, and opening the door for a rival bid from Avis (CAR). Hertz said Wednesday it would terminate its offer if shareholders voted against it, the same day that Avis promised DTG a $20M breakup fee if its $1.53B bid doesn't pass regulatory muster - which was the main reason DTG's board supported Hertz's bid over Avis's. Shares of Hertz fell almost 9%.
Sprint loosens its grip on Clearwire. Three Sprint (S) executives were pressured off Clearwire's (CLWR) board Thursday, stoking speculation the move would make Clearwire appear more independent from Sprint - which owns 54% of the company - and open the door for a possible deal with T-Mobile (DTEGY.PK). Clearwire said earlier Thursday it questioned the legality of Sprint's prominence on its board given the companies' "interlocking directorships," which apparently led to the departure, but experts say the legal issue is a smokescreen for Clearwire's aspirations to build its subscriber base and possibly sell the company.
Whirlpool, Panansonic admit big price-fixing conspiracy. Whirlpool (WHR) and Panasonic (PC) will plead guilty to fixing prices on refrigerant compressors and pay $141M in criminal fines; Whirlpool will pay $92M and Panansonic will pay $49M. Prosecutors allege the two companies (and other unnamed co-conspirators) conspired to fix prices, and followed up by exchanging information to monitor and enforce the agreed-upon prices.
Ballmer's bonus shaved on Kin, tablet failures. Microsoft (MSFT) CEO Steve Ballmer lost half of his potential $1.4M bonus this year even as the company notched record sales, due to his weak performance in mobile phones, and not responding fast enought to the iPad (AAPL), according to an SEC filing yesterday. Microsoft's Kin smartphone was dropped less than three months after launch with poor sales. Ballmer said in July tablets running Windows would appear as soon as they are ready; we're still waiting.
Q2 GDP growth muted. Q2 GDP growth was revised to 1.7% in the government's final readung, up from 1.6%. Personal consumption expenditures were revised up to 2.2% from 2% due to stronger-than-expected services consumption; fixed investment dipped to 18.9% from 19.5%; import growth rose to 33.5% from 32.4%; and government spending was revised to 3.9% from 4.3%. Many economists think the economy grew at around the same pace, or slightly worse, during Q3.
Earnings: Thur. After Close
Accenture (ACN): FQ4 EPS of $0.66 beats by $0.03. Revenue of $5.4B (+5.3%) vs. $5.3B. Shares +3.6% AH. (PR, earnings call transcript)
Today's Markets
Asia: Japan +0.4%. Hong Kong -0.1%. China +1.7%.
Europe at midday: India +1.8%. London +0.9%. Paris +0.5%. Frankfurt +0.7%.
Futures at 7:00: S&P +0.26%. 10-yr -0.04%. Euro +0.65% vs. dollar. Crude +1.19% to $80.92. Gold +0.54% to $1316.70.
Friday's Economic Calendar
Sept. auto sales8:30 Personal Income and Outlays8:30 Fed's Dudley: 'Economy in Recovery'9:55 Reuters/UofM Consumer Sentiment10:00 ISM Manufacturing10:00 Construction Spending11:30 Fed's Evans: 'The Future of Monetary Policy'4:00 PM Fed's Fisher: 'Globalization, Economic Recovery and Monetary Policy'
Get Wall Street Breakfast by email -- it's free and takes only seconds to sign up. Complete Story »