Wall Street Breakfast: Must-Know News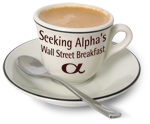 Intel buys Infineon unit. Intel (INTC) agreed to buy Infineon's (IFNNY.PK) wireless unit for $1.4B in cash. The deal will significantly strengthen Intel in cellphone chips, an area in which it has met with limited success in the past, and marks the company's second acquisition in as many weeks. Intel expects the deal to close in the first quarter of 2011.
Sanofi goes public with Genzyme bid. Sanofi-Aventis (SNY) offered $18.5B in cash to buy Genzyme (GENZ), equivalent to $69/share. According to Sanofi's statement, the non-binding offer was first made on July 29 but was reiterated yesterday in a letter sent to Genzyme CEO Henri Termeer "after several unsuccessful attempts to engage Genzyme's management in discussions." The decision to make the offer known to the public is meant to put added pressure on Genzyme and push it towards a deal, but Sanofi has already hinted it may opt for a hostile bid if the "bear hug" letter doesn't do the trick. Premarket: SNY +0.5% (7:00 ET).
BoJ extends easing in emergency meeting. The Bank of Japan held an emergency meeting today to discuss the yen's surge to a 15-year high, as the currency's appreciation is weighing on Japan's economy. The bank will add ¥10T ($117B) to an existing low-interest ¥20T lending facility, and Japan's prime minister is preparing to unveil a modest stimulus package tomorrow. There have also been indications that Japan may intervene directly in the currency markets, though many analysts think Tokyo is relying on the threat of action rather than action itself. The yen fell against the dollar and euro, as the bank intended, shortly after the meeting was announced, but strengthened somewhat after details of BoJ's measures were released; +0.4% against the dollar (5:30 ET).
Posco buys control of Daewoo International. Posco (PKX), the world's No. 3 steelmaker, agreed to buy a controlling stake in Daewoo International for 3.37T won ($2.8B) in order to expand its sales network and gain raw materials. Posco will acquire 68.15% of Daewoo, a steel and crude oil trader, at a purchase price 53% higher than Daewoo's close on Friday.
Dell mulls 3Par options. Dell (DELL) said yesterday that it's assessing its bid for 3Par (PAR) and is deciding whether to once again raise its offer for the company, following an announcement by 3Par's board late on Friday that H-P's (HPQ) $2B offer represents a "superior proposal." Dell has the right to match any higher bid and have its offer take precedence within three business days, starting today.
Nokia Siemens in talks with P-E firms. Nokia (NOK) and Siemens (SI) confirmed they're in talks with various private equity firms over a possible investment in Nokia Siemens Network. Executives from both companies said they were committed to completing a turnaround before considering other options when the JV ends in 2013. An investment could be worth as much as $1B, and Blackstone (BX), Bain Capital and TPG Capital are said to be among the firms considering a potential stake.
Anglo American to sell Scaw assets. Anglo American (AAUKY.PK) has begun the sale process for the international assets of Scaw Metals as it works to refocus on its core business. The assets in areas such as Canada and Australia, which do not include Scaw's main South African operations, are estimated to be worth around $1B. First-round bids are due early next month.
No angst for Google over new acquisition. Google (GOOG) confirmed its acquisition of Angstro, a startup that sorts news and information across social networks like Facebook, as it works to build its social network presence. Terms of the deal weren't disclosed. Google is also said to be in negotiations with some of Hollywood's top studios to launch a global pay-per-view video service by the end of 2010 via YouTube. The move would put Google in greater competition with Apple (AAPL), Netflix (NFLX) and Hulu (GE, NWS, DIS) over the digital distribution of film and television content.
Disney, Time Warner near fees agreement. Disney (DIS) and Time Warner Cable (TWC) are said to be nearing an accord over programming fees and expect to reach an agreement in time to prevent a threatened TV blackout. If a deal isn't reached by midnight on Thursday, millions of Time Warner Cable subscribers will lose access to TV channels like ESPN and ABC.
Investor group readies backup-bid for AIG's Taiwan unit. A group of investors led by former Taiwanese diplomat Wang Shih-jung said they're lining up a $2.5B bid for AIG's (AIG) Taiwan unit in case the planned $2.2B sale to China Strategic and Primus falls through; the deal has been on hold since October because of Taiwanese regulators' concerns. Wang declined to list the names of the investors in his group, but said $900M of the bid cost would come from Japanese investors, $1.25B from a Qatari fund and the rest from Taiwanese banks. AIG said it remains committed to its deal with China Strategic and Primus.
BHP may divest some Potash assets. BHP Billiton (BHP) may look to divest Potash's (POT) nitrogen and phosphates businesses if its $39B for the fertilizer maker goes through. BHP told analysts that 70% of the value is in the potash assets, and a sale of both the nitrogen and phosphates businesses could bring in as much as $12B. Agrium (AGU) has already indicated it could be interested in the two units if they come on to the market.
Today's Markets
In Asia, Japan +1.8% to 9149. Hong Kong +0.7% to 20737. China +1.6% to 2653. India +0.2% to 18032.
In Europe, at midday, London closed. Paris -0.5%. Frankfurt flat.
Futures: Dow flat. S&P +0.1%. Nasdaq +0.2%. Crude -0.4% to $74.88. Gold -0.05% to $1237.30.
Monday's Economic Calendar
8:30 Personal Income and Outlays 10:30 Dallas Fed Mfg. Outlook11:30 Fed's Bullard: Financial Regulatory Reform
Seeking Alpha's Market Currents team contributed to this post.Complete Story »