Wall Street Breakfast: Must-Know News
Joseph McCafferty submits: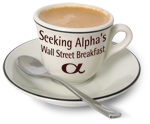 American Airlines union rejects contract offer. Mechanics at AMR Corp.'s (AMR) American Airlines rejected a new pay deal yesterday, raising the possibility of a strike at the second-largest U.S. airline. More than 6,000 members of the Transport Workers Union of America voted against the proposed contract and only 3,371 voted in favor, unraveling a tentative accord reached between American and TWU negotiators in May. The breakdown in negotiations could renew pressure on the National Mediation Board to allow American's mechanics to go on strike after several years of unsuccessful talks between labor and management.
Shareholder lawsuit seeks to halt Hertz purchase of Dollar. Shareholders who are opposed to Hertz's (HTZ) takeover of rental car company Dollar Thrifty (DTG) have filed a lawsuit seeking a court order to halt the transaction. The suit also accuses Goldman Sachs of working both sides of the deal and it accuses Scott Thompson, Dollar's CEO, of not acting in the company's best interests when he declined to meet with Avis (CAR) to discuss a counterbid. Dollar Thrifty shareholders are expected to vote on the Hertz bid on September 16.
Apple nears iTunes deal with Disney, TV firms. Apple (AAPL) is in talks with Disney (DIS) and other network owners that would allow the computer company to offer television episodes for sale on iTunes. It is close to gaining access to ABC shows from Disney, but the proposal is facing at least some resistance from other TV companies, including CBS (CBS), General Electric's (GE) NBC Universal, News Corp. (NWSA), and Viacom (VIA.B). The shows would cost $0.99 and would be available for 48 hours after purchase. Apple is also working on a device that would allow users to stream video directly to their television sets, which could be announced as early as next month.
BHP posts profit, stands firm on Potash bid. BHP Billiton (BHP), which is pursuing a $39B hostile offer for global fertilizer maker Potash (POT), announced second half results of a net profit of $6.77B, up from $4.59B in the year-earlier period and its best profit in two years. The results fueled speculation that BHP could substantially up its bid for Potash. Yet, BHP CEO Marius Kloppers was quick to quell any ideas that positive results mean more firepower for the deal. On a conference call, he told investors that BHP would not pay just any price to win the bid and that it would remain disciplined in the process. In premarket trading, BHP shares +0.9% (7:00 ET).
Dell enters the smart phone market. Dell (DELL) unveiled its first smartphone for the U.S. market yesterday, entering into an increasingly crowded arena with a product that uses the Android operating system from Google (GOOG). The new phone will sell for $99 with a contract from AT&T (T), and $299 without one. Dell says it is the lightest of the phones available that use Android. The move, which is an attempt to keep up with Apple (AAPL), was criticized by some as too little, too late.
Goldman losing market share in corporate bonds. Goldman Sachs (GS) is slipping in one area that has usually been a strength of the Wall Street leader: underwriting corporate bonds. As Goldman seeks to put a run-in with the SEC behind it, it is now losing market share in bond underwriting to its rivals. The profitable Wall Street firm has slipped to 10th in helping the world's companies raise debt, down from ninth last year and as high as third place in 2003. JPMorgan (JPM), the second-biggest U.S. bank, is leading global underwriting for the third straight year, while Deutsche Bank (DB), Germany's biggest lender, is ranked second.
SEC charges 2 with insider trading on BHP-Potash deal. In other news on BHP's (BHP) pursuit of Potash (POT), two Spanish investors were charged with insider trading by the SEC, which alleges that the pair traded on secret information about BHP's plans to launch a bid for Potash. The SEC said they made an illegal profit of $1.1M by trading on their information. One of the men was head of research at Banco Santander (STD), which is advising BHP on the deal.
Ireland's debt rating downgraded by S&P. The credit rating on Ireland's government debt was cut one notch by S&P to AA- from AA. The ratings agency cited the projected cost of propping up the country's financial sector, as the key reason behind the downgrade. S&P said its new projections suggest that Ireland's net general government debt will rise toward 113% of gross domestic product in 2012. That is more than 1.5 times the average of other eurozone nations and well above that of similarly rated countries.
Credit card debt hits lowest level in 8 years. As card holders continue to pay off balances, the amount of credit card debt dipped to its lowest level in eight years during the second quarter. The average combined debt for bank-issued credit cards, such as those that carry the MasterCard (MA) or Visa (V) name, fell to $4,951 in the second quarter, down more than 13% from $5,719 in the same period a year ago, according to TransUnion, which tracks consumer debt. Fear of unemployment and a tighter credit environment, as the economy continues to sputter, contributed to the decline in consumer debt.
BOJ considers move as yen rises. Tokyo officials said they may call a special meeting to consider moves to intervene in the path of the yen, which has been surging recently. Any such action would be to smooth sharp market moves if the yen moved too far or too fast. The currency, which recently hit a 15-year high, pulled back earlier today on news of possible actions to slow its rise. Japanese officials have not intervened in the market since 2004.
Earnings: Wednesday Before Open
Toll Brothers (TOL): FQ3 EPS of $0.16 beats by $0.30. Revenue of $454.2M (-1.5%) vs. $393.4M. (PR)
Today's Markets
In Asia, Japan -1.7% to 8845. Hong Kong -0.1% to 20635. China -2.0% to 2597. India -0.7% to 18180.
In Europe, at midday, London -0.5%. Paris -0.5%. Frankfurt -0.3%.
Futures: Dow flat. S&P flat. Nasdaq -0.2%. Crude +0.1% to $71.72. Gold +0.4% to $1238.40.
Wednesday's Economic Calendar
7:00 MBA Mortgage Applications 8:30 Durable Goods 10:00 New Home Sales 10:00 FHFA Housing Price Index 10:30 EIA Petroleum Inventories 1:00 PM Results of $36B, 5-Year Note Auction
Notable earnings before Wednesday's open: AEO, TOL
Notable earnings after Wednesday's close: GES, JDSU
Seeking Alpha's Market Currents team contributed to this post.Complete Story »