Wall Street Breakfast: Must-Know News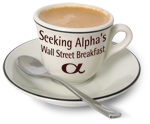 Oracle sues Google over Android. In a surprise move, Oracle (ORCL) has sued Google (GOOG) for patent and copyright infringement, alleging Google's Android operating system violates seven Java patents and related copyrights. The suit seeks unspecified damages and an injunction against "continued acts of infringement," raising concerns for the growing number of mobile phones that rely on Android. Premarket: GOOG -0.3% (7:00 ET).
Barnes & Noble booked for proxy fight. Barnes & Noble (BKS) claimed a legal victory yesterday after a Delaware judge rejected investor Ron Burkle's lawsuit challenging the bookseller's "poison pill" plan. The judge found that the "adoption and use of the rights plan was a good faith, reasonable response to a threat to Barnes & Noble and its stockholders." Following the ruling, and the collapse of talks between Burkle and B&N, Burkle launched a proxy battle and is fighting for three board seats, including one for himself.
GM gears up for new CEO. Declining to comment on rumors of an imminent IPO filing, General Motors announced that Ed Whitacre will step down as CEO on Sept. 1 and as chairman by the end of the year. Dan Akerson, who has served on GM's board since July 2009 and was previously the managing director at the Carlyle Group, will take Whitacre's place. Sources said the relatively sudden management switch may delay GM's IPO filing slightly, but that it will likely go through sometime next week.
India sets BlackBerry deadline; Google and Skype are next? India said it would block key BlackBerry services unless Research In Motion (RIMM) addresses its security concerns by August 31, making encrypted BlackBerry communications easily available to Indian intelligence and law enforcement agencies. Standing its ground, RIM said it won't give any country "special deals" and won't compromise the BlackBerry's encryption. Tech companies experiencing a little schadenfreude should perhaps think again: The Financial Times reports India has made a closed-door decision to raise similar concerns with Google (GOOG), Skype and other communications services. Premarket: RIMM -0.8% (7:00 ET).
DoJ joins bribery probe against H-P. The U.S. Justice Department has reportedly asked H-P (HPQ) to provide internal documents as part of an international probe into whether H-P executives paid bribes in Russia. German officials have been looking into the matter for months, and Russian authorities have since joined the investigation. The U.S. got involved after German prosecutors complained H-P wasn't complying with information requests, but sources say the Justice Department has asked for voluntary compliance and hasn't (yet?) subpoenaed the documents.
Caterpillar invests in excavator plant. Caterpillar (CAT) said yesterday it plans to open an excavator assembly plant in Texas that will employ more than 500 people and triple the company's capacity to produce excavators in the U.S. Production work at the 600,000-square-foot plant is expected to begin in the middle of 2012.
PayPal bets on micropayments. PayPal (EBAY) is betting on micropayments, with plans to make it easier for consumers to buy low-costs digital goods online, from access to a single news article to a virtual item in a video game. The credit card fees associated with very small purchases generally leave merchants with little or no profit, so micropayments have been largely ignored until now; PayPal thinks this leaves a niche for consumers who want to buy small items or make one-off transactions, and plans to roll out its micropayment platform by the end of the year.
German economy posts stellar growth,... Germany's GDP grew an adjusted 2.2% in the second quarter vs. Q1, marking the strongest growth in 20 years on the back of healthy contributions from exports and investment. GDP was up an adjusted 3.7% from the year before. Both these numbers were strongly ahead of consensus forecasts of 1.4% and 2.6% respectively.
...boosting eurozone GDP. The eurozone economy grew at its fastest pace in four years, propelled by Germany's strong growth. Eurozone GDP expanded 1% in Q2 vs. Q1, and was up 1.7% from the year-earlier period. The consensus estimates had been for 0.7% and 1.4% growth, respectively.
Earnings: Thursday After Close
Autodesk (ADSK): Q2 EPS of $0.36 beats by $0.09. Revenue of $473M (+14%) vs. $459M. Shares +3.6% AH. (PR, earnings call transcript)
DeVry (DV): FQ4 EPS of $0.99 beats by $0.17. Revenue of $507M (+27.9%) vs. $487M. Shares +0.2% AH. (PR)
Nordstrom (JWN): Q2 EPS of $0.66 in-line. Revenue of $2.4B (+12.7%) in-line. Shares -4.4% AH. (PR, earnings call transcript)
Nvidia (NVDA): Q2 EPS of $0.03 misses by $0.08. Revenue of $811M (+4.4%) vs. $832M. Shares -0.7% AH. (PR, earnings call transcript)
Today's Markets
In Asia, Japan +0.4% to 9253. Hong Kong -0.2% to 21072. China +1.2% to 2607. India +0.5% to 18167.
In Europe, at midday, London -0.4%. Paris -0.8%. Frankfurt -0.7%.
Futures: Dow -0.2%. S&P -0.3%. Nasdaq -0.3%. Crude +0.2% to $75.86. Gold +0.1% to $1217.60.
Friday's Economic Calendar
8:30 Real Earnings 8:30 Consumer Price Index 8:30 Retail Sales 9:55 Reuters/UofM Consumer Sentiment 10:00 Business Inventories 11:30 Fed's Hoenig speaks to the Lincoln Chamber of Commerce
Notable earnings before Friday's open: JCP
Seeking Alpha's Market Currents team contributed to this post.Complete Story »