Wall Street Breakfast: Must-Know News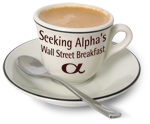 GM IPO could fetch as much as $16B. GM is seeking to raise between $12B and $16B when it launches its IPO, which is expected to close later this year. The automaker is expected to file an S-1 detailing the sale as soon as today. It would be the second largest IPO in U.S. history, behind Visa's (V) nearly $20B sale of shares in 2008. Most of Wall Street's largest banks are expected to be named as underwriters, including Morgan Stanley (MS), JPMorgan (JPM), BofA (BAC), and Citigroup (C). GM has also secured a $5B revolving line of credit from a group of at least 15 banks, including many of the expected underwriters.
Barnes & Noble close to settling shareholder dispute. Bookseller Barnes & Noble (BKS) is expected to announce that it has completed a deal to settle a suit filed by investor Ronald Burkle, who claimed that a poison pill plan would have prevented him from purchasing more shares in the company. As part of the settlement, Barnes & Noble will add two more independent directors to the board, in addition to adding a director affiliated with Burkle's investment company, Yucaipa Cos. Former CEO of Hilton Hotels, Stephen Bollenbach, is expected to be one of the other directors.
Vedanta in talks with Cairn Energy for a multibillion-dollar deal. The U.K.'s Vedanta Resources (VDNRF.PK) is in advanced talks to purchase assets or take a large stake in Cairn Energy (CRNCY.PK), an oil and gas exploration company also based in the UK. According to reports, the companies have discussed a number of options, including an equity stake, an asset purchases or a complete takeover of Cairn. A deal could be announced before the end of the month.
TARP bailouts helped foreign banks. A review by the Congressional Oversight Panel found that banks in foreign countries benefited from the $700B bailout fund that was set up under TARP. In the case of AIG (AIG), banks in Germany and France were large beneficiaries of the $70B the U.S. government gave the insurer to avoid a large-scale financial collapse. The report also criticized Treasury officials for not keeping closer tabs on how banks used the bailout funds. The panel urged the Treasury department to set up a database of information about how rescue funds flowed across borders and to push foreign regulators to do the same.
Cisco Warns of sales shortfall. John Chambers, CEO of Cisco (CSCO), said yesterday that sales for the current quarter would likely come in below expectations and that he is seeing signs of the economic recovery slowing down. The announcement came after the networking company reported strong earnings for the last quarter (see details below). In extended trading after the release of the results, Cisco shares fell 8%, to $21.84. Chambers said that the US economy is showing "unusual uncertainty." He forecast revenue growth of 18% to 20%, while many analysts were expecting growth of 21% or more.
China Mobile and Xinhua to launch search engine company. China Mobile, the world's largest wireless carrier in terms of number of users, and Xinhua, China's official news agency, are teaming up to launch a search engine firm that would compete with Google (GOOG) and Baidu (BIDU). China has the largest number of internet users in the world. Premarket: Shares of China Mobile +1.3%, Baidu -2% (7:00 ET).
Google strikes partnership with DirecTV to manage ads. In other Google (GOOG) news, the search company announced that it will manage television ads for some DirecTV (DTV) networks. The partnership could potentially more than double Google's access to satellite households to roughly 30M. The company already has deals with Dish Network (DISH), NBC Universal (GE), Bloomberg Television and others to manage ads on their networks.
Pfizer sues Iceland's Actavis over Lipitor patent. Pfizer (PFE) asked a judge to block sales of a generic competitor to its cholesterol drug, Lipitor. In a suit against Iceland's Actavis Group, it alleges that the generic drug maker infringed on a patent that expires in 2017. Lipitor is the best-selling prescription drug worldwide, with sales of $11.4B in 2009. Last month, Pfizer received approval from the EC for a new chewable form of Lipitor for children over 10.
Fortress to buy stake in AIG consumer finance unit. AIG (AIG) announced that it will sell an 80% stake in American General Finance, its consumer-loan business to Fortress Investment Group (FIG), a private equity and hedge fund firm. Terms of the deal were not disclosed, but some reports said the sale was being completed at a large discount. AIG said it will recognize a $1.9B pre-tax loss in the third quarter because of the deal. In yesterday's trading, AIG closed down 5.85% and Fortress lost 3.8%.
RenaissanceRe announces dividend and buyback plan. Insurer RenaissanceRe (RNR) declared a quarterly dividend of $0.25 a share after trading yesterday. The company's board also authorized it to buy back as much as $500M in stock.
Earnings: Wednesday After Close
Advance Auto Parts (AAP): Q2 EPS of $1.16 beats by $0.13. Revenue of $1.42B (+7.2%) vs. $1.41B. Shares +1.1% AH. (PR)
Cisco Systems (CSCO): FQ4 EPS of $0.43 beats by $0.01. Revenue of $10.8B (+27.5%) vs. $10.9B. Shares -5% AH. (PR. earnings call transcript)
Silver Wheaton (SLW): Q2 EPS of $0.15 misses by $0.01. Revenue of $95M (+129%) vs. $94.2M. Shares +0.8% AH. (PR)
Today's Markets
In Asia, Japan -0.9% to 9213. Hong Kong -0.9% to 21106. China -1.2% to 2575. India flat at 18074.
In Europe, at midday, London +0.5%. Paris -0.1%. Frankfurt flat.
Futures: Dow flat. S&P -0.1%. Nasdaq -0.2%. Crude -1% to $77.22. Gold +0.5% to $1204.70.
Thursday's Economic Calendar
8:30 Initial Jobless Claims 8:30 Import/Export Prices 10:00 Fed Hearing: Community Reinvestment Act 10:30 EIA Natural Gas Inventory 1:00 PM Results of $16B, 30-Year Note Auction 4:30 PM Money Supply 4:30 PM Fed Balance Sheet
Notable earnings before Thursday's open: BR, EAT, EL, KSS, PRGO, SLE, WEN
Notable earnings after Thursday's close: ADSK, DV, JWN, NVDA
Seeking Alpha's Market Currents team and guest writer Joseph McCafferty contributed to this post.Complete Story »