Wall Street Breakfast: Must-Know News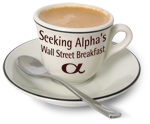 BP's Hayward heads for the door. According to several media reports over the weekend, BP (BP) CEO Tony Hayward plans to resign in the next day or two, will collect a pay and pension package of at least £11.8M ($18.2M), and Bob Dudley, the American coordinating BP's spill response, will likely be named as a successor. BP denied that Hayward is resigning, but U.S. officials confirmed the rumors, saying they were briefed by a senior BP representative who said Hayward would be stepping down. The company's board is scheduled to meet today to approve Hayward's departure, and an announcement would likely be made tomorrow when BP releases its Q2 results. Premarket: BP +2.5% (7:00 ET).
FCIC threatens Goldman audit. The Financial Crisis Inquiry Commission is threatening to bring in outside accountants to comb through Goldman Sachs' (GS) systems for data on derivatives. "We have a deep level of questioning about whether we're getting the straight scoop here and whether Goldman is working with us on information that they surely have," said Phil Angelides, the FCIC's chairman; Goldman has said its accounting systems didn't break out trading revenue generated strictly from derivatives, and therefore it can't provide the requested information to the commission.
Vivendi faces fraud fine. Brazil's securities regulator may fine Vivendi (VIVDY.PK) as much as 3B reais ($1.7B) for allegedly committing fraud in its takeover of Brazilian phone company GVT. Vivendi announced it won control of GVT last November, when in fact it had purchased less than the minimum 40% stake. The fine could be the largest ever imposed by Brazil's securities regulator.
Carlyle sells Taiwan TV unit. Private-equity firm Carlyle Group agreed to sell Kbro, Taiwan's largest cable TV operator, to the controlling shareholder of Taiwan Mobile for T$65B ($2B). It's an encouraging sign for global private equity investors in Taiwan, which have struggled to recoup some of their investments.
P-E groups eye Virgin Active. Private equity groups, including KKR (KKR) and Blackstone (BX), are said to be among the potential buyers considering a purchase of Virgin Active, the British health and fitness chain. Though parent company Virgin Group is said to be considering both a sale and an IPO of the business, a sale is seen as the mostly likely option and could bring in more than £1B ($1.5B).
Google, Microsoft battle for cloud control. Google (GOOG) and Microsoft (MSFT) are competing to supply the government's General Services Administration with web-based email and other software. It's a key contract, not just because of its size (covering roughly 15,000 employee email accounts) but because the GSA often influences how other federal agencies acquire new technologies.
U.A.E. targets BlackBerry. The United Arab Emirates said Research In Motion's (RIMM) BlackBerry is operating "beyond the jurisdiction of national legislation" and is open to misuse that poses security risks. The UAE said it would seek to safeguard its consumers and laws. Coming just months after Bahrain warned against the use of BlackBerry Messenger software, the comments raise concerns that other Gulf countries may opt to curb certain BlackBerry apps, giving an advantage to rivals like Apple (AAPL).
Germany gets flak over stress tests. The results of European stress tests, published on Friday, showed that just seven of 91 banks tested across the EU failed to achieve a tier one capital ratio of 6% once their balance sheets were exposed to a series of adverse scenarios for 2010 and 2011. However, Germany is getting flak from European regulators because six of the 14 German banks tested, including Deutsche Bank (DB) and Postbank, didn't provide the expected detailed breakdown of sovereign debt holdings. The non-disclosure is likely to fuel rumors that the banks have something to hide, adding to the market uncertainty that stress tests were meant to quell. Meanwhile, banks that passed the tests must now turn to their next challenge: raising billions of dollars in long-term funding to finance new lending. Premarket: DB -2.65% (7:00 ET).
Madoff "net winners" brace for lawsuits. Madoff trustee Irving Picard is preparing to file a wave of lawsuits against Madoff investors who were "net winners," ultimately withdrawing more than they had originally deposited. Picard said these investors "made money at the expense of the people who didn't," and intends to claw back some of the funds for redistribution to other Madoff victims. The "net winners" protest they shouldn't be punished for withdrawing funds that turned out to be just a fraction of what they thought they had in their accounts.
Friday's failures. Seven banks were closed on Friday, bringing this year's total failures to 103 so far. The banks (in Florida, Georgia, South Carolina, Kansas, Minnesota, Nevada and Oregon) had about $2B in deposits combined, and their resolution will cost the FDIC an estimated $431M.
Earnings: Monday Before Open
Enterprise Products Partners L.P. (EPD): Q2 EPS of $0.46 beats by $0.02. Revenue of $7.54B (+38.8%) vs. $7.99B. (PR)
FMC Technologies (FTI): Q2 EPS of $0.78 beats by $0.07. Revenue of $1.01B (-8.3%) vs. $1.05B. (PR)
Today's Markets
In Asia, Japan +0.8% to 9504. Hong Kong +0.1% to 20840. China +0.7% to 2589. India -0.6% to 18020.
In Europe, at midday, London -0.1%. Paris flat. Frankfurt -0.3%.
Futures: Dow -0.1%. S&P -0.1%. Nasdaq flat. Crude -0.6% to $78.50. Gold +0.1% to $1188.80.
Monday's Economic Calendar
8:30 Chicago Fed National Activity Index 10:00 New Home Sales
Notable earnings before Monday's open: EPD, FTI, LO
Notable earnings after Monday's close: AAN, HMA, JEC, LM, MAS, PCL, RRC, SANM, SLG, UHS, VECO
Seeking Alpha's Market Currents team contributed to this post.Complete Story »