Wall Street Breakfast: Must-Know News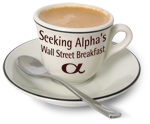 Intel, FTC reach settlement. Intel (INTC) has reportedly reached a preliminary settlement with the FTC that won't cost the company any money but will require it to extend changes under its earlier settlement with Advanced Micro Devices (AMD) to graphics chips. The deal will also regulate Intel's use of volume discounts for both central processing and graphics chips. Friday is the target date for a final decision on the settlement. Premarket: INTC -0.9% (7:00 ET).
Toyota settles patent case, gets subpoenaed. Toyota (TM) settled a patent-infringement claim that could have blocked U.S. imports of new hybrids, including the Prius. The agreement with Paice LLC ends six years of litigation and comes on the eve of a U.S. International Trade Commission hearing. The company also disclosed this morning that it has been subpoenaed by a federal grand jury to turn in documents related to a problem with a component in the steering mechanism in some of its vehicles. Toyota said it's cooperating with the probe.
BP allowed to keep well capped. The government said BP (BP) may continue to keep the Gulf well capped after determining that the escape of methane gas is "inconsequential" and a seep two miles away isn't connected to the well. National Incident Commander Thad Allen also noted that pressure inside the well is slowly rising, which is a positive sign that BP won't need to reopen it. However, even if the flow is permanently stanched next month, as planned, the oil spill could cost the region 17,000 jobs and around $1.2B in lost economic growth by year-end. Premarket: BP -1.7% (7:00 ET).
Nokia looks for new leader. Nokia (NOK) has reportedly launched a search for a new CEO, and may make a decision by the end of the month, as current chief executive Olli-Pekka Kallasvuo struggles to advance the company in the smartphones market. Though Nokia is still selling more cellphones than any other manufacturer, it has been unable to keep up with advances by Apple (AAPL) and phones running Google's (GOOG) operating software. The stock is off nearly 42% since April 19. Premarket: NOK +3.1% (7:00 ET).
Three bids left for RBS unit. RBS (RBS) reportedly received three bids for its WorldPay unit by yesterday's deadline. All three bidders are private equity groups, with a consortium comprising Advent International and Bain Capital seen as the front runner. The unit is likely to sell for £2.5B-3B ($3.8B-4.6B). Premarket: RBS -1.4% (7:00 ET).
Bidders lose interest in RadioShack. RadioShack (RSH) has been exploring strategic options, and its stock is up 10% this month on speculation the company may be the target of a takeover bid, but potential bidders seem to be losing interest in the electronics retailer. Sources said TPG Capital plans to drop out of the bidding, and Blackstone Group (BX), which had considered a joint offer with TPG, is unlikely to move forward on its own. Bain Capital, which had also expressed an interest in RadioShack, is no longer in the auction.
Rio Tinto aims for airliners. Rio Tinto (RTP) is fighting back against the growing use of advanced plastics in the aerospace industry, with plans to disclose today advanced alloys and contracts with Airbus (EADSF.PK) and Canadian plane maker Bombardier. The company is pitching what it calls AirWare, a range of durable but lightweight aluminum alloys, as an alternative to carbon-fiber composite materials. Premarket: RTP -0.2% (7:00 ET).
IBM reshuffles management. IBM (IBM) released its Q2 earnings yesterday (details below), beating on profit but falling short on sales, partly because of currency fluctuations. The company also reshuffled its senior managers, giving four executives expanded responsibilities and setting the stage for a race that could determine who will eventually replace CEO Sam Palmisano. Shares fell 4.3% in after-hours trading, as investors had expected better earnings after strong results from Intel (INTC) and Oracle (ORCL).
Amazon: E-books outselling hardcover. Sales of Amazon's (AMZN) Kindle e-reader have tripled since the company lowered its price last month to $189 from $259, with CEO Jeff Bezos saying growth had "reached a tipping point" despite competition from devices like the iPad (AAPL), the Sony Reader (SNE) and the Nook (BKS). Amazon also noted that over the last three months, it has sold more e-books than hardcovers, which is "astonishing when you consider that we've been selling hardcover books for 15 years, and Kindle books for 33 months." It's still too early to tell whether e-books are cannibalizing the huge and crucial market for paperback sales.
Earnings: Tuesday Before Open
Bank of New York Mellon (BK): Q2 EPS of $0.55 beats by $0.01. Revenue of $3.3B (-1.1%) in-line. (PR)
Omnicom Group (OMC): Q2 EPS of $0.79 beats by $0.02. Revenue of $3B (+5.9%) in-line. (PR)
UnitedHealth (UNH): Q2 EPS of $0.99 beats by $0.24. Revenue of $23.3B (+7.4%) vs. $23B. (PR)
Weatherford International (WFT): Q2 EPS of $0.11 beats by $0.04. Revenue of $2.4B (+22.3%) vs. $2.3B. (PR)
Whirlpool (WHR): Q2 EPS of $2.64 beats by $0.51. Revenue of $4.5B (+8.8%) in-line. (PR)
Earnings: Monday After Close
Atheros Communications (ATHR): Q2 EPS of $0.67 beats by $0.03. Revenue of $238M (+112.3%) vs. $236M. Shares -6.9% AH. (PR)
Crown Holdings (CCK): Q2 EPS of $0.67 in-line. Revenue of $2.018B (-2.2%) vs. $2.1B. Shares -0.3% AH. (PR)
IBM (IBM): Q2 EPS of $2.61 beats by $0.03. Revenue of $23.7B (+2%) vs. $24.2B. Raises FY10 guidance. Shares -4.3% AH. (PR, earnings call transcript)
Lincare (LNCR): Q2 EPS of $0.47 beats by $0.01. Revenue of $418M (+10%) vs. $414M. Shares +0.6% AH. (PR)
Noble (NE): Q2 EPS of $0.87 misses by $0.18. Revenue of $710M (-21%) vs. $771M. Shares -5.5% AH. (PR)
Packaging of America (PKG): Q2 EPS of $0.38 beats by $0.07. Revenue of $616M (+12%) vs. $594M. Shares +3.2% AH. (PR)
Steel Dynamics (STLD): Q2 EPS of $0.22 misses by $0.03. Revenue of $1.6B (+106.1%) in-line. Shares -1.6% AH. (PR)
Texas Instruments (TXN): Q2 EPS of $0.62 in-line. Revenue of $3.5B in-line. Sees Q3 EPS of $0.64-0.74 vs. consensus of $0.64. Shares -5.3% AH. (PR, earnings call transcript)
Tupperware (TUP): Q2 EPS of $0.97 misses by $0.04. Revenue of $565M (+7.7%) vs. $580M. Shares -7.6% AH. (PR)
Zions Bancorp (ZION): Q2 EPS of -$0.84 misses by $0.29. Loan balances declined 2.5% from Q1 due to weakness in loan demand. Shares -2.7% AH. (PR)
Today's Markets
In Asia, Japan -1.1% to 9300. Hong Kong +0.9% to 20265. China +2.1% to 2529. India -0.3% to 17878.
In Europe, at midday, London -0.7%. Paris -1.2%. Frankfurt -1.1%.
Futures: Dow -0.7%. S&P -0.8%. Nasdaq -0.8%. Crude -0.1% to $76.46. Gold -0.3% to $1178.10.
Tuesday's Economic Calendar
7:45 ICSC Retail Store Sales 8:30 Housing Starts 8:55 Redbook Chain Store Sales 10:00 Hearing: International Cooperation and Financial Regulatory Modernization 2:30 PM Hearing: 'The State of U.S. Coins and Currency' 5:00 PM ABC Consumer Confidence Index
Notable earnings before Tuesday's open: AMTD, BIIB, BK, BTU, CRUS, FRX, GS, HOG, ITW, JNJ, MI, MTG, OMC, PEP, STT, UAUA, UNH, WFT, WHR
Notable earnings after Tuesday's close: ALTR, BSX, CTAS, FIS, FULT, GILD, JNPR, LLTC, MDRX, SLM, STX, SYK, TPX, VMW, YHOO
Seeking Alpha's Market Currents team contributed to this post.Complete Story »