Wal-Mart Coming to DC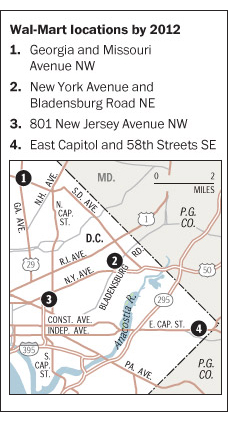 I've never lived near a Wal-Mart, and since I don't own a car that means my Wal-Mart shopping experience has been very limited. Apparently, though, their plan to move into Washington, DC includes plans to build a store very close to my apartment. I'll be a real American at last. Currently I cherish my memories of Wal-Marting in Ellsworth, ME and Kitty Hawk, NC but those are places I go on vacation. Now I'll be like a real citizen of the USA. It's very exciting:
The blueprint is part of a national effort by the chain to expand beyond rural and suburban areas, where its low prices and massive stores transformed the retail landscape, into urban markets. Although Wal-Mart already operates stores in Northern Virginia and suburban Maryland, it has never had a store in the District.
The four stores would be built in D.C. neighborhoods where retail options are relatively scarce: on the site of a former car dealership on Georgia Avenue NW; at New York Avenue and Bladensburg Road NE; as part of a new mixed-use development on New Jersey Avenue NW; and at East Capitol and 58th streets SE.
On a more serious note, while of course one has to hope and insist that these projects be well-designed for an urban environment, I think it's very much a good thing whenever major national chain retailers want to move into one's city. The great advantage of dense urban areas as centers of commerce is that they have the customer base to make niche business operations realistic. But the exclusion of big tentpole retailers from these areas makes them less attractive to residents, and drives too much of the city's small-scale retail activity to tiny high-cost low-quality shops rather than to innovative niche firms.
Meanwhile, DC will always have enormous potential for niche retail and small businesses simply because so much of the "bones" of the existing built environment is so clearly unsuitable for giant retail chains. The question the city needs to cope with is how to make it simpler for entrepreneurs to set up businesses in those spaces so that we don't have so many of them lying vacant.