Wal-Mart's Modest Profits
Monica Potts writes:
Not only is Wal-Mart at the top of the Fortune 500 list with $14 billion in profits last year, its top executives took home record pay as well. The Wal-Mart folks told Arkansas Democrat-Gazette reporter Steve Painter that changes in federal reporting rules requiring them to include total compensation packages in executive pay figures artificially skewed the numbers upward, but the truth is that the president and chief executive officer, Mike Duke, made almost $20 million last year. To put that in context, Arkansas, where the company is based, is ranked 48 in terms of median income.
This is hard to believe because $14 billion is such a large number, but if you look at profits as a percent of revenue you'll see that Wal-Mart isn't actually an especially profitable firm. Here's a chart I made showing the profit rate of the top ten firms on the Fortune 500: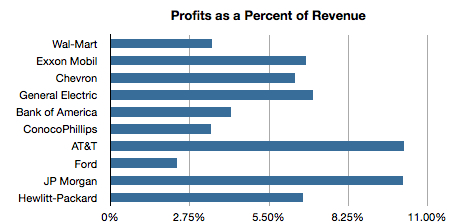 Wal-Mart's total profits are enormous because the company is so large. But mass-market retail is not a high-margin line of business and being the company that undersells other mass-market retailers is really not that lucrative. Ironically, this is part of what makes Wal-Mart's position so secure. Nothing about the firm's profit rate suggests that trying to compete with it would be a great way to get rich.
At any rate, looking at this chart I think it's hard to avoid the conclusion that Wal-Mart is the last thing we should be worried about. The worrying trend is the domination of the corporate landscape by super-profitable firms in the heavily regulated energy, banking, and telecom sectors. Similarly, if you want a CEO pay outrage note that ConocoPhillips paid CEO Jim Mulva $10.44 billion in 2009 even though the firm he runs was spectacularly less successful than its two American competitors. Poor Christophe de Margerie, CEO of Total SA in France, had to settle for a mere &#8364 1,552,875.00 to run an oil company that's both larger and more profitable than Mulva's.