Vladmir Putin personally directed how hacked material from Democrats was leaked, NBC News reports
Russia dismissed as "rubbish" a U.S. news report that intelligence shows President Vladimir Putin personally directed how material hacked from the Democratic Party was used during the presidential election campaign.
"This is amusing rubbish that has no basis in fact," Putin's spokesman Dmitry Peskov said Thursday on a conference call with reporters, while accompanying the Russian president on a trip to Japan. Foreign Minister Sergei Lavrov also told reporters in Japan that he was "stunned" by the NBC News report, which cited two unidentified U.S. officials with direct access to the information.
"I think it's clear that it's stupid and absolutely pointless to try to convince anyone of this," Lavrov said of the allegation, which NBC said came from diplomatic sources and spies working for U.S. allies.
Related

Obama orders intelligence agencies to investigate what impact Russian hacking attacks had on U.S. election
The Central Intelligence Agency has concluded that the Kremlin used hacking in a bid to help Donald Trump win the presidency, according to the Washington Post. The President-elect has rejected the idea that Russia was behind the hacks of Democratic Party servers.
Putin's objectives were multifaceted, NBC said, citing an unidentified high-level intelligence official. What began as a "vendetta" against Democratic contender Hillary Clinton evolved into an effort to "split off" key American allies by showing that other countries couldn't depend on the U.S. as a credible global leader any more, NBC reported.
The CIA and the office of the Director of National Intelligence wouldn't comment to NBC. U.S. President Barack Obama has ordered a full review of the evidence of Russian hacking.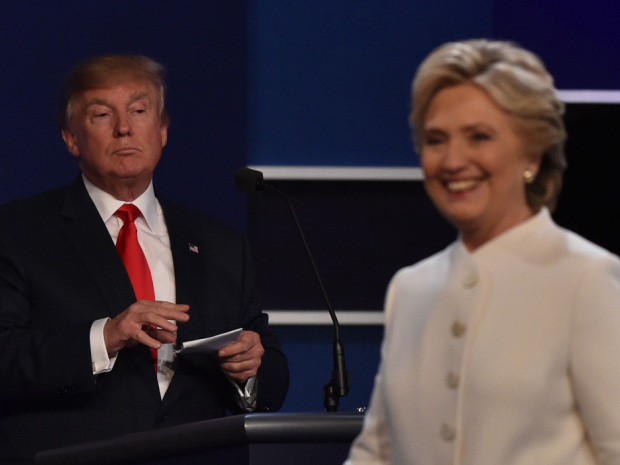 Paul J. Richards / AFP / Getty ImagesHillary Clinton and Donald Trump on October 19, 2016
Russian Prime Minister Dmitry Medvedev on Thursday praised Trump's Cabinet picks, including his nominee for Secretary of State, Exxon Mobil Corp. Chief Executive Officer Rex Tillerson, as people who have "no innate anti-Russian" prejudice.
"These are people who are all starting with a clean slate," Medvedev said in an interview with Russian TV channels. "I think that's not bad."
With files from Ilya Arkhipov and Olga Tanas