View From the Turret: A World at War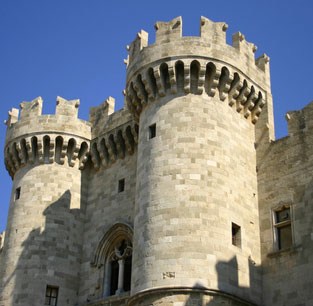 We have another full week ahead of us as earnings season kicks into high gear and the bulls continue to duke it out attempting to retain their leadership for the fourth quarter.  A couple of weeks into this final quarter, the trading landscape continues to look like a world at war – with skirmishes and battles breaking out in a number of key locations…
On the earnings front, we have the optimists with their half full cups, believing that corporate profits will continue to rise despite the macro headwinds.  Guardedly optimistic comments from management (who have a vested interest in keeping investors confident) have thus far been able to support stock prices and keep the bears at bay.
But the battle of the foreclosure is leaning decidedly towards the bears.  Last week's escalation in scrutiny over banks' foreclosure process threatens to severely hamper an already weak housing market, and the Wall-Street reaction is bearish to say the least.
Next, there is the skirmish within the FOMC as the majority of Fed members appear to have their hands on the button of the nuclear QE2 program – while Thomas Hoenig urges cooler heads to prevail.  Initially, QE2 appeared to be a significant win for the bulls.  But what exactly would a victory mean here? Higher stock prices based on a value-less dollar? As with most nuclear options, it's tough to declare a true winner when all is said and done.
And don't forget our little currency war too – A race to see which nation can devalue its currency the swiftest – thereby making exports more competitive and creating beggars of neighbors…
As Mercenaries, we're not married to any of the competitors in these battles.  Instead, we're following the profit, looking for the opportunity, and capturing the capital.  There are a number of attractive trades on the docket for this week, so let's jump in and work through the opportunities!
Homebuilders Pinned Down
The increasing rate of foreclosures and the new trend away from ownership and towards renting has had a devastating effect on homebuilers.  Even during September when the majority of equities were sharply higher, the best the homebuilders could do was to recoup a small portion of their summer losses.
Now it appears the lift has subsided and the heavy debt and negative earnings are once again dominating traders' focus.  Last week we took a short position in iShares US Home Construction (ITB) as the ETF fell below resistance, and this week we will be considering adding horizontal exposure by picking up short positions in some of the individual homebuilder stocks.
KB Home (KBH) is expected to lose $1.28 per share this year and may turn things around in 2011 to a point where it "only" loses $0.21 per share.  With significant debt, lending institutions under pressure (read: tough loan constraints for home buyers) and unemployment remaining stubbornly high, don't expect these expectations to be increasing any time soon.
In fact, it's a bit ironic to see that 90 days ago, the average analyst actually expected positive earnings of 21 cents for 2011.  Apparently the situation is getting worse than expected quite quickly.
I would be interested in shorting KBH on a break below last week's swing low.  Of course I will be watching how the market, the industry, and our portfolio is performing in order to determine whether to pull the trigger or not.  But heading into the week, KBH appears to be a prime candidate to add exposure to our ITB position.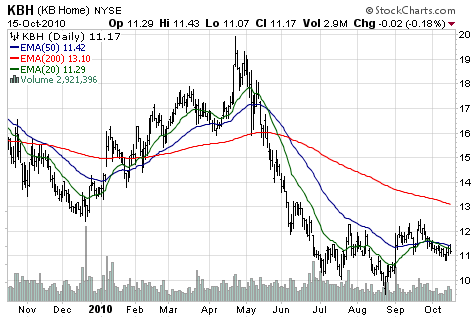 Toll Brothers, Inc. (TOL) might actually have farther to fall if it breaks down this week.  Analysts actually expect the luxury homebuilder to post positive results in 2011 and have yet to start marking their numbers down based on any deterioration in the market or in the company's prospects.
TOL won't report earnings until the end of November, so don't expect any company fundamentals to drive prices in the short-term.  Instead, I expect the stock to trade in-line with the broad homebuilding sector – and I'm actually watching a few key retail reports for an idea of how TOL will behave.
Since the company caters to the luxury home buyer, it will be helpful to see how the luxury consumer is behaving in other sectors.  If companies like Tiffany & Co. (TIF) or Sotheby's (BID) report weak spending in the luxury retail space, it would make me more confident in holding a short position in TOL.
For the time being, a break below last week's swing low would make me very interested in a trade – especially considering this would also be a break below the key 200 EMA.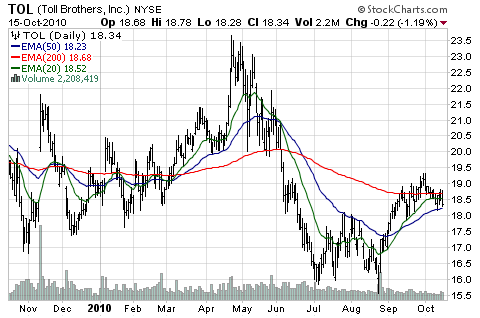 Education Stocks Round Two?
Apollo Group (APOL) shook up the for-profit education group Thursday after announcing changes to its enrollment policies aimed at heading off increased regulatory constraints.  If investors had any doubts as to whether the new regulations will affect returns, they no longer can view the situation through rose-colored glasses.
Typically when a sector is hit by a bombshell like this, the initial reaction is panic – and then the "buy-on-dippers" step in and claim their bargains.  But bargains are usually only available well after a sector has had the time to adjust to the new environment – and NOT 48 hours after an announcement is made.
Several education stocks recouped a portion of their initial losses and now look vulnerable to rolling south once again.
Devry Inc. (DV) appears to have found support above $41.  With analysts expectations set at $4.59 for this year and $5.13 for 2012 (fiscal year end June 30), DV might look like an excellent value.  But if enrollment takes a significant hit because of increased regulatory issues, you can kiss those earnings numbers goodbye.
Of course Wall Street has the utmost confidence in their analyst's models, but the price of the stock tells me that traders don't place too much stock in these estimates.  If DV breaks below $41, it could easily set off another sharp leg lower – and as traders we could use a fairly tight stop to manage risk.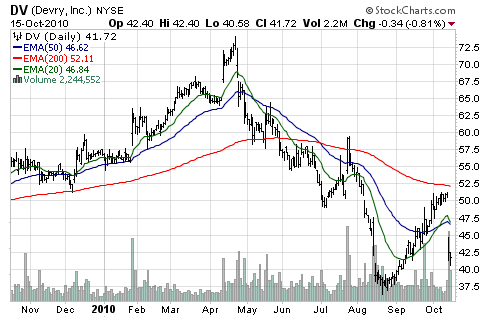 ITT Educational Services (ESI) also looks interesting as the 30 minute chart has been trending higher since the announcement.  A break of this trend would offer a great opportunity to short, while the risk could be capped near $58 assuming the stock breaks down quickly without continuing to melt higher.
ESI is expected to report earnings of $2.74 on October 21.  I can tell you that no one will be paying attention to the Q3 numbers but instead will be listening for any color on new enrollment practices.  If the stock were to break down before the announcement, we could end up with a short position and a significant catalyst to drive the price much lower.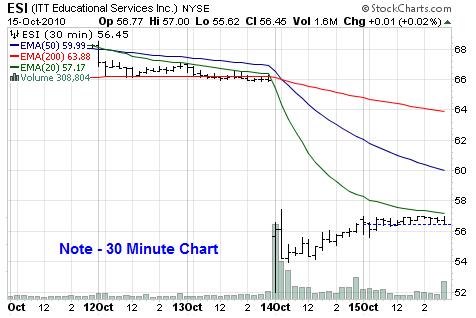 Precious Metals: New Leadership
It's pretty clear that silver has taken the leadership over gold.  While many of our gold miners are consolidating gains or catching their breath, our top silver mining picks have been breaking to new highs on strong volume.
Silver Standard Resources (SSRI) is up 16% from when it was profiled in the Mercenary Dispatch and there still appears to be a lot of value in the stock.  The company is sitting on an attractive portfolio of resources with low production costs.  So as long as the price of silver remains stable to bullish, the stock price could continue to climb much higher.
From a short-term perspective, SSRI is a bit extended and vulnerable.  It makes a lot more sense to wait for a consolidation or pullback before initiating a new position or adding to existing exposure.  But the strong performance does imply leadership and as a general rule, I would rather pay top dollar for a leader in a specific sector, than to get a bargain on a poorly performing vehicle.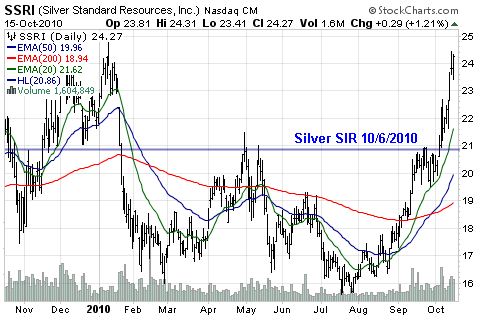 On the gold front, I'm becoming more impressed with the action in US Gold (UXG).  The company has been expanding with no debt and recent discoveries appear to be boosting investor confidence.   The stock has run into resistance at around $5.50 and we could certainly see the stock turned back at this level again.
But if QE2 continues to push up the value of hard assets, UXG could very well set us up with an attractive risk / reward opportunity.  Buying the break to new highs gives us a line in the sand where a high-probability stop point can be used.  I say "high probability" because there is a high-probability we will never see this point on the chart again, AND there is also a high probability that if the stock comes BACK to this stop point, something is not right.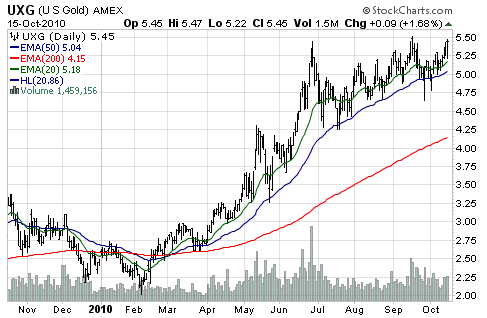 Cult Stocks Continue to be Vulnerable
If a picture is worth a thousand words, then I shouldn't have to write much about Green Mountain Coffee Roasters (GMCR).  The chart below is an image of what happens when a cult stock (widely-held momentum stock) breaks.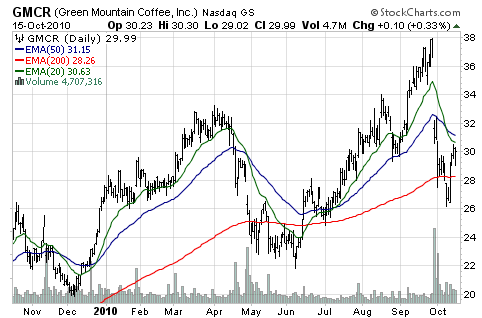 The stock got hammered last month and despite the SEC investigation, the stock still remains priced to perfection.  Since both professional and amateur investors alike are more willing to sell on a rally, than at the low; last week's bounce in the share price might offer an interesting opportunity to short once GMCR breaks down again.  Don't be surprised to see this cult stock below $20 before the year is out…
We have plenty more to talk about this week including our short positions in BAC and JPM which are trading rather well – and a number of high-profile earnings reports on deck.  So stay tuned and keep those reward to risk ratios in an acceptable range.
Trade 'em well this week!
MM