The Valero Energy/Chevron Pembroke refinery deal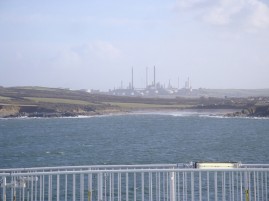 A few days ago Valero Energy agreed to pony up $730 million to acquire Chevron's Pembroke refinery in Wales, as well as a broad range of  inventory, marketing, and related logistics assets located across the UK and Ireland (valued at another $1 billion). One of Europe's largest integrated refineries, the Pembroke facility has a throughput capacity of 270,000 barrels per day (220,000 barrels per day of crude). In addition, the deal also includes stakes in four major product pipelines and 11 fuel terminals, a 14,000 barrels-per-day aviation fuels business, and more than 1,000 Texaco-branded wholesale gas stations (the UK's #1 branded dealer network).
Valero, like many of its peers, has been shedding some of its under performing refining and marketing operations in order to redirect its capital into profitable refinery and marketing assets elsewhere. (In 2010 Valero exited its refining operations on the US East Coast.) The Pembroke refinery deal offers significant long-term value for the company's shareholders, according to Valero chairman and CEO Bill Klesse. In other words, the price was right.
Of particular note is that even while the refining industry suffered during the 2009 global recession, which hammered commodity prices, the Pembroke refinery remained profitable and cash-flow positive.
What does Chevron get out of selling these assets? Well, cash, obviously. But strategically the company is restructuring its own refining and marketing business to focus on where it believes it is most competitive: North America and the Asia-Pacific region. Since 2010, the company has agreed to sell downstream assets (mostly fuels marketing businesses) in more than 20 other countries, mainly in the Caribbean and southern Africa.
So the two refining and marketing giants find that their mutual restructuring programs intersect quite nicely in the refinery asset sitting on the Welsh coast.
Seller meets buyer for a mutually advantageous result.
A refined business deal.
~
Picture by Nick Hubbard, used under a CC-Share Alike license.