U.S. GDP: not a recession, but still not very encouraging
The Bureau of Economic Analysis reported today that U.S. real GDP grew at an annual rate of 2.8% during the fourth quarter of 2011. That's better than any of the previous 5 quarters, which tells you more about how disappointing the previous year and a half has been than it does about how great the fourth quarter was. The average historical growth rate for the U.S. economy over the last 60 years has been about 3.2%.
Real GDP growth at an annual rate, 1947:Q2-2011:Q4, with dates of U.S. recessions as determined by NBER indicated as shaded regions. Blue line represents historical average growth of 3.2%.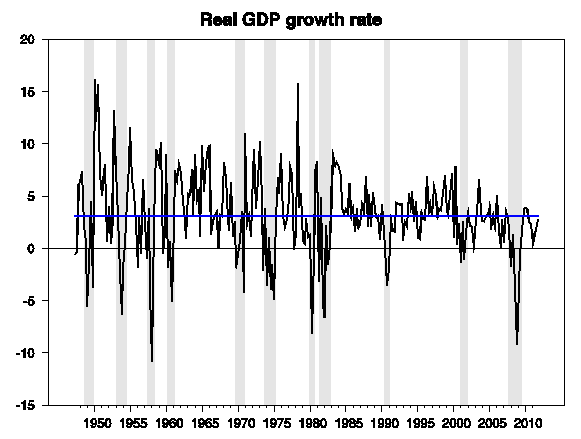 A key reason to be concerned about continuing below-average GDP growth is Okun's Law, which originally held that to get the unemployment rate to decline by 1 percentage point, we'd need a year of GDP growth 3% above average. Okun based that estimate on data for the U.S. economy prior to 1960, but it has held up pretty well in the half century since then, with 2.5% above-average GDP growth a better summary of the requirement based on the full sample of data now available. Using data from 1949:Q1 to 2011:Q4, here's a quarterly regression of the year-over year change in the unemployment rate on the year-over-year percent change in real GDP (Newey-West standard errors with 8 lags in parentheses):

Vertical axis: change in unemployment rate between last month of the quarter and value for same month in the preceding year. Horizontal axis: 100 times the change in the natural logarithm between U.S. real GDP in a given quarter and the value for the same quarter of the previous year. Line plots regression equation above.

According to the above relation, if real GDP grows by less than 3.3% over a year, the unemployment rate is more likely to rise than fall. The fact that the unemployment rate fell by 0.9 percentage points in 2011 despite GDP growth of only 1.6% for the year is thus a little surprising, and attributable in part to a declining labor force participation rate. If we want to see real progress in 2012, we have to hope for better GDP numbers than we had for the fourth quarter.
Source: Federal Reserve Bank of St. Louis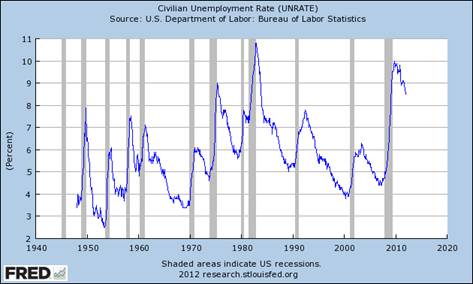 Though disappointing, 2.8% real GDP growth would unambiguously be characterized by economists as expansion rather than recession. The latest GDP numbers helped bring the Econbrowser Recession Indicator Index down to 7.4%. For purposes of calculating this number, we allow one quarter for data revision and trend recognition, so the latest value, although it uses today's released GDP numbers, is actually an assessment of where the economy was as of the end of the third quarter of 2011. The index would have to rise above 67% before our algorithm would declare that the U.S. had entered a new recession.
GDP-based recession indicator index. The plotted value for each date is based solely on information as it would have been publicly available and reported as of one quarter after the indicated date, with 2011:Q3 the last date shown on the graph. Shaded regions represent dates of NBER recessions, which were not used in any way in constructing the index, and which were sometimes not reported until two years after the date.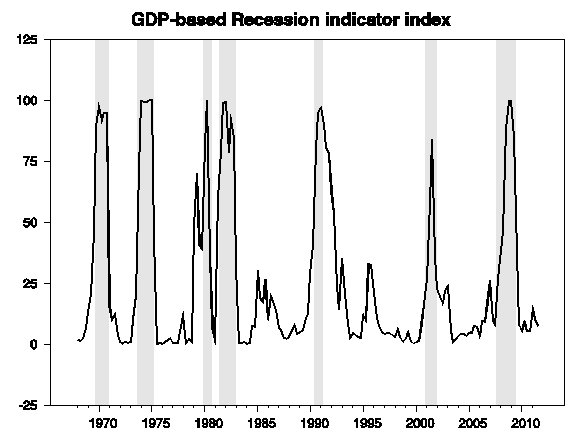 Another disappointment in the latest GDP numbers is that inventory accumulation accounted for 1.9 percentage points of the 2.8% 2011:Q4 growth rate-- we were producing more goods, but not succeeding in selling them to final buyers. Also noteworthy is the -0.9% contribution from lower government spending at the federal, state, and local levels. I know you've heard this before, but it doesn't hurt if objective analysts keep repeating the obvious: fiscal contraction is contractionary.