The US could have avoided Puerto Rico's water crisis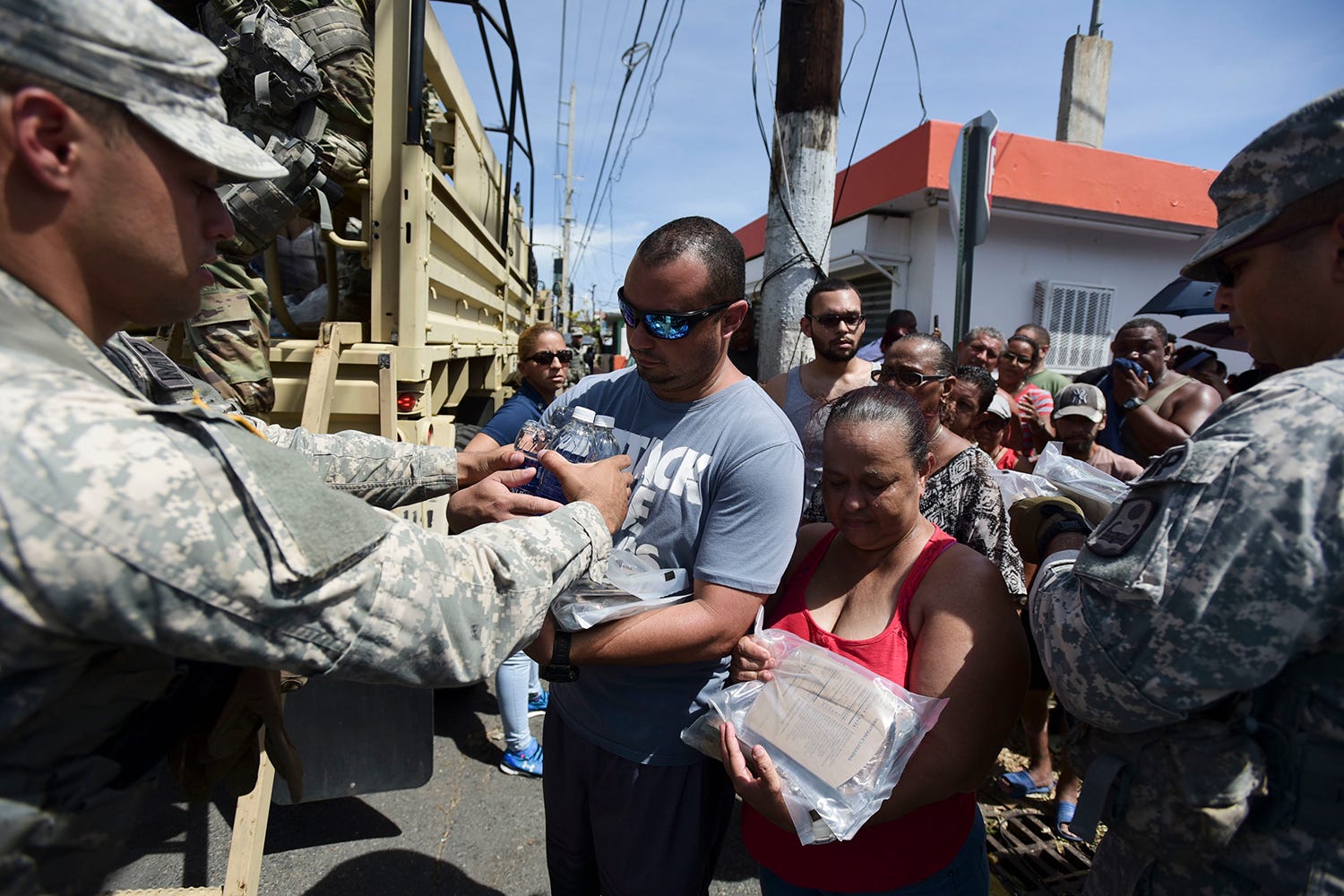 After Hurricane Maria hit Puerto Rico, more than 2.5 million residents are still without power.
Officials estimate that more than one-third of residents still don't have access to clean water.
Aid agencies and relief experts say that some of the problems could have been avoided.
The numbers associated with the current situation in Puerto Rico, one month after Hurricane Maria struck the U.S. territory, are baffling.
More than 2.5 million residents are still without power. The Federal Emergency Management Agency is able to offer 200,000 meals to Puerto Ricans daily — but it needs to feed 2 million people. Perhaps most baffling, or at least exasperating, President Donald Trump gives himself a perfect 10 for his response to the storm's aftermath.
One of the most pressing issues on the island is access to clean water. Officials estimate that more than 1 in 3 residents in Puerto Rico doesn't have it.
Aid agencies on the ground say the number is closer to 1 in 2. Families are drinking water contaminated with sewage and dead animals. Others are drawing from toxic Superfund sites. There have been at least 10 cases of leptospirosis from drinking contaminated water — and officials are investigating four deaths which may have been caused by waterborne bacteria.
Simply put, this is an ongoing public health crisis.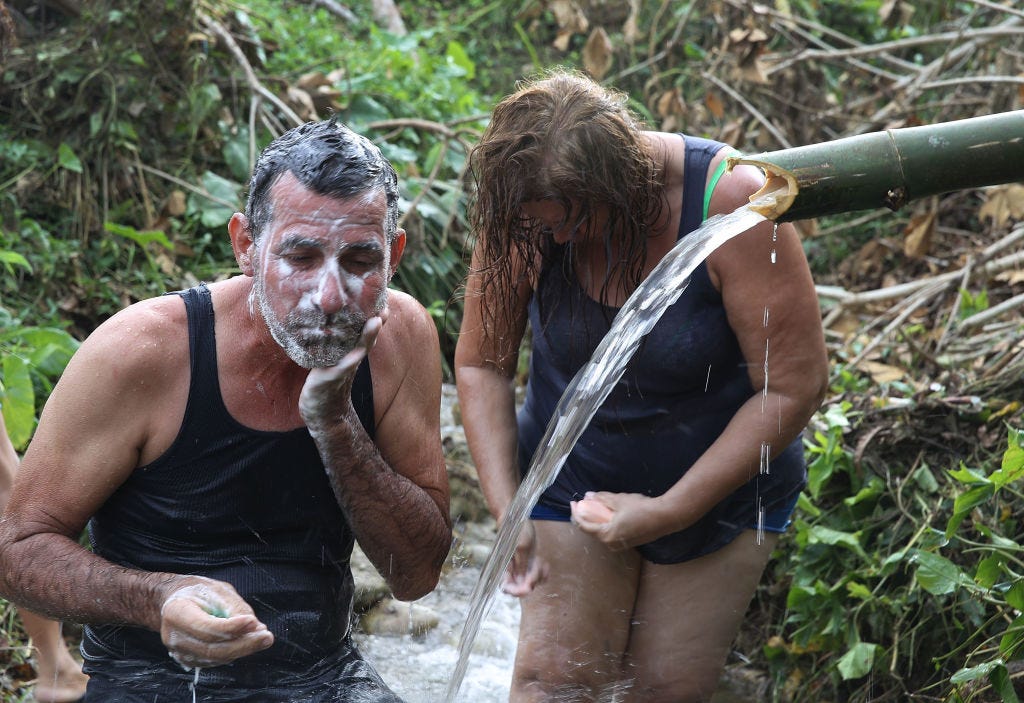 Joe Raedle/Getty
Puerto Rico was in a tough spot before Maria tore through the Caribbean island. Economic and political factors complicated disaster response: The territory was already facing a debt crisis. And limited local resources and poor roads made it difficult to get supplies to storm survivors.
But aid agencies and relief experts believe the current predicament could have been avoided. There are international standards and a clear blueprint for how to get safe water to people after a disaster.
But so far, the federal response has failed in providing both immediate help and longer-term solutions — and part of the reason for that could boil down to discrimination.
"We're a very capable nation, yet we don't seem to have deployed our capabilities in this instance," says John Mutter, a Columbia University professor and international disaster relief expert. "This isn't rocket science. We know what we're supposed to do. The fact that we're not doing it needs explanation."
According to the relief organization Oxfam, the minimum standards for disaster response have not been met. The aid group follows Sphere minimum standards — a set of universal benchmarks for humanitarian responses established in 1997 — which require, for instance, four gallons of water to be provided per day per person for bathing, cooking, and drinking. The water should be delivered in safe containers through water trucks, water bladders, or filters. And initial assistance is supposed to arrive within three to five days after a disaster.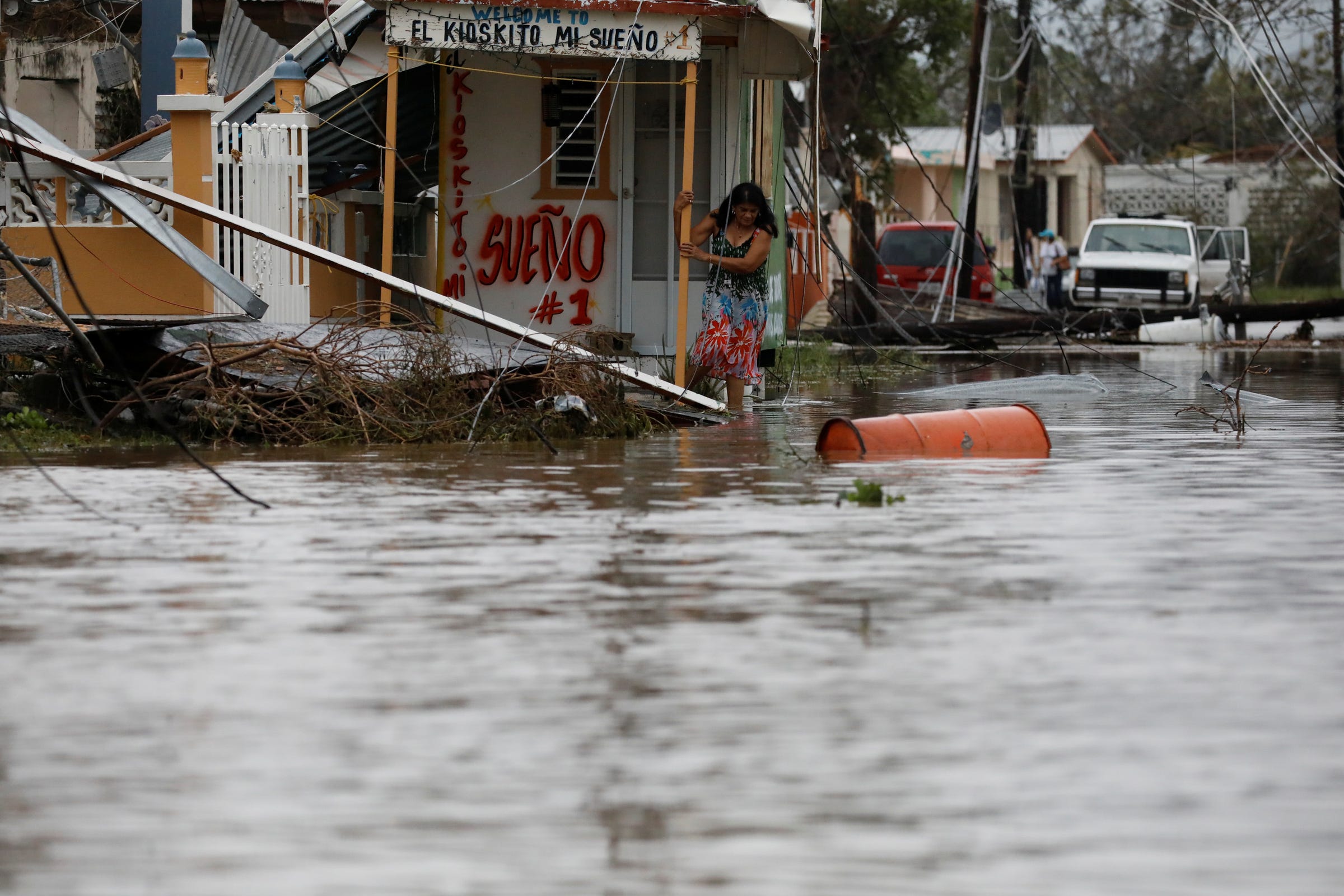 REUTERS/Carlos Garcia Rawlins
In this case, there has not been enough overall coordination of relief, according to Martha Thompson, Oxfam America's program coordinator for disaster response in Puerto Rico. Truck deliveries of bottled water are sporadic, and she says that the military has sent water trucks to several sites without providing clean containers to safeguard the water.
U.S. Northern Command, which is coordinating the military's aid efforts in Puerto Rico, confirmed reports that people are using potentially contaminated containers — often washed out detergent bottles — to collect water. In response, it's distributing five-gallon collapsible buckets to residents to avoid the possibility of clean water being contaminated by dirty receptacles.
"The military is focused on delivering safe and drinkable water," says Navy Lieutenant Sean McNevin. "We are very concerned about the safety of Puerto Ricans affected by the hurricane and we'll make those recommendations and adjustments to what we deliver based on what we know on the ground."
According to Peter Gleick, a climate and water scientist with the Bay Area public policy nonprofit the Pacific Institute, the U.S. government could have taken steps prior to or immediately after Maria hit Puerto Rico to speed up recovery. Within days of the storm's landfall, Gleick recommended that the United States quickly move military assets, like desalination units that pull salt out of ocean water, to the islands.


Twitter
He adds that there should be more aggressive water testing to assure residents that they are using safe water sources. "The idea that there are communities forced to take water from wells on Superfund sites is completely inexcusable," Gleick says.
On Thursday, CNN reported that Marc Edwards, the Virginia Tech environmental engineer who ran tests on the contaminated water in Flint, Michigan, had concluded that samples taken from wells at the Dorado Groundwater Contamination Superfund Site, near Puerto Rico's capital of San Juan, were safe to drink.
Still, residents searching for water on toxic sites or relying on bottled water are the sort of problems the aid community says should have been dealt with long before the one-month mark. Recovery efforts should be transitioning into more sustainable long-term solutions.
"It's unacceptable that people are still depending on water bottle deliveries for day-to-day survival," says Oxfam's Thompson, adding that people continue to fear that future shipments won't arrive.
By now, what's needed are water filters and solar-powered generators that communities can use to run pumps to access wells. There also needs to be significant improvement to the territory's municipal water system, which wasn't in great shape before the storm hit.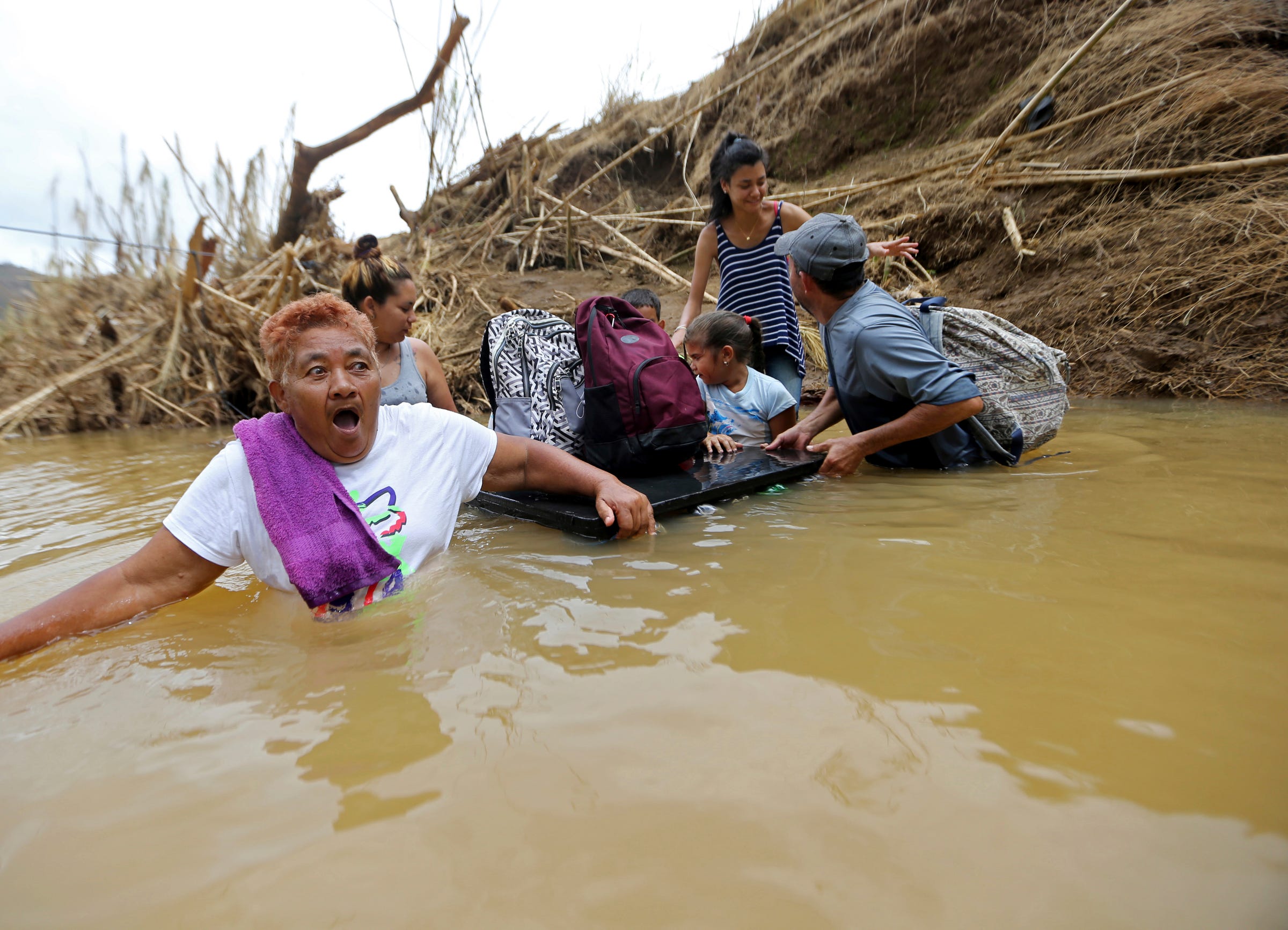 Gerald Herbert/AP
Earlier this year, the Natural Resources Defense Council published a report that found that Puerto Rico had the highest rate of drinking water violations of any state or territory in the United States.
"There's a question as to whether or not the population was receiving safe drinking water before the storm," says Adrianna Quintero, NRDC's director of partner engagement. "So we can only expect that it's going to be worse post-storm."
The island's current safe water shortage is closely tied to power outages, says Peter Gleick. With more than 70 percent of the island lacking power, he says, wastewater treatment and water delivery systems have stalled out.
"This isn't just a water problem," Gleick says. "It's an energy problem."
Ultimately, Puerto Rico's status as a U.S. territory might be behind its slow recovery. As part of the United States, the island hasn't seen the type of international aid that an independent developing country might receive. And yet Puerto Ricans have had to assert their U.S. citizenship to a federal government that allocates them no say in the electoral college or a Congress representative who can vote on legislation.
"There's this idea that these are not American citizens who are going through this, which is blatantly false," Quintero says. "I think there's an element of discrimination there."
According to Columbia's Mutter, FEMA's response to hurricanes Harvey in Houston and Irma in Florida seemed to show that it had learned its lessons from Hurricane Katrina. Critics attributed the agency's slow response to the 2005 storm and the resulting humanitarian emergency in part to the fact that they affected a primarily black and poor population.
"Now it just seems like they've forgotten their lessons," Mutter says about FEMA. "It seems callous, but it looks like maybe they don't care as much about Puerto Rico."
FEMA did not respond to requests for comment.
Puerto Rico Governor Ricardo Rosselló seemed to agree with Mutter when he met with President Trump in Washington, D.C., on Thursday. "Give the U.S. citizens of Puerto Rico the adequate resources," Rosselló pleaded. "Treat us the same as citizens in Texas and Florida and elsewhere." NOW WATCH: How the US could prevent a North Korean nuclear strike — according to a former Marine and cyberwarfare expert