Unemployment, not budget practices, to blame for state woes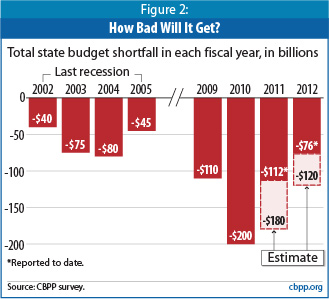 One of the responses I've gotten to my column on the anti-stimulus is that state budget deficits are the direct result of irresponsible state governments and so helping them out would be rewarding fiscal irresponsibility. I don't want to say that there's nothing to that perspective -- I favor tying aid to labor market conditions rather than budget deficits for exactly that reason -- but as this working paper from Wharton economist Robert Inman shows, it's not the underlying story.
The 2007-2010 recession has imposed significant fiscal hardships on state and local governments. The result has been state deficits and the need to increase state taxes, cut spending, and withdraw funds from state rainy day accounts. The primary cause of state budget "gaps" has been the rise in the level of state unemployment. There is no evidence that gaps are related to state political institutions, the state's prior receipt of federal funding, or possibly favored access to key congressional budget committees.
In the paper, Inman tests factors in states' budgeting practices, politics and economies in order to figure out which correlates most heavily with their economic conditions. The runaway winner is unemployment. "States with a one standard deviation higher rate of unemployment (10.0%) will have a budget gap which is $222/person more than a comparable state with an unemployment rate one standard deviation lower than average (6%)," he concludes. Inman finds this to be a cheering prospect: "The good news from this analysis is that the states' fiscal crises of 2009 do not appear to be linked to any obvious structural or institutional failures in state finances. It's the economy."
A few other points from the paper: The states that have survived the recession best are not states with more competent governments. They're states that depend on natural resources – Montana, Nebraska, North Dakota, Texas, West Virginia, and Wyoming – for revenue. Budget cuts, as you might have expected, have hit aid to local education and transfers and services for lower income families hardest. And the stimulus covered, at most, 23 cents of each dollar of state budget gap -- and that's running out this year.





Unemployment - United States - North Dakota - Economic - Government