Undead Technology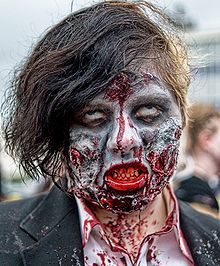 One of David Pogue's key lessons learned from ten years as a technology reporter:
Things don't replace things; they just splinter. I can't tell you how exhausting it is to keep hearing pundits say that some product is the "iPhone killer" or the "Kindle killer." Listen, dudes: the history of consumer tech is branching, not replacing.
That seems correct to me, but also perhaps a little too fast. Did book-binding replace scrolls? Not really. Just attend a Bar Mitzvah and you'll see a 13 year-old reading from a scroll. But while scrolls aren't dead, I'd say they're pretty damn marginal. You might think of them as undead. In a similar vein, people still read verse—I've read the Odyssey and Eugene Onegin and The Merchant of Venice and I'm hardly the only one—but this isn't really a vital mode of composition in contemporary culture. Heck, thanks to poor cell phone reception in my apartment I even own a landline.
Pogue's point is that human culture is fundamentally additive; it's rare for things to just go away. But there are also constraints on splintering. A given person only lives so long, a given day only contains so many hours, you can only carry so much stuff at once. So squeezing happens. Over the past decade, consumer electronics innovation has tended not to squeeze out other consumer electronics products, but I think we have seen consumer electronics do a fair amount to squeeze out things that aren't consumer electronics. I read books (including ebooks) less than I did ten years ago because books now need to compete with lots of other stuff for my attention.