Uncertainty Over U.S. Economic Recovery
WSJ: Bernanke Notes Risks to Recovery In prepared remarks, Mr. Bernanke said the U.S. had a "considerable way to go to achieve a full recovery in our economy, and many Americans are still grappling with unemployment, foreclosure and lost savings."
The recovery from the deep recession ran out of steam in the second quarter as consumers spent less and restocking by businesses — which had lifted the economy from the second half of 2009 — started to fade. Gross domestic product grew at an annualized rate of 2.4% in April to June, compared with 3.7% in the first three months of 2010 and 5.0% in the last quarter of 2009.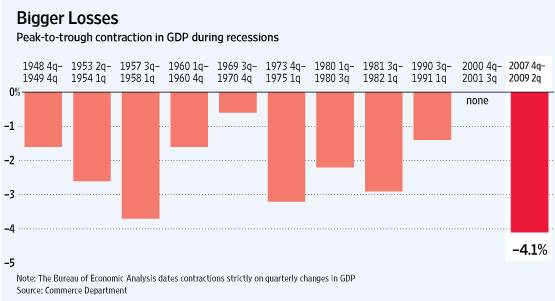 Mr. Bernanke said rising incomes and slowly improving credit conditions should help sustain consumer spending in the coming quarters. Together with continued strong business investment, that should help lift the economy.
"The housing market has remained weak, with the overhang of vacant or foreclosed houses weighing on home prices and new construction," Mr. Bernanke said. "Similarly, poor economic fundamentals and tight credit are holding back investment in nonresidential structures, such as office buildings, hotels and shopping malls."
The economy's weakness is keeping a lid on consumer prices, and the Fed chairman said the central bank expects inflation to remain subdued for the next couple of years. He didn't signal any risk of deflation, which some Fed officials have indicated recently.
Even though the Fed has kept short-term interest rates near zero since December 2008, the unemployment rate remains at a lofty 9.5% and the economy shed jobs in June for the first time this year. Economists expect only a small rebound in jobs in the July employment report out Friday.
It was just over a month ago that the Fed downgraded its outlook for the U.S. economy slightly, citing the financial market fallout from Europe's debt crisis. But those forecasts already look too rosy.