Turkish F-16s Shoot Down Russian Su-24 Warplane Near Syria Border
Moments ago a big black geopolitical swan landed when newswires lit up with headlines that a Turkish F-16 shot down what was initially said to be an unidentified warplane near the Syrian border after it violated Turkey's airspace on Tuesday, a Turkish military official said, but the nationality of the downed aircraft was not immediately clear. According to Reuters, Turkish F16s warned the jet repeatedly over the airspace violations before shooting it down.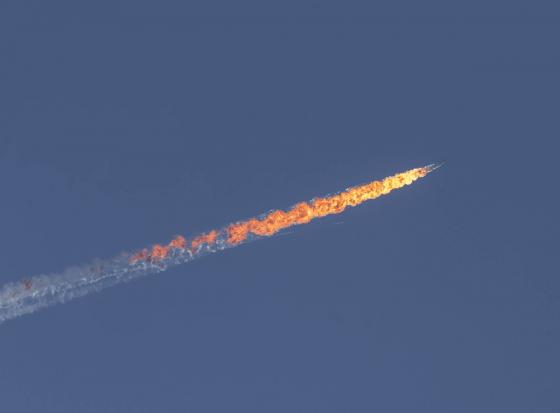 A Russian Su024 aircraft goes down in Kizildag region of Turkey's Hatay province, close to the Syrian border, on November 24, 2015 Footage from private broadcaster Haberturk TV showed a warplane going down in flames in a woodland area, a long plume of smoke trailing behind it. The plane went down in area known by Turks as "Turkmen Mountain" in northern Syria near the Turkish border, Haberturk said. Minutes later, the Turkish Lira sank like a rock while risk assets across Europe tumbled when the Turkish presidency confirmed that, as many had expected, the jet was a Russian fighter jet, which the Russian Defense Ministry later said was a Su-24. The Su-24 jet was warned after violating Turkish airspace and was then downed in line with Turkey's rules of engagement, Anadolu says, citing officials at the presidency. According to Todays' Szaman, in a statement, the Turkish military said a plane of unknown origin was shot down after it violated the Turkish airspace despite repeated warnings. The aircraft was warned 10 times in 5 minutes, the military said. It said two Turkish F-16s were involved in the shooting down of the jet. However, while moments ago the Russian defense ministry confirmed that the shot down plane was indeed one of its own in what will be deemed a clear act of aggression by a NATO-member country against Russia, the Russian defense ministry said it could prove the aircraft was over Syria for the entire flight. The ministry added that the pilots ejected, according to preliminary info, and that Russia trying to determine their fates, Interfax reports. Interfax also adds that the plane was probably downed by fire from ground, and that it had been flying at flying at an altitude of 6,000 meters. Meanwhile, Turkish media reported that either one or both of the pilots may have been captured by Turkmen forces located in the region.
TURKMEN FORCES CAPTURE 2 PILOTS OF DOWNED RUSSIAN JET: AHABER
More: A CNN Türk reporter in Yaylada? said a helicopter was hovering over the scene of the crash, apparently to pick up the pilots, but that opposition fighters were preventing it. The reporter later said one of the pilots was at the hands of Turkmen opposition fighters. Prime Minister Davuto?lu has been briefed by the General Staff and ordered the Turkish Foreign Ministry to contact NATO, UN and relevant countries about the downed plane. This huge escalation in the Syrian proxy war, one where a NATO country has openly attacked a non-NATO country (if Russia is correct and it did not violate Turkish airspace), comes after Turkey called this week for a U.N. Security Council meeting to discuss attacks on Turkmens in neighboring Syria, and last week Ankara summoned the Russian ambassador to protest the bombing of their villages. Ankara has traditionally expressed solidarity with Syrian Turkmens, who are Syrians of Turkish descent. While we await a formal reaction by Russia, one which we doubt will be calm, cool and collected, the markets are also anything but, and while Turkish assets are in freefall mode over retaliation concerns, said concerns spilled over to both Europe, where the German 2Y just traded below -0.40% for the first time, and US equity futures which just dropped like a rock.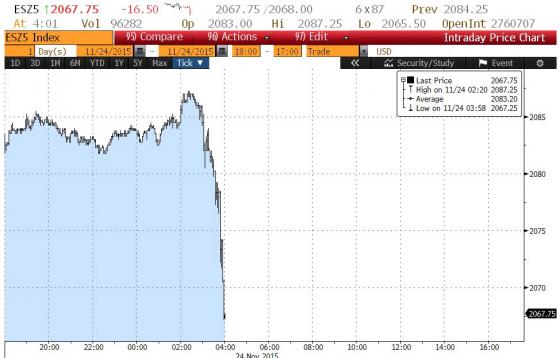 Updates to come