The Trump trade looks dead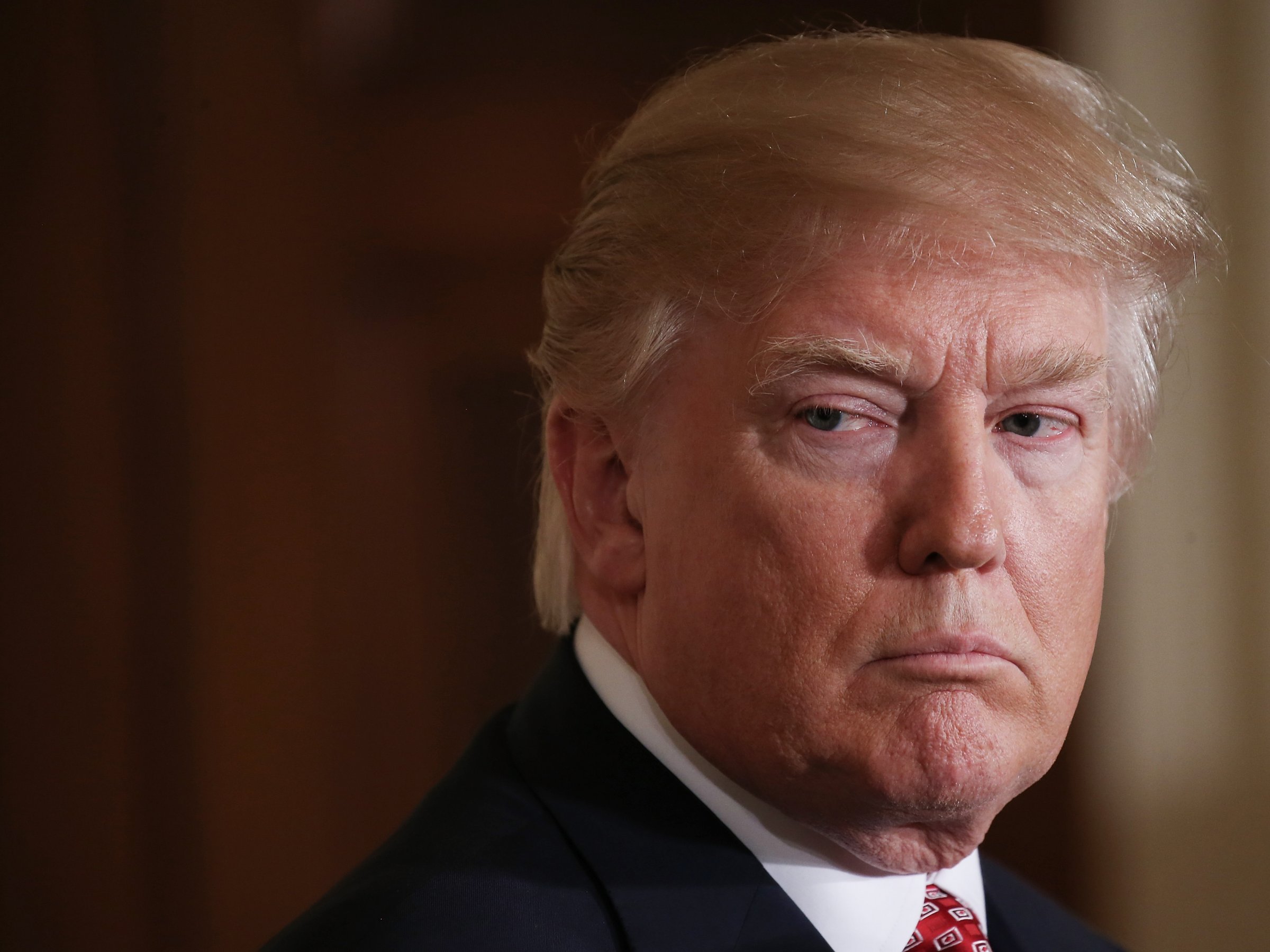 GettyFor real-time odds on the stock market's faith in President Donald Trump, look no further than recent weakness in industries most closely tied to his proposed policies — banks, builders, and retailers.
We're nearly 100 days into Trump's presidency, and the campaign promises of lower taxes, infrastructure spending, and tighter restrictions on trade have yet to materialize.
Additionally, Trump's first major legislative push — the American Health Care Act — failed to garner enough support among Republicans and was pulled from the House floor minutes before a vote.
The defeat on healthcare has led investors to worry that Trump's dealmaking may not be enough to advance his policies through Congress.
The market has not missed this lack of progress. Sectors that would theoretically benefit from Trump's policies, like industrials, have given back a chunk of their post-election gains while those that would be hurt, like retail, have recently gotten a boost. These moves appear to be investors telling the president they haven't seen enough progress.
Massive investors like Bridgewater and firms like Bank of America aren't helping matters, having thrown cold water on the idea of a seamless implementation as recently as Wednesday.
Even financials, the golden child of the S&P 500 post-election rally that reached as high as 12%, have faltered of late. The same goes for companies that pay the most taxes. A quick glance at trading over the last couple weeks shows investors are listening to the heavyweights who are now doubling as stock market naysayers.
Here's a further breakdown of the four areas serving as bellwether indicators for the health of the flagging Trump trade:Investors are beginning to doubt Trump's plans to pass a tax cut that is the "biggest since Ronald Reagan."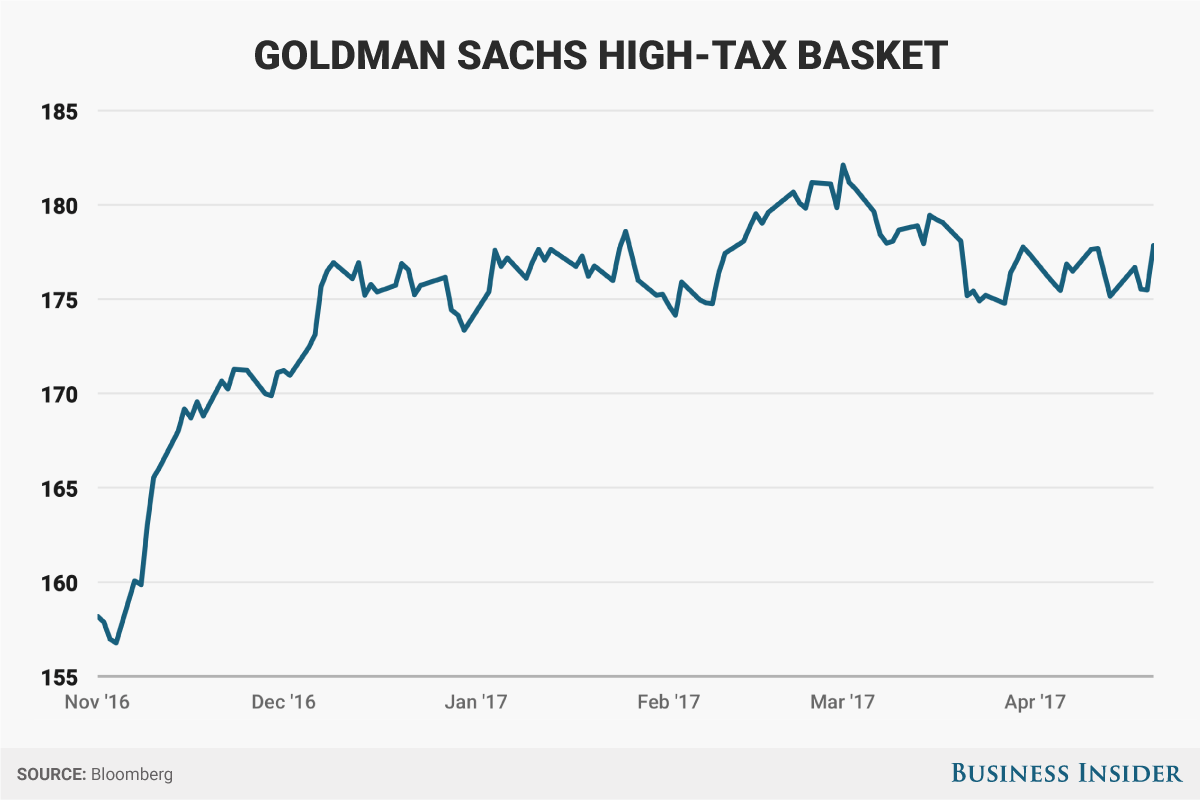 Business Insider / Andy Kiersz, data from Bloomberg
The most highly-taxed stocks in the US enjoyed a double-digit rally following the election on expectations that Trump would lower the corporate tax rate. During the campaign, the president suggested lowering the rate to 15% from 35%, a cut that would have an outsized impact on companies paying the most.
However, Since the election, Trump has backed off his 15% goal, telling manufacturing CEOs on February 9 that it would be "15% to 20%." Additionally, reports suggest that the tax plan could end up with a corporate rate as high as 28%.
Also, Treasury Secretary Steven Mnuchin originally set a deadline of August for the tax overhaul, but Trump, Mnuchin, and top economic adviser Gary Cohn have walked back that promise.
This shift has led to skepticism regarding the promised, said Bridgewater Associates. In a client note on Wednesday, co-CIO Greg Jensen and senior investment associate Atul Narayan said they see the tax rate landing closer to 25%, and are generally anticipating "less impactful tax reform."
Also, count Bank of America among the non-believers. The firm conducted a survey, published on Wednesday, finding that 21% of fund managers see a delay in US tax reform as the biggest tail risk to economic growth, more than double from the prior month. As an extension of that, the number of fund managers expecting faster global growth over the next 12 months is "rolling over," according to the note on the survey from Michael Hartnett, BAML's chief investment strategist.
A 50-company basket of highly-taxed companies maintained by Goldman Sachs climbed as much as 14% following the election through March 1. However, as skepticism around Trump's proposed measures has mounted, the gauge has since fallen 3.6% from March 1 through Wednesday's close.
Trump said he would spend $1 trillion on infrastructure, but the market isn't so sure it will happen.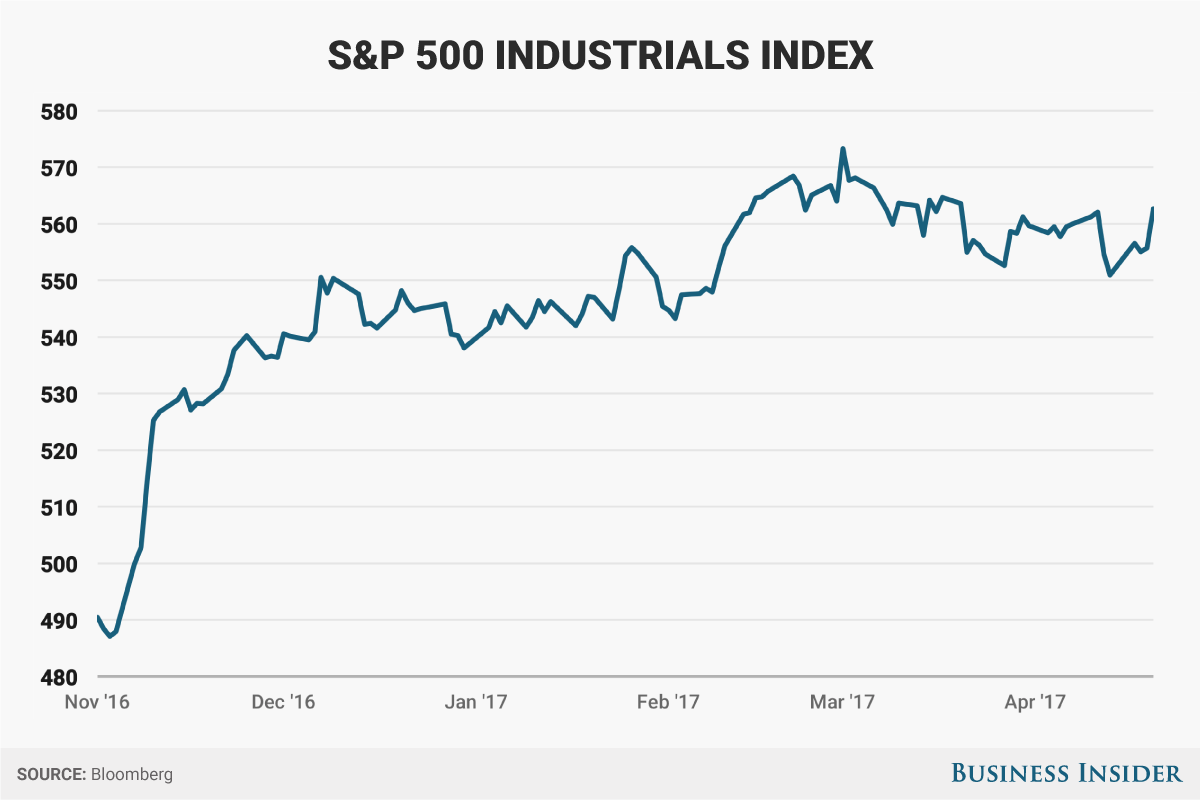 Business Insider / Andy Kiersz, data from Bloomberg
Industrial stocks saw one of the US market's biggest spikes following the election, rising 5.6% in just one week. It showed investors were putting serious faith in Trump's pledge to rebuild the country's infrastructure — an initiative that would have a wide-reaching effect not just on builders, but also on engineering firms and raw-material producers.
Trump's campaign promise was to put $1 trillion towards infrastructure spending and he recently held a meeting with corporate titans on the President's Strategic and Policy Forum regarding the proposed infrastructure spending.
There has been no definitive plans for the spending, and reports suggest the White House is planning to move the investment back to 2018 at the earliest.
In their Wednesday client note, Bridgewater expressed skepticism around the likelihood of immediate action, saying that it will be "slow and difficult to implement."
Stock investors would seem to agree. The S&P 500 Industrials Index, which gained as much as 14% after the election and reached a record high on March 1, has since dropped 3.1% amid mounting pessimism.
Trump repeatedly promised to knock out regulations on businesses, but the companies that would benefit the most are no longer outperforming.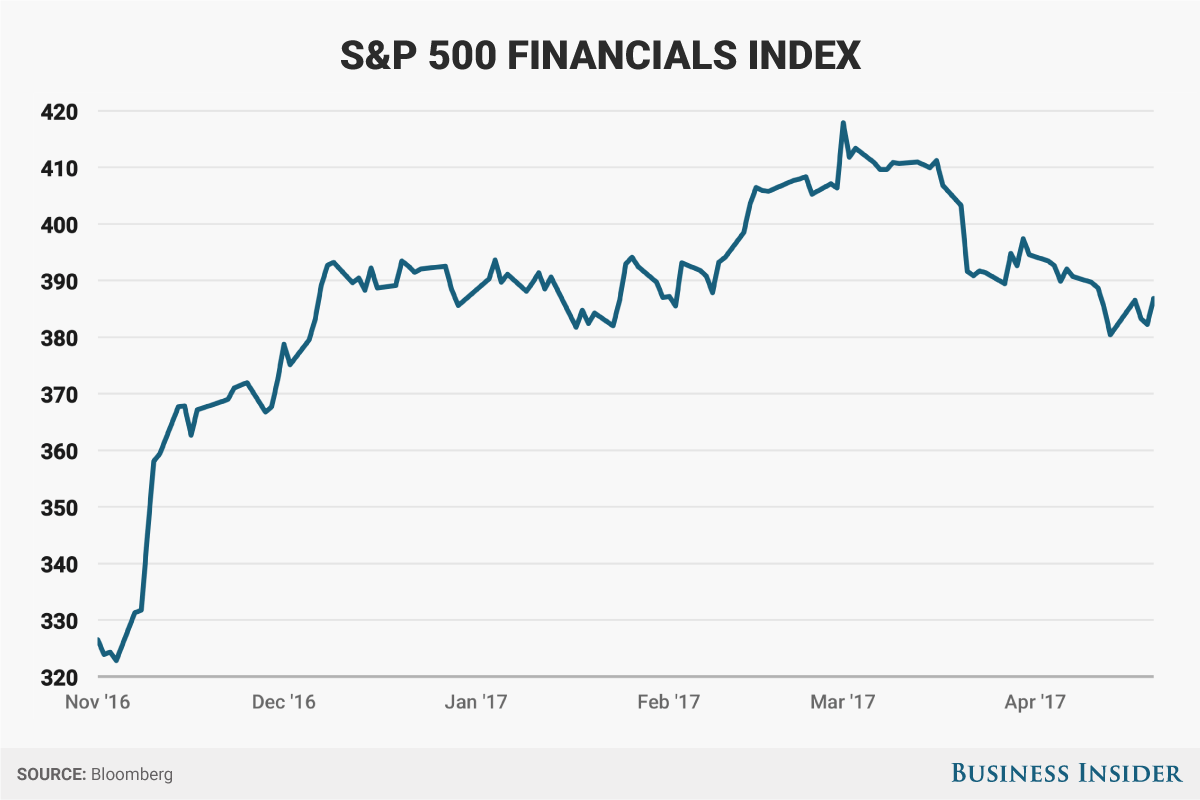 Business Insider / Andy Kiersz, data from Bloomberg
No group benefited more from Trump's victory than financials, and a large part of that is due to expectations of looser regulation.
Trump signed an executive order on February 3 instructing the Treasury Department to look into changing or repealing the Dodd-Frank Act, the largest piece of post-financial crisis regulation on banks. The president also said on April 4 he wants to give Dodd-Frank a "haircut."
Despite this, there have been no plans advanced regarding Dodd-Frank and members of the Trump administration including Mnuchin and Cohn have suggested that they support a new version of the Glass-Steagall Act that would separate commercial and investment banks.
That would be music to JPMorgan CEO Jamie Dimon's ears. He took a shot at heightened post-financial crisis regulation in a company earnings call on April 13, arguing that the complex web of government oversight has dampened banks' willingness to lend. Dimon called many of the new rules "hastily developed" and said the result has been a "complex, highly risky and unpredictable operating environment."
The S&P 500 Financials Index surged as much as 26% after the election through March 1 to its highest level since the start of the bull market in March 2009. However, as skepticism around Trump's proposed measures has mounted, the sector had slipped 8.5% from March 1 through Wednesday's close.
The effect of rising interest rates on financial shares should also be noted. The group's gains in the past six months are at least partially attributable to expectations that higher interest income will boost profits for lenders. The Federal Reserve has hiked rates twice since December, and has a 73% chance of doing it again as soon as September, according to World Interest Rate Probability data provided by Bloomberg.
See the rest of the story at Business Insider