Trump Solidifies Lead In Latest Poll As Hillary Finds She Has A "Likability Problem"
Yesterday, the media unleashed its latest iteration of "Trump is leading in the polls so the GOP establishment is panicking" when the NYT reported that "Wary of Donald Trump, G.O.P. Leaders Are Caught in a Standoff" in which it said that "many leading Republican officials, strategists and donors now say they fear that Mr. Trump's nomination would lead to an electoral wipeout, a sweeping defeat that could undo some of the gains Republicans have made in recent congressional, state and local elections." This follows less than three weeks after another left media outlet, the Bezos Post wrote "Time for GOP panic? Establishment worried Carson or Trump might win" in which many of the same concerns were voiced. So if indeed it is the case that the GOP establishment is concerned about Trump's continuing leadership headed into Iowa, then it will have nightmares following the latest polling data from Quinnipiac University which finds that Trump is now aggressively pulling away from the republican field with 27% of the Republican vote nationwide, while Marco Rubio languishes in second place at 17%, while the popularity of Trump's former challenger, Ben Carson, has tumbled and is now tied for third place nationally with Ted Cruz, both drawing 16% of the vote.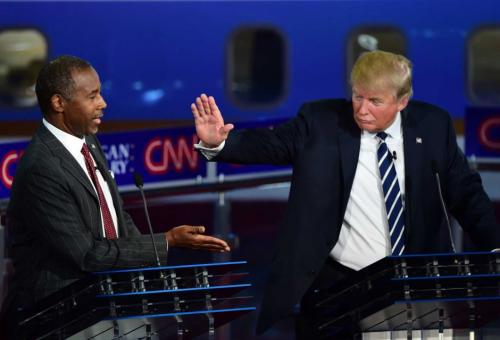 Most disappointing for the GOP establishment will be news that Jeb Bush remains mired in the bottom with just 5%, while the rest of the crowded GOP field remains under 3%. As the WSJ comments, "the latest poll marks a setback for Mr. Carson, who has surged in early national polls. In last month's Quinnipiac poll, Mr. Carson was in a statistical dead heat with Mr. Trump, with each man drawing just under a quarter of the Republican vote." Since then, Mr. Carson has been challenged on the truthfulness many of the biographical details of well-known life story, and on his knowledge of foreign policy. CNN, for example, failed to turn up any evidence for Mr. Carson's claim that he attempted to stabbed a friend he calls Bob in several of his books. He also has been challenged on his claim that he received a scholarship to the military academy West Point. Mr. Carson stands by the claims. On the Democratic side things appear far simpler, with Hillary Clinton maintaining a strong lead over her chief rival, Sen. Bernie Sanders in the primary, leading by 30 points, and drawing 60% of the Democratic vote nationwide. But while Hillary's victory of the Democratic presidential nomination is all but sealed, a problem has emerged. As The Hill reports, Hillary's allies "are worried about one big thing: her likability problem in the general election." As the Hill amusingly notes, "Presidential elections are often decided on personality instead of specific policies. Along those lines, people in Clinton's orbit are worried she doesn't pass the would-you-like-to-have-a-beer-with-her test." It's a test she failed against then-Sen. Barack Obama (D-Ill.) in 2008. Throughout that cycle, Clinton stressed her "35 years of experience" while Obama pitched his "hope and change" message. The likability test came up often on the campaign trail, most notably in the last New Hampshire debate that year when Clinton acknowledged Obama is "very likable." In a quip that may have cost him New Hampshire, Obama responded, "You're likable enough, Hillary." Head-to-head 2016 matchups suggest vulnerabilities for Clinton, particularly against Sen. Marco Rubio, the Florida Republican who often talks about his love of professional football. "Her challenge remains the same as it always has been — show voters who she is and reveal the person beneath the candidate," said Julian Zelizer, a professor of history and public policy at Princeton University. "To win people's trust and to generate enthusiasm, she has to let some of her character come out." Here is one problem: Team Clinton spent a good part of 2015 highlighting the former first lady's personality, which they call warm and effusive. Clinton aides, longtime confidants and friends have always maintained she is charming and funny, at least behind the scenes and out of the public spotlight. Clinton's allies say after years of public service — and attacks by her political opponents — she's hesitant to let that side show. Since Labor Day, after a New York Times story reported that Clinton would show more "humor and heart," the candidate has made a concerted effort to highlight her lighter side. Since then, she appeared on "Saturday Night Live" as a bartender named Val, allowed "Tonight Show" host Jimmy Fallon to pull on her hair playfully and sat down with Lena Dunham of "Girls" fame. During those interviews and others, the former secretary of State came across as a yoga-loving woman who loves to go for long walks and keeps up with the Kardashians. However, "Democratic strategists and even those Clinton loyalists say it's the unplanned moments that have worked best for her." In emails released by the State Department this year, including a new batch this week, voters got to know about Clinton's favorite shows and that she was trying to learn how to use emojis. "The carefully crafted moments to 'let Hillary be Hillary' almost always backfire," the strategist said. Here is another problem: "The Washington Post on Tuesday published a Zignal Labs word cloud that highlighted Clinton-related mentions on social media in November. The top words included "unethical," "lies" and "corruption," something Republicans highlighted right after its release." The punchline: "After all the campaign resets, carefully staged events and millions poured into TV ads, Hillary Clinton still finds herself disliked and not trusted by the American people," said Jeff Bechdel, the communications director for America Rising, a Republican super-PAC. "That won't change as long as new stories continue to emerge that raise questions about her private emails, questionable judgment and failed leadership." It is almost as if the American people can see through the programmed attempts to make Hillary the cunning apparatchik into "one of the people." Which also is the punchline: Clinton allies fear that she has other weaknesses as well, particularly her lack of an overarching message. "If the message they're homing in on is the 'fighter for the middle class,' it would help if they were more explicit about it," said Democratic strategist Jamal Simmons. But they are: after all why would "folksy uncle" billionaire Warren Buffett be joining as a 'campaigner for everyday Americans' Hillary Clinton as she stumps in Omaha this month?