Trump lawyer brokered $130K hush payment to porn star before election: Wall Street Journal report
An adult-film star was paid $130,000 by a lawyer for Donald Trump in the weeks before the 2016 election to not talk publicly about a sexual relationship with the then-Republican candidate, according to a report in the Wall Street Journal.
The lawyer, Michael Cohen, allegedly paid Stephanie Clifford to remain silent about an encounter at Lake Tahoe, California, in 2006, a year after he married his third wife, Melania, according to the Journal. The Journal said the payment was made to a client-trust account at City National Bank in Los Angeles.
The Washington Post was not able to independently confirm the payment and was not able to reach the bank.
"These rumors have circulated time and again since 2011. President Trump once again vehemently denies any such occurrence, as has Ms. Daniels," Cohen said to The Post. Cohen also issued a statement that he said was from Clifford, whose professional name is Stormy Daniels.
"Rumors that I have received hush money from Donald Trump are completely false," reads the statement, signed by Stormy Daniels. "If indeed I did have a relationship with Donald Trump, trust me, you wouldn't be reading about it in the news, you would be reading about it in my book."
Cohen has called himself Trump's "fix-it man" and has become part of the investigation into Russian meddling in the 2016 election for his emails to Russian officials about a business project there, including a note to Vladimir Putin's spokesman.
Clifford could not be reached for comment. Her partner, Glendon Crain, did not respond to messages. Keith Davidson, a lawyer that the Journal said was representing Clifford, did not respond to emails and phone calls seeking comment.
A White House official said "these are old, recycled reports, which were published and strongly denied prior to the election." The official did not specifically respond to the allegation of a payoff to Clifford.
In the days before the 2016 election, The Journal reported that Clifford was in talks with ABC's "Good Morning America" to air her story about Trump. That report came days after The Washington Post released a video from a 2005 "Access Hollywood" recording in which Trump said he could grab women by the genitals because he was famous.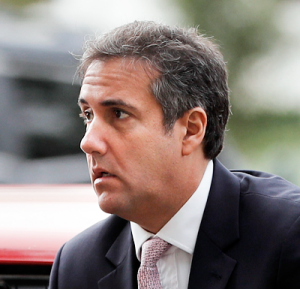 Michael Cohen, lawyer and self-professed "fix-it man" for Donald Trump.
The Journal also reported in 2016 that the National Enquirer – a publication owned by a close friend of Trump – paid Playboy model Karen McDougal $150,000 for her story about an affair with Trump, but never published it.
Clifford, a native of Louisiana, considered running against then-U.S. Sen. David Vitter, R, in 2010 but decided against it.
Her mother, Sheila Weimer, said she hasn't spoken to Clifford in 12 years and had no idea if her daughter had made a legal settlement or had a sexual relationship with Trump.
"I don't have her phone number. I don't have a way to get in touch with her," she said. She said her daughter "grew up and went her own merry way."
She did not know her daughter was also known as "Stormy" or had starred in adult films.
But she had praise for Trump.
"I love Trump. I think he's great," Weimer said. "I think he's making a lot of good progress for our country."