Trump just took credit for stock-market records once again — so we graded his claims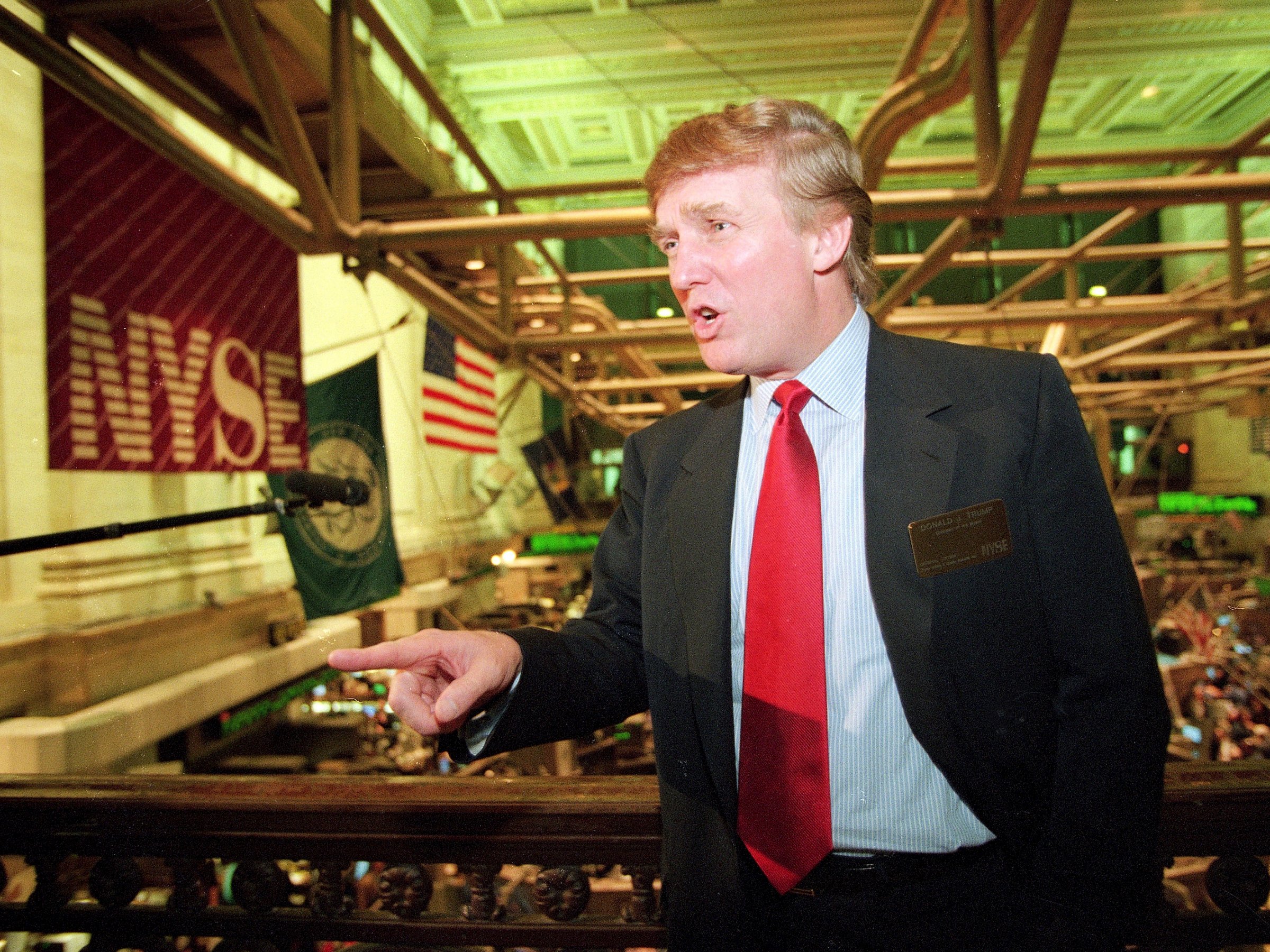 AP/Kathy WillensAll you need is a working Twitter account to know that President Donald Trump tries to take credit every time the stock market hits a record high.
It's a routine that has played out in 2017 as the S&P 500 has stretched well into the ninth year of a bull market that has brought it back to unprecedented highs.
And Trump was back at it again Wednesday morning, with a series of tweets playing up his role in the stock market's latest ascent to record levels:
Tweet Embed:https://twitter.com/mims/statuses/918058910673760258?ref_src=twsrc%5EtfwStock Market has increased by 5.2 Trillion dollars since the election on November 8th, a 25% increase. Lowest unemployment in 16 years and..Tweet Embed:https://twitter.com/mims/statuses/918060313748164608?ref_src=twsrc%5Etfw...if Congress gives us the massive tax cuts (and reform) I am asking for, those numbers will grow by leaps and bounds. #MAGATweet Embed:https://twitter.com/mims/statuses/918061437750267904?ref_src=twsrc%5EtfwIt would be really nice if the Fake News Media would report the virtually unprecedented Stock Market growth since the election.Need tax cuts
So is Trump right?
Not most of the time. While there have been times this year when the so-called Trump trade — or the promise of business-friendly policies — has undoubtedly been responsible for the gains, there have also been long stretches when other factors were driving returns.
To best assess Trump's fluctuating influence on stocks, we've looked at the S&P 500 on a periodic basis and zeroed in on which bullish element was actually most responsible for strength. When tied together, they provide a pretty good idea of how the benchmark has gone from one high to the next over time — and it hasn't always involved the president.
Methodology
At the beginning of each section is a chart showing the performance of an index of stocks tracking highly taxed companies, relative to the S&P 500. The measure is intended to serve as a proxy for the effect of Trump's proposed policies on the benchmark, with the thinking being that a lowering of the corporate tax rate has long been seen as the campaign promise most likely to be passed.
If the high-tax index is outperforming, that implies a high degree of overall confidence in the Trump trade and therefore outsize influence being exerted on the S&P 500. If the gauge is underperforming (in negative territory), that implied a low degree of confidence and minimal influence.
And bear in mind that if the line veers into negative territory (which — spoiler alert — it does), that isn't reflective of the broader stock market — it's just the most actionable part of the Trump trade. The S&P 500 as a standalone entity has repeatedly hit record highs this year.
In the end, hopefully, we'll have given you enough information to conclude for yourself whether Trump has, in fact, been as indispensable to the stock rally as he claims to be.November 2016 to February 2017: The best days of the Trump trade.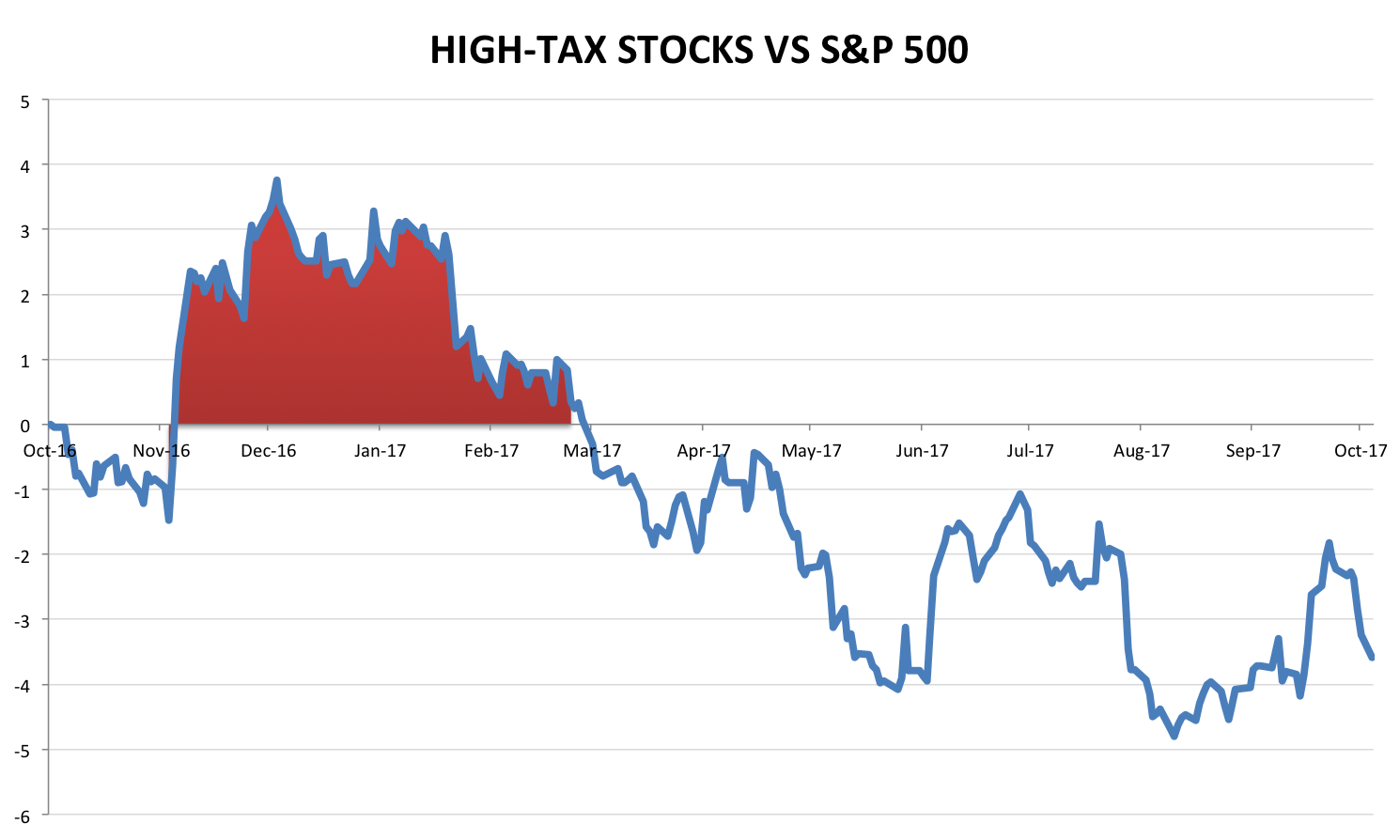 Business Insider / Joe Ciolli, data from Bloomberg
Remember the first few months after last year's election? It seems like ages ago, and what a simpler time it was. The stock market ripped higher, off to its best start to a new year, largely on the strength of the so-called Trump trade.
And we're not talking about the current iteration of the Trump trade. We mean the one taking place when all the promise of a newly-elected-but-still-out-of-office president's pro-business measures were still on the table, including lower corporate taxes, a repatriation tax holiday, massive infrastructure spending, financial deregulation, and a border adjustment tax.
The initial effect of that version of the Trump trade was undeniable. Every day it proved its mettle, as segments of the stock market ebbed and flowed with the latest headlines associated with each potential change.
Sure, earnings reports for the fourth quarter — mostly released in January — saw corporate profits expand. But it was at just half the rate we'd end up seeing later in 2017, rendering its ultimate effect relatively muted.
But you'll note that the Trump trade faded near the end of this period, providing an ominous sign.
Trump tweet of the period:
Tweet Embed:https://twitter.com/mims/statuses/832191485701451777?ref_src=twsrc%5EtfwStock market hits new high with longest winning streak in decades. Great level of confidence and optimism - even before tax plan rollout!
Number of stock-market closing records: 20
Was Trump responsible? Yes, definitely, though little did we know that the tax plan rollout he alluded to in the above tweet was still months away (more on that below).
March 2017 to August 2017: The Trump trade dies.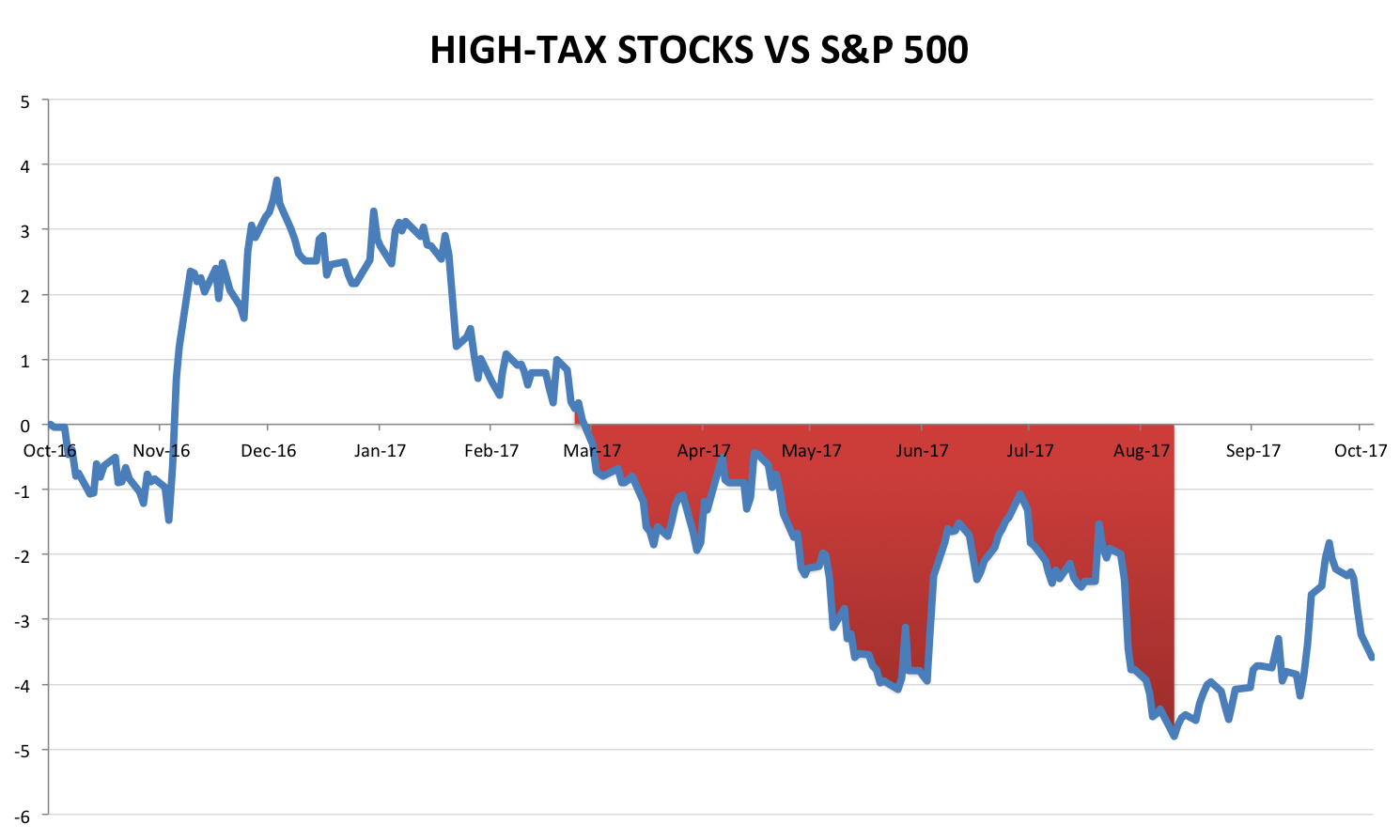 Business Insider / Joe Ciolli, data from Bloomberg
Look no further than the chart above to get an idea of when investors lost faith in Trump's proposed policies. Returns for the most highly taxed companies, infrastructure stocks, and financial firms either leveled off or dropped sharply, hurt by a lack of progress and worries stemming from a healthcare-bill defeat.
Yet the S&P 500 rally raged on, undeterred by the policy failings in Washington. A big part of this can be attributed to the FANG group, made up of Facebook, Amazon, Netflix, and Google. If you expanded that to include other tech stocks like Apple and Microsoft, which were similarly unstoppable during the period, the collection represented the mega-cap backbone that allowed the market to continue its historic climb.
Also helping push stock indexes into the rarefied air was profit expansion. Mentioned in the section above as a minor positive catalyst, earnings growth exploded for the first- and second-quarter reporting periods, which largely occurred in April and July. The S&P 500 saw profit growth of 14% during the first three months of the year and 11% for the second quarter, its best stretch since 2011.
Long story short, the market had a lot going for it during the period — and none of it was built on Trump policy.
Trump tweet of the period:
Tweet Embed:https://twitter.com/mims/statuses/886321948275429381?ref_src=twsrc%5EtfwJust got to the #USWomensOpen in Bedminster, New Jersey. People are really happy with record high stock market - up over 17% since election!
(Note: None of his tweets included the phrase "stock market" in the four-month period between March 2 and July 2.)
Number of stock market closing records: 18
Was Trump responsible? Not a chance.
August 2017 to present: The Trump trade is ... back?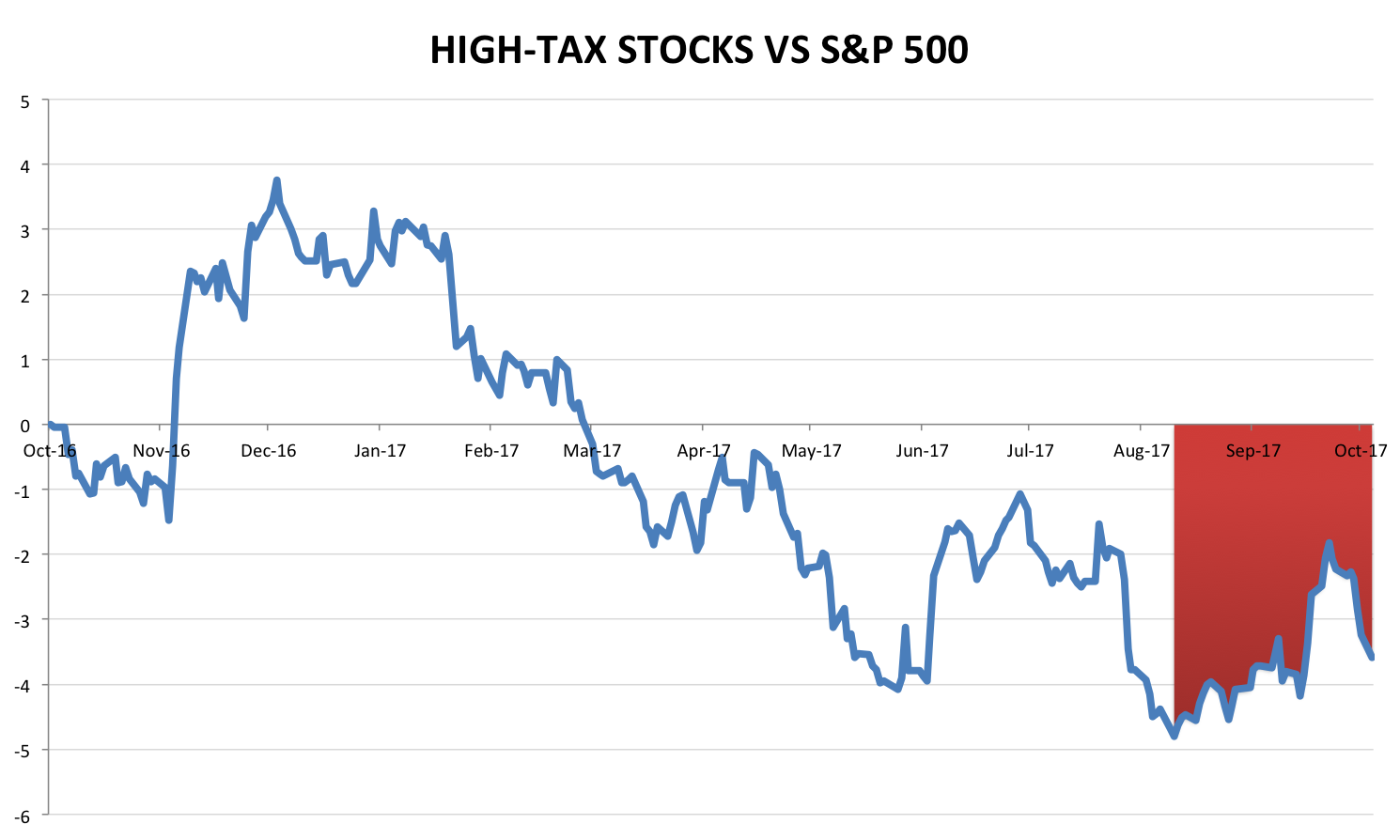 Business Insider / Joe Ciolli, data from Bloomberg
The period since mid-August has been a mixed bag for the Trump trade. As you can see above, our indicator rallied sharply at the beginning of the period, largely on the back of the long-awaited Republican tax plan. The proposed measures focused on a corporate tax cut as well as a one-time repatriation tax holiday. And since many of the companies that pay high taxes and stash the most cash overseas are the mega-cap tech stocks that wield huge influence over stock indexes, things started to look up.
Since late September, however, the Trump trade has started to flag once again as — let me know if you've heard this before — the S&P 500 broke a series of records. This time around, the benchmark index was pushed to records by laggard sectors like energy and telecom, while tech faltered. The so-called market rotation that occurred showed once again that the S&P 500 had more tricks up its sleeve as it forged ahead into the ninth year of its bull market.
At present time, the jury is still out on the Trump trade's ongoing influence — or lack thereof. After all, investors are starting to grapple with the prospect of a massive federal balance-sheet unwind as well as another set of quarterly corporate earnings.
Trump tweet of the period:
Tweet Embed:https://twitter.com/mims/statuses/909185223887347712?ref_src=twsrc%5EtfwA great deal of good things happening for our country. Jobs and Stock Market at all time highs, and I believe will be getting even better!
Number of stock market closing records: 13
Is Trump responsible? To be determined.
See the rest of the story at Business Insider