"Trump Is Cratering" In Latest Polls
We warned last week when Reuters 'tweaked' its survey methodology that things were about to get "interesting" in the polls... and they have. As one Republican pollster exclaimed "Trump is cratering" noting the swing from a 2 point lead to a 7 point lag in the space of two short weeks.
Interestingly this is the second time that Trump's polling numbers have suddenly collapsed after rising to a lead...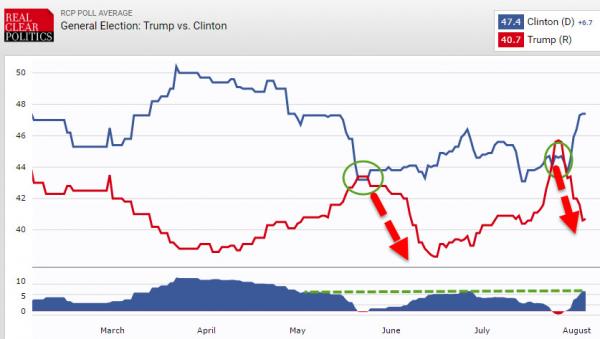 As Bloomberg details, a raft of new national and battleground-state polls released Thursday found Donald Trump slipping well behind Hillary Clinton one week after the end of the Democratic convention, and as the Republican nominee reels from a public feud with the parents of a slain Muslim American soldier.
"There has clearly been a significant movement toward Clinton in the last week," said Ken Goldstein, a professor of politics at the University of San Francisco and polling analyst for Bloomberg Politics. "Some of it is a Clinton post-convention bounce, but more of it seems to be a Trump deflation or implosion."

A new poll in Pennsylvania, seen by Trump's top strategists as a crucial bellwether, finds him trailing Clinton by 11 points (49 percent to 38 percent) among likely voters surveyed by Franklin & Marshall College. An electoral vote-rich state that 2012 Republican nominee Mitt Romney lost by just 5 points, the Keystone State is arguably a must-win for Trump due to demographics that are uniquely suited to his appeal. It is 20 percent whiter than the U.S. as a whole, and has a large working-class base that is coping with the loss of manufacturing jobs and sympathetic to Trump's anti-trade views.
Nationally, the picture isn't much better.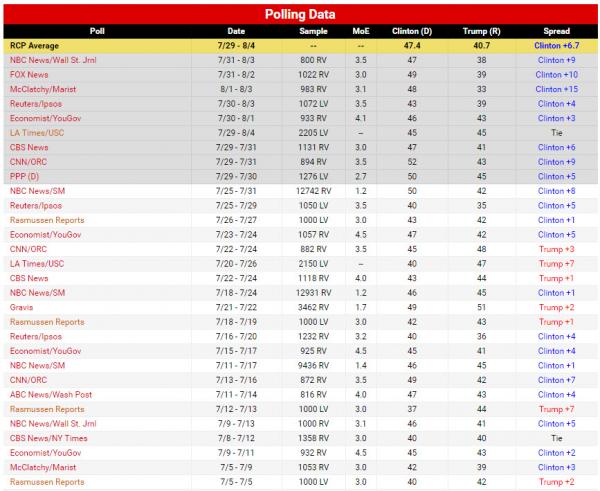 A McClatchy/Marist national poll found Trump down 15 points among registered voters (up from his 3-point deficit last month), a bigger gap than Romney trailed by in any 2012 poll recorded by RealClearPolitics, which closely tracks presidential election surveys.

"Fifteen points is more than Ronald Reagan won in his landslide victories," he said. "If you're in a world where it's over 10, then this is a landslide of historic proportions."

"Real talk: Trump is cratering," Republican pollster Frank Luntz tweeted in response to the McClatchy survey. "He needs to overhaul his general-election strategy if he wants to have any hope of winning in 95 days."

Luntz said Trump "lost his big leads with independent voters" in prior surveys.
However, as one polling analyst notes:
"The general rule is that you wait a couple of weeks after both conventions finish before you start assuming that polls are particularly predictive."

"Around the middle of August we'll start to get a sense of where the race stands after the dust settles from the Democratic convention and the Trump convention."
Finally we note the odds of Donald Trump dropping out of the race by August 31st has collapsed to just 8%, and while his National Election victory odds have declined, they have not cratered like the polls... and we are reminded of the "done deal" that Brexit polls signaled up until the last second.