Trump and Kim Jong Un rarely mention the name of South Korea's President — this is why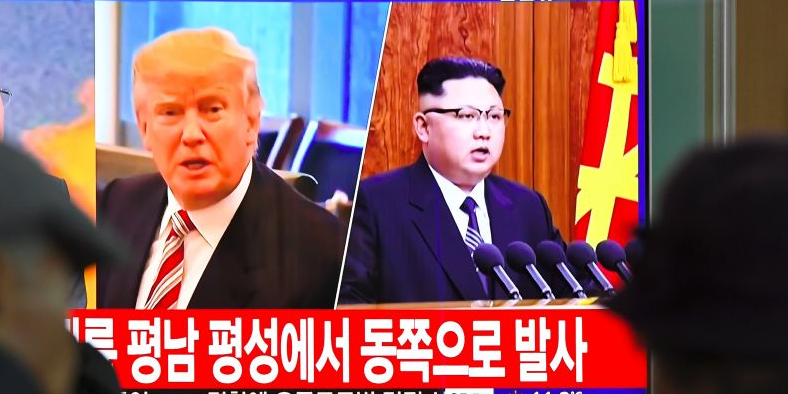 South Korea's president is named Moon Jae-in.
But you'll rarely hear that name come from US President Donald Trump and North Korean leader Kim Jong Un.
In a recent interview with The Wall Street Journal, which was published in full last week, Trump never referred to Moon by name. Instead Trump named the leaders of surrounding Asian countries, including Japan, China, and North Korea — despite being prompted by the interviewer.
WSJ: You think North Korea is trying to drive a wedge between the two countries, between you and President Moon?
Mr. Trump: I'll let you know in—within the next 12 months, OK, Mike?
WSJ: Sure.
Mr. Trump: ... But I'll tell you, you know, when you talk about driving a wedge, we also have a thing called trade. And South Korea—brilliantly makes—we have a trade deficit with South Korea of $31 billion a year. That's a pretty strong bargaining chip to me.
With that being said, [China's] President Xi has been extremely generous with what he's said, I like him a lot. I have a great relationship with him, as you know I have a great relationship with Prime Minister Abe of Japan and I probably have a very good relationship with Kim Jong Un of North Korea.
But Trump is not alone in his aversion to using Moon's name.
Despite repeated personal attacks on Trump, including calling him a dotard, Kim Jong Un and North Korean state media avoid criticizing Moon directly.
When North Korea's state-run news agency, KCNA, recently slammed Moon for giving Trump praise for inter-Korea talks, it appeared to do so without using Moon's name. Instead it repeatedly referred to the "South Korean chief executive."
According to Robert Carlin, a visiting fellow at Stanford's Center for International Security and Cooperation, since Moon took office last year the North has never mentioned his name when critiquing South Korea.
Here's why experts think this is happening — for reasons both good and bad.
Trump isn't good friends with Moon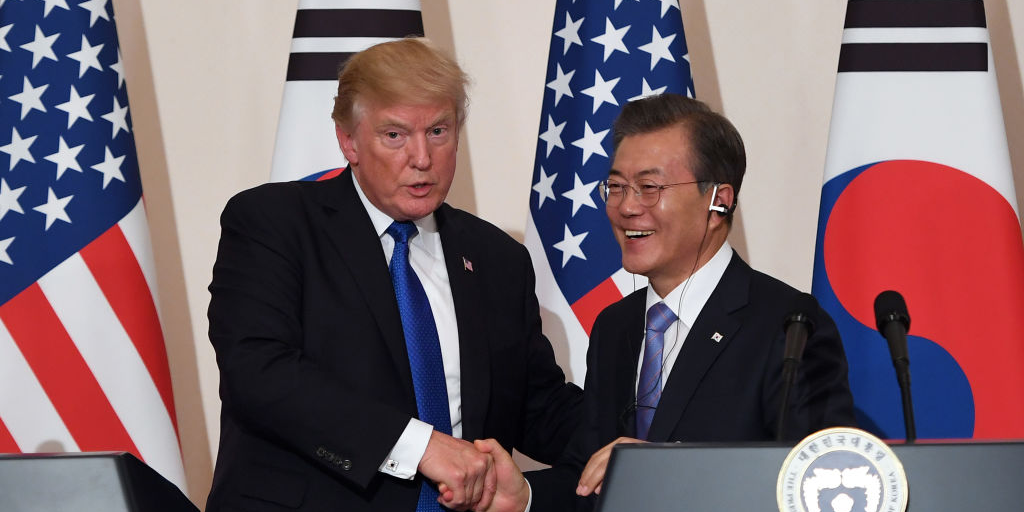 JUNG YEON-JE/AFP/Getty Images
There's a number of potential reasons why Trump tends to skip over Moon, including that the two just aren't good friends.
Trump has been overt in his preference for Japan's Shinzo Abe over Moon. The two have played golf, talked more than a dozen times, and while on his tour of Asia Trump cut short his time in South Korea to spend more time in Japan. And in repeated speeches in Asia, Trump has referred to Abe by the very chummy 'Shinzo' while always sticking with 'President Moon.'
But there may be another factor at play.
The US, and Trump in particular, has a history of 'Korea Passing' — bypassing South Korea when it come to dealing with issues on the Korean Peninsula — which irks both South Korean politicians and media.
Trump appears to have yet again committed this diplomatic faux pas by answering a question on North Korea with praise for a number of leaders in Asia, not inclusive of Moon.
Kim is trying to change his country's approach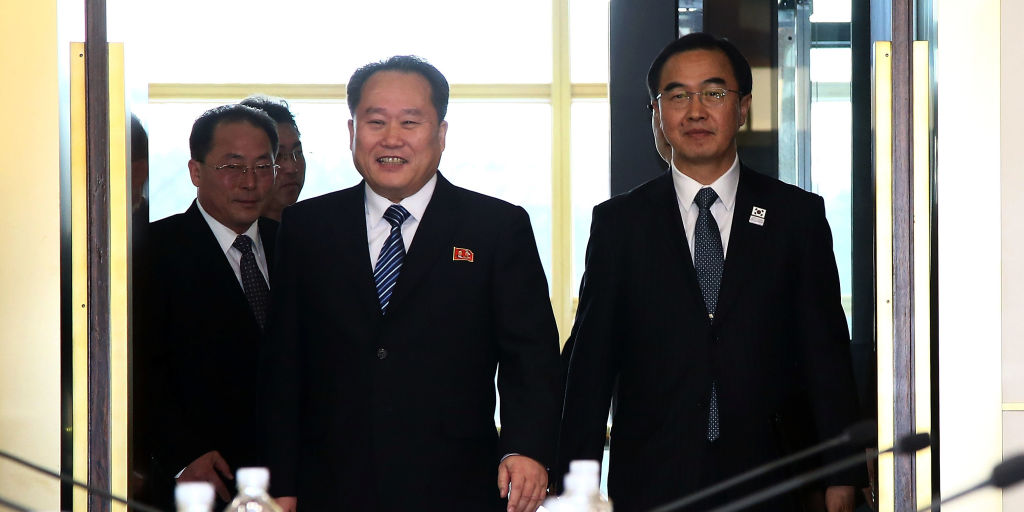 Korea Pool/Getty Images
In comparison, Kim's tendency to avoid naming Moon appears to be part of an attempt to warm relations between North and South Korea.
According to Carlin, who was speaking at a briefing for 38 North, North Korea's restraint in naming and attacking Moon over the last year indicates the country was knowingly trying to keep the door open for talks.
It's a strategy that appears to have worked.
North and South Korea conducted official talks for the first time in more than two years last week, leading to hopes that the slight thaw in tensions will continue. NOW WATCH: 'These women deserve to be heard': Ohio Rep. Tim Ryan says Congress should investigate sexual misconduct allegations against Trump