Trilemma Indices Updated
The Aizenman, Chinn and Ito indices that measure how countries align their policies to conform to the Trilemma [1] [2] [3] have been updated to 2009. Below is a time series plot of exchange rate stability, monetary independence and capital account openness for China.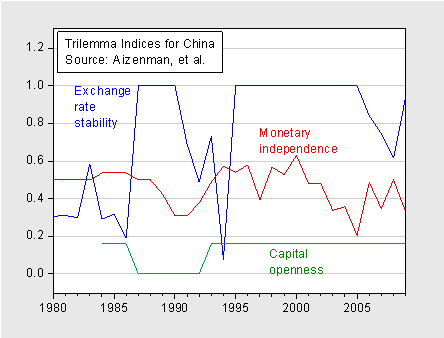 Figure 1: exchange rate stability (blue), monetary independence (red), and capital openness (green). Source: Aizenman, Chinn and Ito.
The monetary independence index depends on the correlation of a country's interest rates with the base country's interest rate, the exchange rate stability index is measured by the exchange rate volatility, and the degree of financial integration is measured with the Chinn-Ito capital controls index.
The data (Excel, Stata), as well as associated documentation are here. All you wanted to know about the capital openness index, here.