Trading places: Who's risky now?
There are two very different worlds described in the IMF's latest report on the global financial system. Increasingly, one looks a much better bet to international investors - and I'm afraid it's not the one we live in.
One of these worlds has enjoyed rapid growth for most of the last decade, and can boast low and falling levels of government debt, high levels of investor confidence, and a rising share of global investment flows.
The other world look a much riskier prospect to international investors: its economies and financial systems are still fragile after a series of highly damaging boom-bust cycles which have left governments and households with a heavy burden of debt.
Growth is weak, and many governments face big political obstacles as they try to put the level of public debt on a downward path.
Not so long ago, that would have been a fair description of many "emerging market" economies. Now - not so much.
As the report makes clear, the fast-growing economies of Latin America and Asia have plenty of challenges ahead of them - but most are what they would call "upside" risks. Like managing excessive capital inflows, they arise as a consequence of the rising economic success.
Most of the downside risks these days are in the mature, supposedly stable, advanced economies - like the US, the euro area and, yes, the UK. Or, as the Fund politely puts it, in the global financial system, "the crisis in advanced countries has shifted perceptions of risk-reward in favour of emerging market assets."
As the chart below shows, equity returns in the advanced economies always used to be higher than in the emerging markets. But that stopped being true a long time ago: returns in emerging markets have been higher since 2003.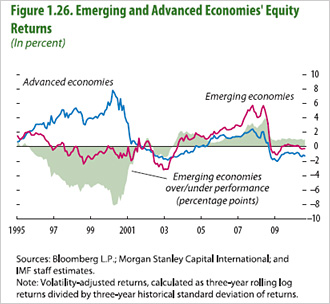 The balance of risk in sovereign debt markets is also shifting, and for good reason:
"Developed country sovereigns have experienced 25 downgrades since early 2008, while emerging market sovereigns have seen 21 upgrades during 2010, concentrated in Latin America. This trend is set to continue, particularly as public debt levels in emerging markets are expected to near pre-crisis lows in the next few years (Figure 1.27b). In contrast, debt levels are projected to remain elevated in the near future for advanced economies."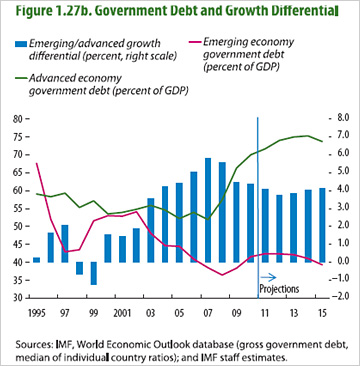 As I have said, this change in the natural order of things holds great risks for the fast-growing developing economies, especially the smaller ones (and, by extension, foreign investors).
Countries such as Indonesia and Poland are already struggling to cope with a wave of incoming cash, and the problem may be about to get a lot worse.
The Fund points out that many developed country investors have yet to follow the trend.
Emerging market equities accounted for 16% of the world's market capital in 2009, but only around 2% of the shares held by US investors. If just another 1% of the global equity and debt securities held by the four largest economies were moved into emerging markets, that would mean another $485bn in portfolio flows to emerging markets - even more than the record $424bn they received in 2007.
The Fund has some advice for these economies, some of it rather different from the advice it would have given a few years ago: notably, governments are now allowed to think about outright capital controls, though only "as a last resort".
And make no mistake: the advice for the advanced economies has changed too.
In effect, the message for many rich country governments coming out of this crisis is that have to learn to think like emerging markets. They can't take their privileged status for granted. Like many a developing country government before them, their focus will have to be on avoiding further crises, fixing the financial systems and preserving the capacity to borrow on international markets.
Put it another way: we are all emerging markets now. And not in a good way.