Top 'Ring of Fire' miner threatens to halt project unless Ontario, First Nations make progress
TORONTO — The dominant company in Ontario's "Ring of Fire" mineral belt is threatening to suspend its work, sources say, putting a big question mark over future development plans in the region.
Noront Resources Ltd. has warned both the Ontario government and First Nations communities in recent days that it will stop working unless it can demonstrate some tangible progress to investors, according to sources. The company and its key lender, Resource Capital Funds, are increasingly frustrated with a lack of movement on government infrastructure commitments, First Nations agreements and other matters. The longer these issues drag on, the harder it will be for Noront to raise new capital.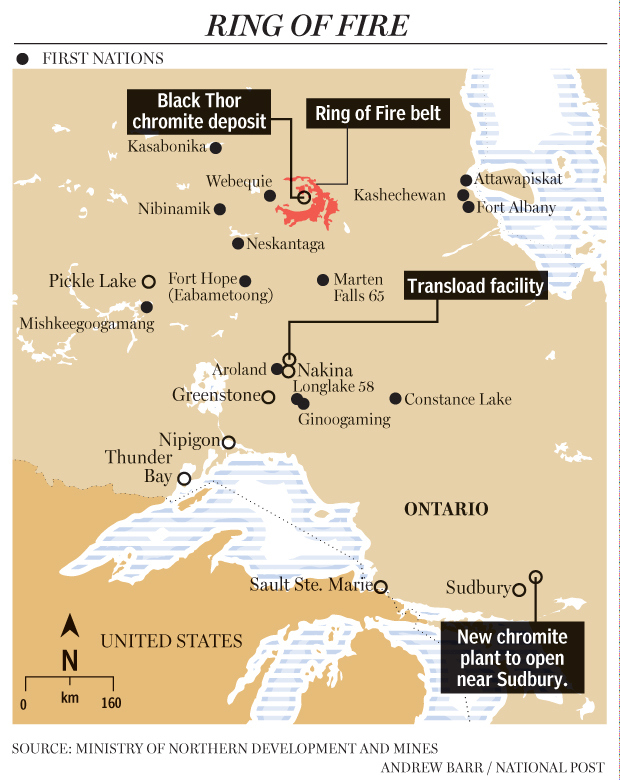 The company is expected to halt spending on its Eagle's Nest project in the Ring of Fire by the end of the year if it does not see any progress. In that scenario, Toronto-based Noront would lay off most of its workers and go down to a skeleton staff.
That would be a major setback for the Ontario government, which has made the Ring of Fire the centerpiece of its Northern economic development plans.
Sources said Noront is optimistic that its shutdown threat will get Queen's Park and the First Nations focused on moving forward on this file. However, the next few weeks will be critical.
"When things come to a head like this, it gives people a bit more clarity and gets their thinking caps on," said one source.
Related

Noront Resources Ltd gets prized Ring of Fire assets in deal with Cliffs Natural Resources Inc
The Ring of Fire, which is located in the James Bay Lowlands, was discovered by Noront in 2007 and is thought to contain around $60 billion of chromite, nickel, platinum and other minerals. But development has been fraught with challenges and has moved at a snail's pace.
The Ontario government has committed $1 billion to build a transportation corridor to the remote site, but it is unclear when this corridor will be built. Negotiations with First Nations have been challenging, in part because the various communities in the talks have different priorities and concerns. And falling commodity prices have dampened investor enthusiasm.
The low point came in 2013, when U.S. miner Cliffs Natural Resources Inc. simply gave up on the Ring of Fire. It spent about $500 million in the region, but later sold its assets to Noront for just US$20 million. Cliffs' chief executive told the Financial Post last year that he does not expect the Ring of Fire to get developed in his lifetime.
Noront's plan is to build the US$610-million Eagle's Nest nickel project in the Ring of Fire first, and then to tackle the much larger chromite projects. But it can't do any of that until the overhanging issues in the region are resolved.
Michael Gravelle, Ontario's minister of northern development and mines, said in an interview that he is continuing to work "very closely" with Noront and doing what he can to move the process along. He said he remains very bullish on Ring of Fire development, but did not comment directly on Noront's shutdown threat.
"There's no question I understand Noront Resources' desire to move things forward quickly," he said.
Gravelle also said that having a new Liberal government in Ottawa could be a positive development for the Ring of Fire. Ontario asked the federal government to match its $1-billion commitment to the Ring last year, but the Conservatives were reluctant to do so as they wanted some structural issues in the Ring to get resolved first.
pkoven@nationalpost.com
Twitter.com/peterkoven