'Thursday Night Football' ends in chaos as Raiders beat Chiefs after 2 overruled touchdowns and 3 penalties in the final 23 seconds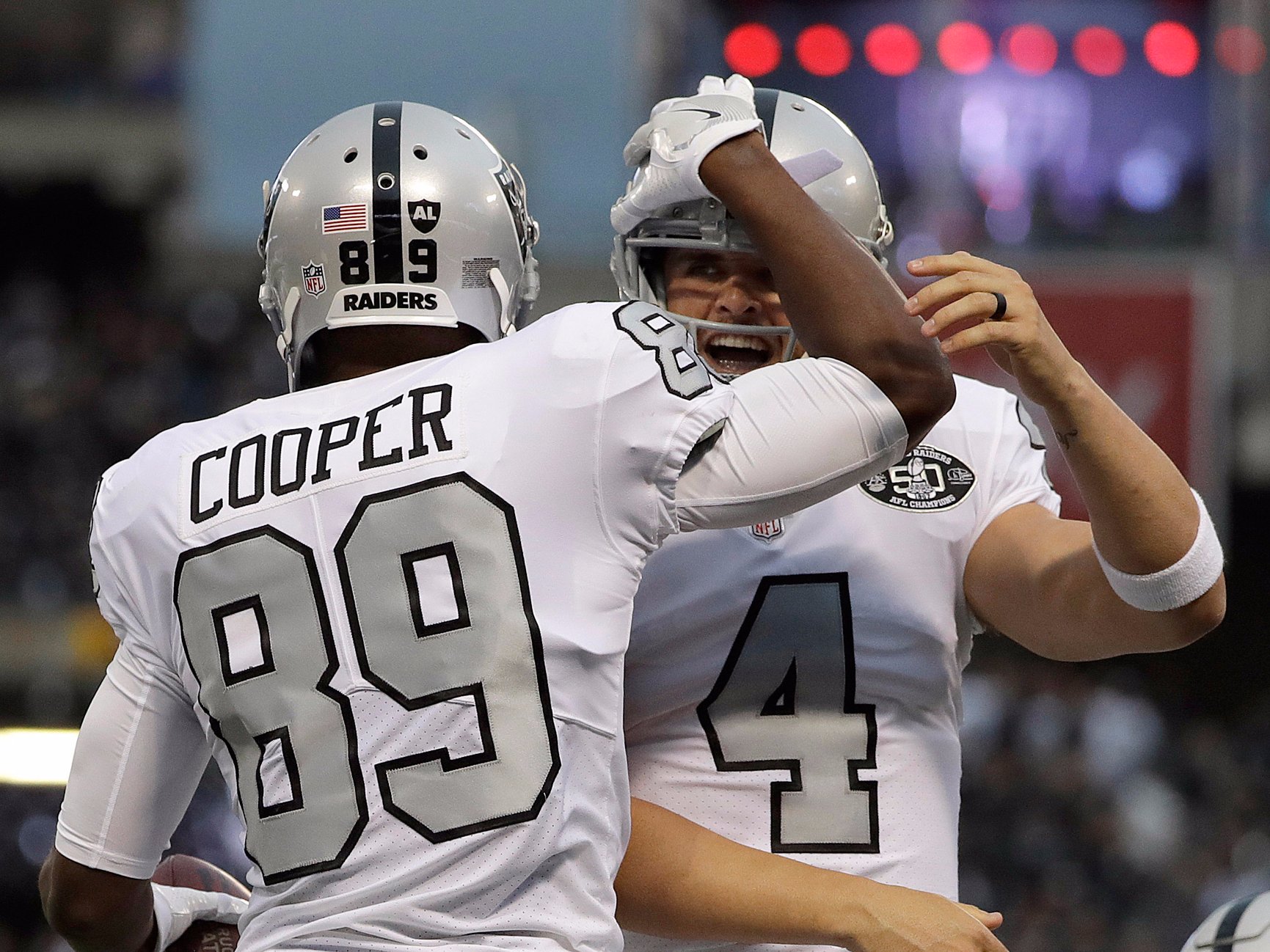 AP Photo/Marcio Jose Sanchez
The Raiders completed the most heart-stopping comeback of the year against the Chiefs on "Thursday Night Football."
The final sequence included three penalties, two untimed downs, and two overturned touchdowns.
With no time left on the clock, Michael Crabtree reeled in the final score for the Raiders to seal the victory.
The end of the Raiders-Chiefs "Thursday Night Football" matchup was one to remember.
Nearing the end a hard fought game that included Marshawn Lynch getting ejected after shoving a referee, the Raiders had the ball driving, down six points with two minutes remaining from their own 30-yard line. Running out of the no-huddle, the Raiders took the ball all the way to the Chiefs 30-yard line with the help of a 4th and 11 conversion where Derek Carr found tight end Jared Cook to keep the game alive.
The Raiders would pass towards the end zone unsuccessfully twice, leaving them again with 3rd-and-long and the game on the line.
That's when the chaos would start.
Carr dropped back and threw again to Cook, who caught the ball and fell into the end zone with 16 seconds left. Raiders fans rejoiced.
But the play was overturned, with the referee claiming video evidence proved that Cook was actually down at the one yard line. A ten second run off was invoked, and the Raiders were faced with first and goal from the one yard line.
With the clock running on the referee's whistle, Carr took the snap, dropped back and found a receiver in the end zone, this time Michael Crabtree. Again, Raiders fans rejoiced.
But the touchdown was taken off the board once more, this time due to an offensive pass interference call that took the Raiders back to the 10 yard line.
Now with first-and-goal from the 10, Carr went to Cook in the center of the end zone. The ball hit off Cook's hands and fell incomplete, but yet another flag was thrown, this time, defensive holding.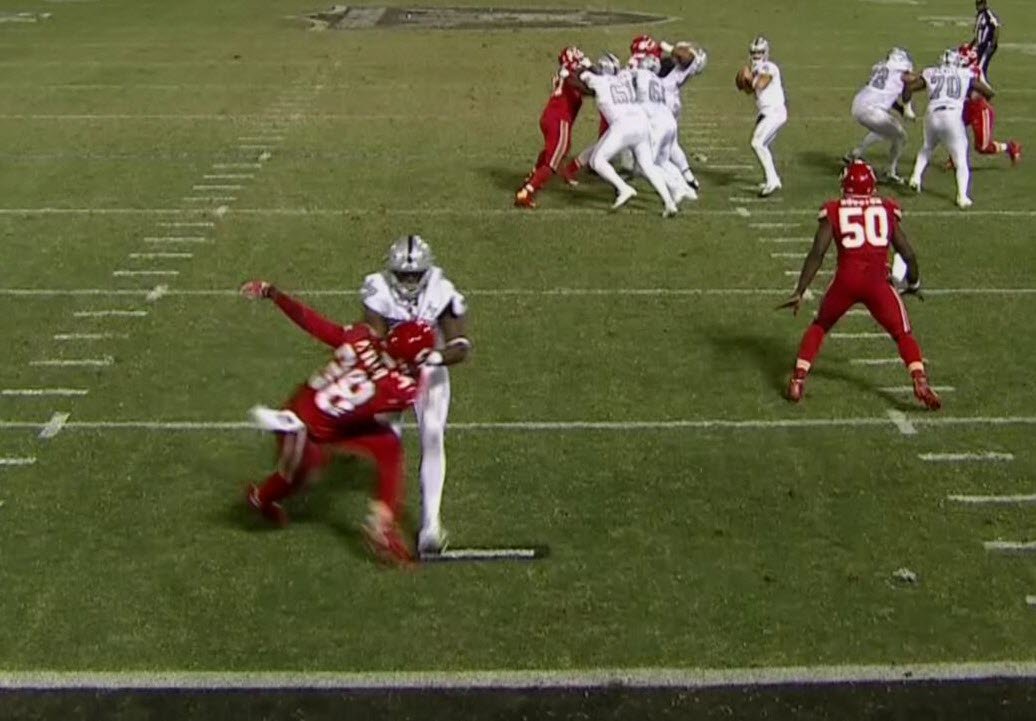 NFL Network
This moved the Raiders up five yards and permitting them one untimed down despite the fact that the clock already read triple zeroes.
So the Raiders lined up again. Carr dropped back and threw a bullet to Cordarrelle Patterson, who snagged the ball in the back of the end zone, but failed to land two feet in bounds.
But just as the football fans thought the game was finally over, another flag was thrown. Once again, defensive holding was the call, giving the Raiders one more untimed down, and thus, one more shot at the end zone from the three-yard line.
Once again, Carr rolled out to his left, scanned the field for a receiver, and found Michael Crabtree right at the pylon, who came down with the ball in bounds with possession. No flags were thrown, and the touchdown finally stood.
Kicker Giorgio Tavecchio came in and hit a walk off extra point to secure the win for the Raiders in what will surely go down as one of the wildest games of the season.
And with that, after two called back touchdowns, three late penalties, and more final chances than any football team has ever seen, Thursday Night Football was brought to a close.NOW WATCH: I went on the Tom Brady diet and workout plan and it changed my life — here's what it was like