Tesla Zooms Ahead of Earnings Estimates
Tesla Motors Inc. (TSLA) announced fourth quarter earnings for its fiscal year 2013 (FY13) just after the closing bell yesterday, and reported better-than-expected results on the back of a favorable jump in unit sales.
For the quarter ended December 31, 2013, the Palo Alto-based automaker reported adjusted per share earnings (EPS) of $0.33, up 175% from $0.12 in the third quarter of its fiscal year 2013 (3QFY13), beating analysts' estimates of $0.26. The company's non-GAAP revenues came in at $761 million for the quarter, higher than consensus projections of $712 million.
Tesla shares are up 12% in pre-market hours today to around $217, after yesterday's earnings result reaffirmed investors' positive outlook on the company's future as a fledging global automaker. The stock has gained over 30% in 2014 on news of the company's advance in international markets, which was further reiterated in the earnings release yesterday.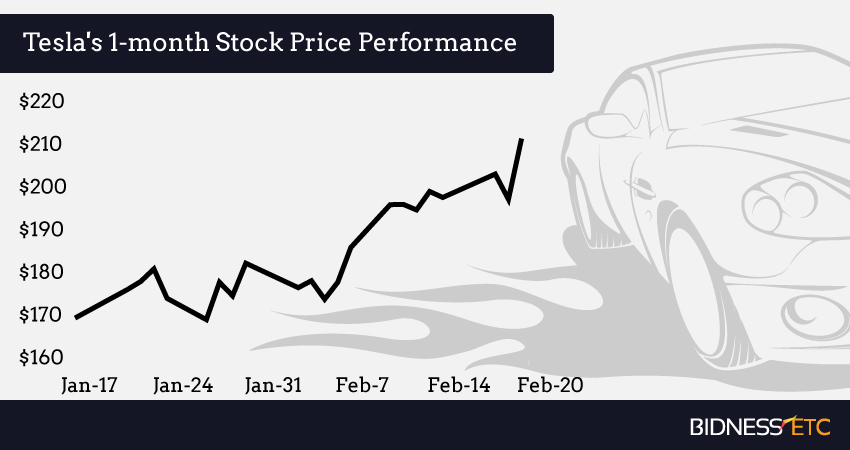 Tesla's quarterly revenues adjusted on a GAAP (Generally Accepted Accounting Principles) basis were $615, with GAAP-adjusted earnings indicating a net loss of $16 million in the fourth quarter. Revenues from regulatory credits were $15 million in the latest quarter, while cash on hand increased to $846 million at the end of the fourth quarter of its fiscal year 2013 (4QFY13) as a result of a solid improvement in cash flows from operations which were $130 million in same period. The company's fourth quarter gross margins also improved to above 25% for 4QFY13, up from around 22% in 3QFY13.
"It was a powerful quarter," said S&P Capital IQ analyst Efraim Levy. "Initial numbers look really good."
For the full fiscal year, Tesla's non-GAAP EPS rose to $0.78, up from a loss of $3.2 per share in its fiscal year 2012 (FY12). Year-over-year comparisons do not paint a true picture of Tesla's results, since the company started selling its first Model S production vehicle in the fourth quarter of FY12. Analysts are more focused on quarter-on-quarter comparisons to project Tesla's outlook for unit sales and subsequently its revenues and earnings going forward.
Units Sales and Production
In the latest quarter, the company said that it sold 6,892 Model S vehicles, up from 5,500 in 3QFY13. For the full year, Tesla delivered 22,476 units. The biggest announcement yesterday, however, was that the company expects to deliver nearly 35,000 vehicles in FY14, a 55% increase from last year.
For 1QFY14, Tesla plans to produce close to 7,400 vehicles, but sell only 6,400 in order to build up inventories for export to international markets. The company has laid out extensive plans to start sales in right-hand drive markets like UK, Australia, and Japan.
Management also mentioned that constraints in the company's battery technology will limit production and supply in the first half of 2014. When those issues are resolved by the middle of this year, the carmaker expects to produce around 1,000 vehicles a week at its Fremont, California factory, up from the current production level of 600 a week.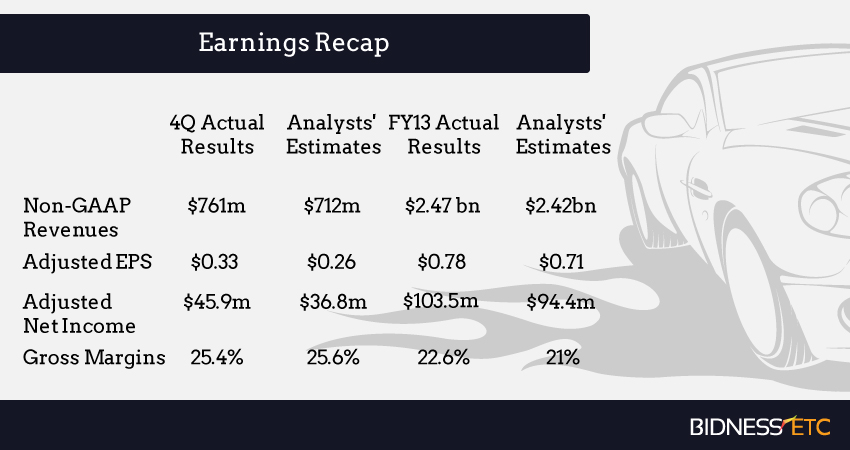 2014 Outlook and Guidance
Apart from the better-than-expected earnings results, management gave favorable guidance for the full fiscal year 2014. In addition to the projected 35,000 vehicle deliveries, CEO Elon Musk also said he expects Tesla's gross margins to improve to 28% in FY14, up from the previous benchmark of 25% that he had touted in recent quarters.
The company made another blockbuster announcement in yesterday's earnings release, stating that it plans to build a 'Gigafactory,' aimed at producing advanced battery packs to power its electric vehicles. Details of the new factory will be released in the coming months. The new battery plant would also serve the needs of the fast-growing solar industry to produce battery packs for use in home and commercial solar systems, and could lead to an additional source of revenues for Tesla.
By the end of this year, Tesla will also introduce its 7-seater Model X crossover, aimed at the luxury family car segment. The company expects demand for the new model to result in robust sales which would likely contribute to revenues in 4QFY14.
Apple Rumors
Apple fanboys probably skipped a heartbeat on February 16, when it was first reported by the San Francisco Chronicle that Tesla's CEO, Elon Musk, met with Apple Inc.'s (AAPL) head of mergers and acquisitions, Adrian Perica, in early 2013. The news instantly fueled rumors of a possible acquisition by Apple, despite being written off by analysts as wild rumors and speculation.
Tesla shares gained 3% on Tuesday, February 18, to close at their highest level of $203, after the news went viral on online media outlets despite the fact that Musk, Tesla's largest shareholder, has repeatedly stated in interviews that he has no plans to sell the company that he co-founded.
Sell Side Expectations
Despite the increasingly bullish sentiment, Tesla will need to continue impressing Wall Street before it can justify its exuberant valuation. Shares of Tesla are currently changing hands at 111 times its estimated 2014 earnings. Analysts expect the company's EPS to rise 114% in FY14 to $1.67, and a further 86% in FY15.
Many investors are still betting against the company chances. Short interest in Tesla stock is around 37% of the total outstanding shares, with the days to cover at 3.7, down from 4.1 days only a couple of weeks ago.
Sell side analysts have varying opinions on the stock, with seven analysts rating it a Buy, six rating it a Hold, and three analysts having a Sell rating on the stock, according to Bloomberg. Research analysts at Jefferies raised their target price on the stock to $220 yesterday after the earnings beat, while Deutsche Bank analyst Dan Galves has a $200 price target on the stock, which he reiterated last month.
On February 18, Robert Baird analyst Ben Kallo upped his target price on the stock from $187 to $215, rightly predicting that the share price would move up on a favorable earnings beat. The average 12-month target price for Tesla is currently $165, although that is likely to be revised up once the largely strong earnings are absorbed by investors today.
Challenges Ahead
One of the largest factors holding Tesla back is the challenge it currently faces in its battery production and supply, which is expected to improve significantly by the end of this year. Any reported shortfall in this regard would likely affect production levels and could result in a sell off, moving the stock price downwards.
The road ahead could become increasingly challenging as Ford Motor Company (F) and General Motors (GM) prepare to launch brand new all-electric vehicles in the US market this year. Tesla should also expect growing competition from European and Japanese automakers, as Daimler AG's (DDIAY) Mercedes Benz and Toyota Motor Corp. (TM) ramp up development of their electric car segments.
One thing is clear though: demand for Tesla's vehicles has continued to surge in the US and international markets. Investors will be glued to any news that sheds light on the company's chances of becoming the premier battery-electric vehicle manufacturer in the world.