Tesla Shares Hit Record High
In addition to Amazon hitting its now daily all time high, today the tech online retail that recently made Jeff Bezos that second richest man in the world was joined by Tesla, whose shares just hit a new all time high above $292, surging over 5% on the day, following Sunday's report that first-quarter vehicle deliveries jumped 69% from a year ago to a quarterly record of 25,000 vehicles, bouncing back from delays in the previous quarter.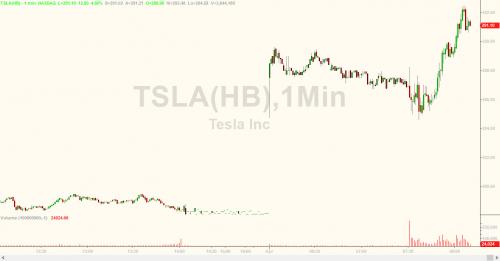 The company said of the total vehicles delivered, about 13,450 were Model S sedan and about 11,550 were Model X sports utility vehicle. Tesla has said it expects to deliver 47,000 to 50,000 Model S and Model X vehicles combined in the first half of 2017, and so far it appears on track even as the rest of March numbers for other OEMs are coming in weaker for the past month.
As a reminder, in Q4, Tesla deliveries had fallen 9.4 percent due to short-term production hurdles from the transition to a new autopilot hardware. Tesla had said production challenges, which started at the end of October and lasted through early December, shifted vehicle production towards the end of the fourth quarter, resulting in delayed deliveries.
According to Reuters, about 2,750 vehicles were missed being counted as deliveries in the fourth quarter either due to last-minute delays in transport or because the customer was unable to physically take delivery. In addition to the first quarter deliveries, about 4,650 vehicles were in transit to customers at the end of the quarter and will be counted as deliveries in the second quarter, Tesla said in a statement on Sunday.
Production in the first quarter also hit a quarterly record at 25,418 vehicles. Tesla Chief Executive Elon Musk has taken big risks repeatedly since going public in 2010, but investors got spooked after he said in February the electric car company could get "close to the edge" as it burns cash ahead of its crucial Model 3 launch.
Last week, China's Tencent Holdings announced it had bought a 5% stake in Tesla last week for $1.78 billion, providing the company with much needed liquidity and a wealthy ally as it prepares to launch its mass-market Model 3. The midsize, high-volume Model 3 sedan is due to go on sale later this year in the United States.