Tesla Motors Inc to offer hands-free steering on Model S in 3 months
Tesla Motors Inc will soon offer upgrades including hands-free steering on its Model S sedan, Chief Executive Officer Elon Musk said on Thursday, but the news did not help the electric carmaker's volatile shares which fell more than 2%.
Tesla is set to offer the automatic steering feature in three months, about a year ahead of other automakers. It will be available only when driving on freeways or major roads, as part of a continuing series of free software upgrades delivered wirelessly to Model S owners, Musk said.
General Motors Co has said it plans to offer a similar set of hands-free driving features next year on its new Cadillac CT6 sedan. Other automakers and suppliers are working on similar automated systems.
Tesla is among several automakers, including BMW  and Daimler AG's Mercedes-Benz, offering software updates wirelessly through a car's built-in modem. Tesla has been more aggressive than most others in pushing such "over-the-air" software updates, which Musk said would continue to be released every three or four months.
Investors, who had pushed the stock higher ahead of Musk's announcement, sold off on the news. Shares were down US$2.35 in mid-day trade to US$196.18 by 2:21 p.m. EDT (1921 GMT).
The company's stock has fallen from a peak last September of US$291.42. Shares rose above US$200 after Musk tweeted on Sunday that Tesla planned a March 19 press conference to announce the software update.
On Thursday, Tesla also announced the release of a new Range Assurance feature that will warn Model S drivers before they run out of battery power. The feature will be bundled with a trip planner that will help owners map "optimal" travel routes, Musk said.
He said the range assurance and trip planning features, which will be released in about 10 days, will make it "almost impossible for a Model S driver to run out of range." The latest version of the Model S has a range between charges of about 280 miles.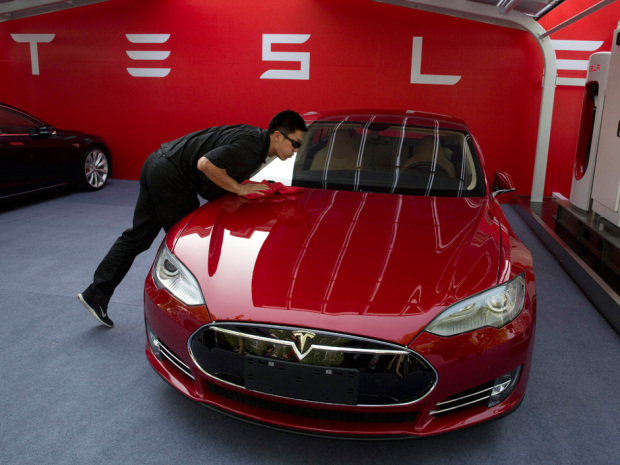 Ng Han Guan/AP Photo fileThe Tesla Model S.
Among new features to be delivered later this year, in what Musk said would be Version 7.0 of the car's operating software, is one that will enable owners to summon their car remotely from the garage.
Another feature will be a valet mode that limits vehicle speed and access to confidential information.
The Version 7.0 software also will be installed in the new Model X crossover that goes into production this summer.
Tesla this year has come up under increasing scrutiny by investors after several misfires, including missing sales targets in China and, more recently, falling short of Wall Street's expectations on profit and sales volume.
Of particular concern is the company's free cash flow. Tesla burned through US$455 million in the fourth quarter as it overhauled and expanded its California assembly plant and finalized development of the Model X.
When the company announced year-end results in February, Chief Financial Officer Deepak Ahuja said he expected cash burn this year to be less than US$1.0 billion.
© Thomson Reuters 2015