Tech IPOs Still Haunted By the Dot-Com Bubble
You are witnessing one of the most crowded IPO markets in history.
Tons of stupid companies are preparing to go public. They're ready to cash in on improving market conditions. They want your money — and they'll do anything to get it.
According to Renaissance Capital, 45 IPOs have already been priced. That's a 96% jump from this time last year. Even more impressive is the almost 200% year-over-year increase in companies that have filed for an offering this year.
But there's one thing missing from the long list of new stocks coming to the market: tech stocks.
The financial media would have you believe our markets have traveled through a wormhole back to the late '90s, where every "dot-com" was ready to rob clueless investors of their hard-earned cash.
But in reality, that's nothing but hot air…
"Dropbox, Square, Airbnb, Uber, Spotify, Evernote, Snapchat — Wall Street banks are chomping at the bit to get ahold of them," explains Rude researcher Noah Sugarman. "But those bankers might have to sit back down in their Italian leather chairs. Silicon Valley, of all places, is demanding underwriters' patience."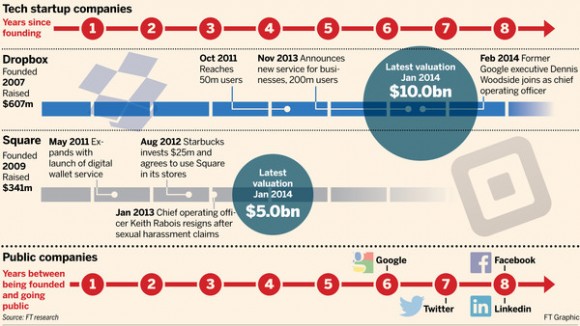 While the IPO waiting room gets more crowded by the day, most of the companies that have filed this year actually hail from sectors like energy and biotech, Noah says.
"The fact is, some of the biggest targets on Wall Street's list of expected tech IPO's simply aren't in any hurry to go public," Noah continues. "They're already flush with cash needed to fund operations. They're even taking an honest look at the unpredictability of their current revenues."
Now, I'm not trying to say there aren't any ridiculous tech companies already on the market (I'm looking at you, Groupon). And I certainly understand some of the valuation concerns regarding tech darlings like Facebook. After all, this is a space that tosses around $19 billion for messaging startups at the drop of a hat…
But the idea that we are in a massive new tech bubble is a lie. While it's probably a smart move to avoid investing in new IPOs, you shouldn't avoid the tech sector because a couple of analysts are crying about a few "overvalued" stocks.
Regards,
Greg Guenthner
for The Daily Reckoning
P.S. There are plenty of tradable breakouts in this space. In fact, today's issue of The Rude Awakening gave readers a chance to discover my favorite play in the tech sector – one that even a computer illiterate could appreciate. Don't miss another great opportunity to discover real, actionable stock picks. Sign up for the FREE Rude Awakening email edition, right now.