Tax Roundup, 3/22/2013: IRS makes it easy for many taxpayers to pay late. And Beavers at the end of the pond.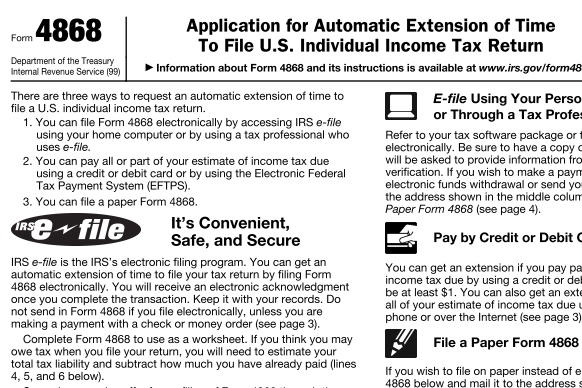 IRS waives late payment penalties for returns containing delayed forms.  If you can't file or pay taxes on time, it's always better to extend your return while you round up the information or the cash.  The penalty for filing a late unextended return is 5%, plus an additional 5% for every additional month of late filing.  The penalty for paying late on a timely extended return, in contrast, is only 1/2%, plus 1/2% per additional month.
  While penalties will be waived, the IRS will charge interest on amounts paid after the deadline.
The notice has a complete list of forms that allow taxpayers to qualify for the late payment exception.  The most commonly-seen ones are probably Form 4562, for depreciable assets and the section 179 deduction, and  Form 8582 for passive activities.
By issuing this notice early, the IRS has also given taxpayers a planning opportunity.  If you have a big balance due on April 15, and you have one of the qualifying forms, you now are eligible for what amounts to a low-interest loan for up to six months, until the October 15 extension deadline.   Many taxpayers accelerated income into 2012 to beat the 2013 tax hikes, and they loan might come in handy.  The current IRS interest rates:
three (3) percent for underpayments;
five (5) percent for large corporate underpayments
But if you have the cash, you probably want to pay up on April 15.  There aren't many places left where you can get a 3% after-tax return on your money for six months.

In a just world, they could sue Congress and the IRS.   TurboTax, other Intuit products, now OK to use in Minnesota; H&R Block facing lawsuits over filing snafu, refund delays (Kay Bell)
The tax law is still broken, though.  Minnesota Revenue Department Announces TurboTax Problems Have Been Fixed (William Perez)

William McBride, UK Dropping Corporate Rate to 20 Percent, Half the US Rate (Tax Policy Blog).  It makes a difference.
Peter Reilly, International Flight Attendant Does Not Score As Well As Sergio Garcia In Tax Court
Ben Harris,  Automatic Retirement Saving Inches Forward (TaxVox)

Roger McEowen, Another Development In The Tax Implications of Insurance Company  Demutualization
Janet Novack, New Study Using IRS Tax Data Shows Rich Are Staying Richer, Poor Poorer
Jim Maule,  So How Does This Tax Plan Add Up?
Howard Gleckman,  Why the Tax Cuts in the Senate Budget Don't Add up (TaxVox)
David Cay Johnston, Level Playing Fields Under Attack.  (Tax.com).  Because we don't want Wal-Mart to be at the mercy of some guy selling stuff from his basement.
Patrick Temple-West, Senate votes on tax hikes in budget, and more (Tax Break)
TaxGrrrl, You Are Not Alone: R. Kelly Joins Taxpayers Who Have Lost Homes Due To Foreclosure.  I'm sure that makes other foreclosed folks feel better.

The road not taken.  I left a national accounting firm to start a new firm.  A (purported) alumna of the same firm took a somewhat different path. (Going Concern)
Guilty.  Dam Guilty. Beavers Convicted: Loans Require Payback  (Russ Fox).