Taliban vs Afghan Security Forces Compensation Structure
Spencer Ackerman offers some WikiLeaks-inspired reporting and analysis of Taliban vs official Afghan security forces payscales: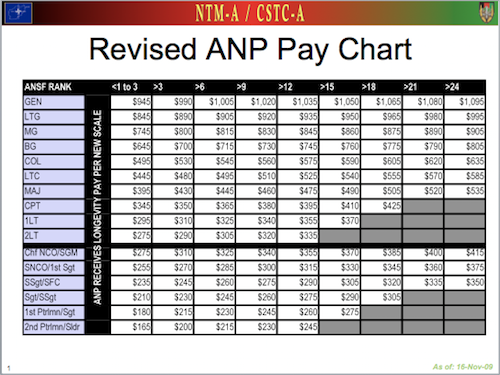 Lieutenant Colonel Dave Hylton, a spokesman for the NATO mission to train the Afghan security forces, says that's not an apples-to-apples comparison. His information is that the Taliban pays about $10 per day for fighters — presumably that's where McChrystal's $300 monthly figure came from. But that's allegedly not year-round: the Taliban, according to NATO, don't pay when they're not fighting, while the Afghan security forces budget for a full twelve months. Plus, if a soldier or policeman is in a "hazardous zone," Hylton says, he gets an additional $75.
But that means our green soldier or cop working in Taliban country while the insurgents keep the heat on him is raking in… $240. He might be forgiven for asking himself why he should risk his life for $60 per month less than what his neighbor makes from the Taliban, even if the Taliban won't pay him when they don't need him. (Is that what passes for flex time in Kandahar?) And that's without a big bribe offer to walk off the job.
At a minimum, the Taliban's preferred means of paying soldiers seems likely to reduce the absenteeism that appears to be a big problem in the official security forces. In general, I feel like I read way too reporting and analysis on the issue of what, exactly, is it that makes it hard for the NATO-backed government to assemble security forces that meet the "better than the Taliban" standard. This is the core of our mission, and NATO-backed forces should have access to wildly more resources than the Taliban. When you hear that the Taliban gets support from Pakistan, for example, you should recall that Pakistan's entire GDP is substantially smaller than the US defense budget.