Stockholm Taxi Syndrome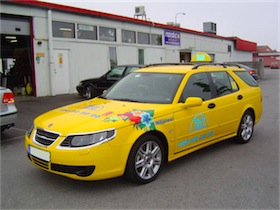 Neil Sinhababu is not a fan of haggling for cab fare:
The free market system one does see in some places, either as a legally established option or as the way things run de facto because price regulations aren't enforced, is one where you have to haggle with the taxi driver about the price of going to your destination. I've done it in other parts of Thailand, and I hear it's common in Malaysia. People's sentiments will vary, but I don't like this system. Haggling takes time, is unpleasant, and can result in no deal happening because somebody presented an overly ambitious ultimatum when both parties were actually willing to settle for a middle price. It also can lead to visitors who aren't familiar with the local haggling economy getting ripped off.
The one place I've been where haggling for cab rides is the formal system is Stockholm, Sweden where (as is often the case) the Scandinavians combine high taxes with radical free market ideas. It was, as Neil suggests, extremely annoying. But it also made me wonder why more cities don't do this. After all, the main impact seems to be that tourists get ripped off. But why should city governments care about stopping tourists from getting ripped off? Charging a kind of "ignorance tax" on visitors seems like exactly the kind of thing you'd expect cities to do.