The stock market is on the verge of making history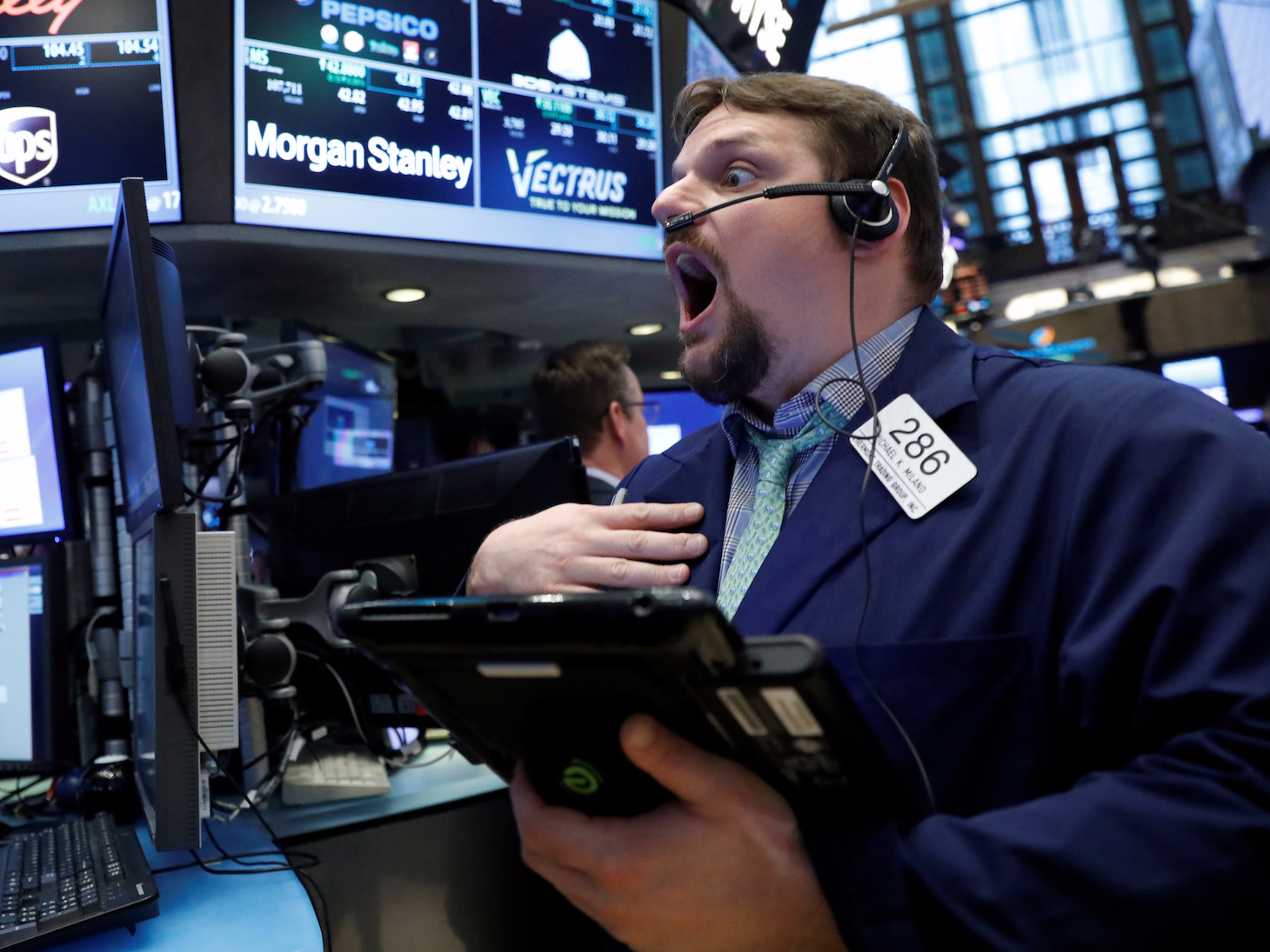 Reuters / Brendan McDermid
The S&P 500 is set to finish 2017 with 12 months of gains.
That's never happened before.
Earnings growth was strong, all 45 economies under the Organisation for Economic Cooperation and Development (OECD) were expanding, and investors started to price in the impact of the new tax law.
Some analysts expect 2018 to be more volatile.

What a year.
For the first time ever, the S&P 500 is set to end every single month of a calendar year with a gain.
It came very close three times: in 1958, 1995, and 2006, when it had 11 up months. The worst year was 1974, when it was positive in only one month.
There was no shortage of news this year to deter the bull market, from the threat of nuclear war to unending warnings that the stocks are too expensive.
Yet here we are. In February, the S&P 500 was already trading at the average point that Wall Street analysts had forecast for the year-end — 2,364. It closed at 2,687 on Thursday, on track for a 20% gain this year which would be the highest since 2011.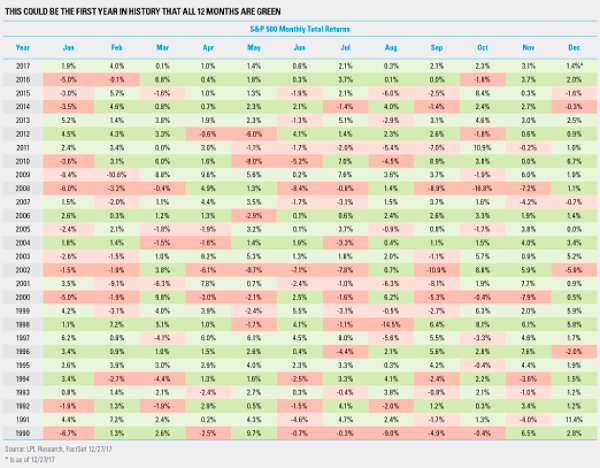 LPL Financial
It wasn't only the US stock market that had an impressive. Almost every major equity index will finish positive for 2017. That's unsurprising, given that for the first time in a decade, all 45 economies under the Organisation for Economic Cooperation and Development (OECD) were growing.
US companies, especially in the energy sector, pulled further away from an earnings recession that lasted from Q2 2015 through Q3 2016. They're now on track for the best year of earnings per share growth since 2011.
And then there's President Donald Trump, who has repeatedly taken credit for the rally.
It's not 100% his for all the reasons listed above and the fact that the bull market was going seven years strong before he was elected. But the prospect of tax cuts did boost investor sentiment. For some time, it supported the highly-taxed companies that would benefit the most from cuts. And, many analysts forecast that it will be an earnings booster in 2018.
Some of them also think the best of this party is over. Morgan Stanley, for example, is still bullish, but predicts that next year won't be as easy. As stocks made ever-increasing highs, the CBOE's volatility index plummeted to a historic low.
"After a very painful slide in volatility for many traders looking for a rise the past several years, we have finally reached a point where betting on higher volatility will pay off," said Mike Wilson, the chief US equity strategist at Morgan Stanley, in a note. NOW WATCH: Here's what bitcoin futures could mean for the price of bitcoin