A Statistic in Need of a Baseline: A Trillion-Calorie Reduction?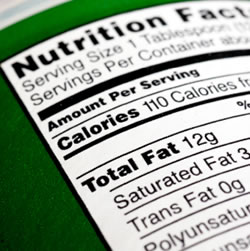 I have complained before of the Obama Administration's use of a "policy extended" rather than current-law budget baseline against which to evaluate the costs of their budgetary proposals.  Measured against the CBO-official, current-law baseline, the President's proposals add nearly $4 trillion to the ten-year deficit–increasing the deficit from $6.0 trillion to $9.8 trillion, or more than 60 percent.  Measured against the Obama Administration's "policy extended" baseline where all the Bush tax cuts are extended permanently (and entirely deficit financed, of course), the Administration shows they reduce the ten-year deficit by over $2 trillion–decreasing the deficit from $10.6 trillion to $8.5 trillion, or nearly 20 percent.
Baselines matter.  And not just to budget geeks or other people who care about budget rules and the pay-as-you-go (PAYGO) standard (with many exemptions, of course).  But they matter to ordinary people, too, to provide perspective on what exactly is being changed and how large or small the change is (and how good or bad).
That's why when I read this story in the Washington Post on Tuesday about the First Lady's fight against childhood obesity and getting food manufacturers to commit to reducing the calorie content of their foods, I heard myself screaming:  "but what is the baseline?!… and is this big or small, and good or bad?!"  I mean, what the heck does a trillion or a trillion and a half calories mean?… Key points from the article, that yet do not help me understand how significant this is (emphasis added):
In a direct response to Michelle Obama's declared war on childhood obesity, an alliance of major food manufacturers on Monday pledged to introduce new, more healthful options, cut portion sizes and trim calories in existing products.
The Healthy Weight Commitment Foundation, a coalition including Campbell Soup, Coca-Cola, General Mills, Kellogg, Kraft Foods and PepsiCo, will slash 1 trillion calories by the end of 2012 and 1.5 trillion calories by the end of 2015. The 16 members make 20-25 percent of food consumed in the United States…
Missing from the announcement were any specifics on the new products or cuts that will be made to existing items. But White House officials stressed that the companies will be held accountable. Each year, their progress will be assessed by the Partnership for a Healthier America, a nonpartisan organization for which the first lady serves as honorary chair. If any one of the companies doesn't meet its target, all of the companies will be held responsible, White House sources said. The Robert Wood Johnson Foundation, a nonprofit dedicated to improve Americans' health, also will track the effort's impact on childhood obesity. A first report is tentatively slated for 2013.
"What the White House is doing is consistent and relentless," said Marion Nestle, a professor of nutrition at New York University and a frequent critic of the food industry. "The food companies are having their feet held to the fire for making kids fat. That's awkward. And it is not good for business."
Eliminating 1.5 trillion calories sounds like a lot. But can it help turn the tide on obesity?
A spokesman for the Healthy Weight Commitment Foundation was unable to put the number in context. Instead, he said the number is designed to eliminate the "energy gap" — the number of calories consumed that are not expended through physical activity. Recent research estimates that gap is approximately 100 calories per day per person, and less for teenagers and children.
Hmmm…. sounds like the First Lady is trying to eliminate the "unsustainable" part of calories (the "energy gap") just like her husband's trying to eliminate–with the help of his fiscal commission, that is–the "unsustainable" part of the budget deficit (the part that exceeds growth in the economy). 


But I still find myself asking (like any well-conditioned budget policy analyst would) "a trillion-calorie reduction relative to what?–and spread over how many foods or people?–and over what kinds of people?"…  How do we evaluate the success of this calorie-reduction portion of the overall campaign to reduce childhood obesity?