Sophie, not Justin, will spend the evening with Barack: Six things to know about the Trudeau White House party
U.S. President Barack Obama entered office with a vow to only host two state dinners per year—a record low since Harry Truman. Which makes it all the more nice that he's giving one of the last ones to Canada. Foreign Affairs Minister Stephane Dion promised that the dinner will allow Canada and the United States to make a strong statement about the environment, but really, there's just going to be lamb chops, a bunch of toasts mentioning "shared values" and a whole lot of Americans bothering Justin Trudeau with anecdotes about his dad. Here are some little-known details about Wednesday night's "grand affair."
Canada is the smallest country since Ghana to get a state dinner
Here's a shortlist of the countries that usually get state dinners: China, India, Germany, France, United Kingdom. They're either big consequential places or, like Kenya and the Czech Republic, they're countries who are steering into a watershed moment in their history and are cementing their new friendship with the United States with some steak and champagne. Canada is neither of those things. Rather, we're kind of like Mexico or the Philippines (a former U.S. protectorate); we're family, so it's only fair that we see each other for dinner every couple of decades. If Canada was not literally next door to the United States, rest assured that our peaceful subarctic nation of 35 million would only get a special White House party about once per century.
Canadians are easy
According to the White House's official website, state dinners take a minimum of six months to prepare. Translators need to be arranged, social secretaries need to round up celebrities the head of state might recognize (Czech leader Vaclav Havel weirdly requested Lou Reed) and protocol experts need to negotiate a minefield of potential insults. Just the menu is a headache: You can't serve beef to the Indian delegation, it's taboo to serve salmon to the Japanese and Italian Prime Minister Silvio Berlusconi, annoyingly, refused to eat anything containing onions or tomatoes. But Canadians? They speak English, they eat whatever and nobody in Washington is going to rip up their invitation to protest "Canadian despotism." Plus, those plucky Canucks are always happy to be there. It's why this state dinner only took four months to throw together and—truth be told—that might be the primary reason Trudeau got the invite.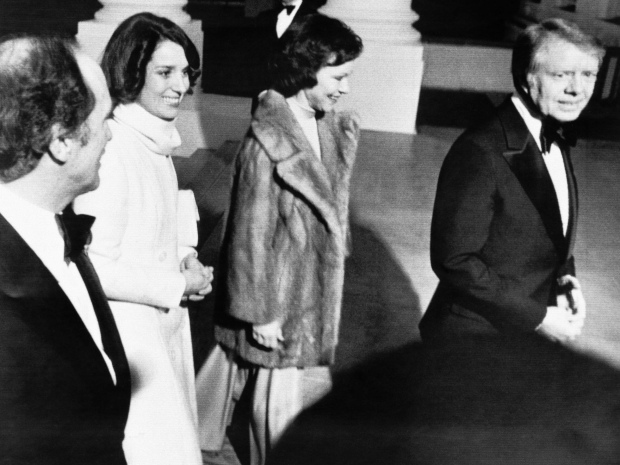 AP File PhotoU.S. president Jimmy Carter and his wife Rosalynn welcome Pierre and Margaret Trudeau to a 1977 state dinner. Dinner conversation reportedly involved the breezy topic of Quebec secession.
Everyone in Canada is related
Americans could be forgiven for coming away from these affairs with the notion that Canada is a tiny, incestuous small town. When Jean Chretien was feted with a state dinner in 1997, he brought along Canada's Washington ambassador, who just happened to be his nephew Raymond (and who had the same wacky Shawinigan accent to prove it). This new Canadian Prime Minister? He's the son of the balding Prime Minister from the 1970s. The Inuk fisheries minister with him? He's the cousin of the Inuk guy who played for the Nashville Predators. And one of the veteran CBC reporters who could very well be helping to cover this grand affair? Neil MacDonald, whose brother Norm was the nasally Canadian on Saturday Night Live.
Sophie, not Justin, is spending the evening with Barack
As per protocol, the respective leaders will swap spouses for the night: Justin will sit next to Michelle and Sophie will sit next to Barack. It's rules like this that gave Trudeau's mother Margaret a fair amount of conversational time with the movers and shakers of the era—and following her divorce from Pierre she famously went on the interview circuit to tell the world exactly what she thought of them. She caught Prince Charles staring down her dress. Richard Nixon was a negligent husband. The French—all of the French—were insufferable. It's not known whether this family history might keep the Obamas unusually guarded.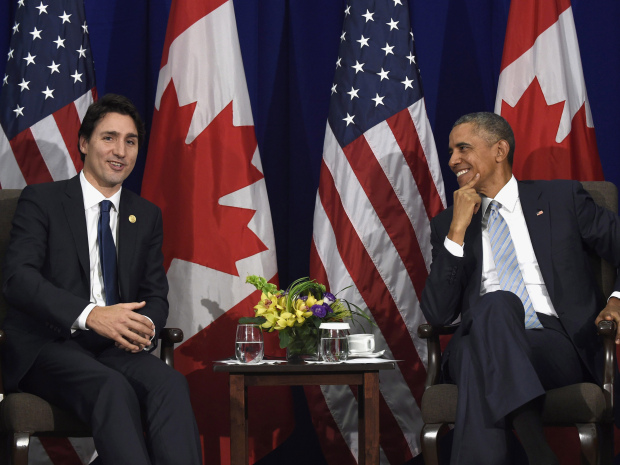 Associated Press FileCanadian Prime Minister Justin Trudeau and U.S. President Barack Obama at a brief November meeting in Manila, Phillippines. Wednesday night's affair will feature fancier clothes and more maple-themed food.
It's not technically a "state dinner."
State dinner, notes the White House blog, are "grand affairs hosted by the President to welcome a visiting head of state." But since Trudeau isn't showing up to Washington with the Queen in tow, the only person technically being feted by Barack Obama Wednesday night is Canada's head of government. But Americans get understandably confused when anybody tries to bring up Constitutional Monarchy with them, so Canada is politely overlooking that part.
Don't do or say anything
Speaking of the Queen, one of Queen Elizabeth II's hardest jobs is keeping her mouth shut about politics. The United Kingdom could elect a Prime Minister named Jesus Elvis and she'd have to give him a polite weekly audience all the same. Justin Trudeau is in a similar fix in Washington. The country is currently embroiled in one of the bitterest elections, and the whole course of Canadian history could be changed if he accidentally pisses off one of the future presidents on offer. This week, Jean Chretien advised his Liberal successor not to do anything: Don't smile too much. Don't joke. Don't say the "T" word. "My advice would be to be very careful – it's not just words, but everything," Chretien told the Canadian Press. Chretien should know. At a North American summit in 2001, he joked to George W. Bush that he would serve him P.E.I. potatoes (which were banned in the U.S. at the time). Bush retaliated by immediately inviting Mexican president Vincente Fox for a state dinner (the Canadian was not invited).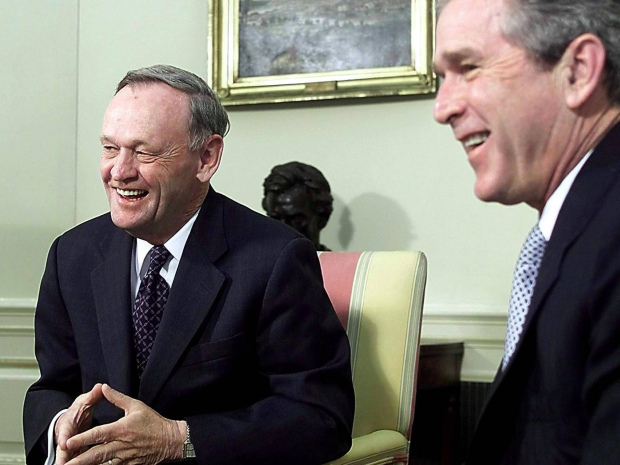 AFPChretien: Don't do anything to piss off the Americans.
National Post
• Email: thopper@nationalpost.com | Twitter: TristinHopper