Skeptics are wrong to bet against shale expansion
Skeptics are too quick to dismiss the potential expansion of horizontal drilling and hydraulic fracturing to other shale areas in the United States and around the world.
Based on early setbacks and the slow rate of progress outside Bakken and Eagle Ford, they doubt whether the revolution can be replicated. But shale entrepreneurs are investing heavily to prove them wrong.
So far, the North American shale revolution has been confined to two states, Texas and North Dakota, at least as far as oil is concerned.
U.S. crude output has jumped by 2.2 million barrels per day (bpd) since 2008, the biggest five-year increase since 1970 and the fastest two-year increase in history.
But Texas, where production is up 1.469 million bpd, and North Dakota, where production has risen 671,000 bpd, account for virtually all the increase.
Other states including Oklahoma, New Mexico, Colorado, Utah, Wyoming and Kansas have achieved marginal production increases totalling 400,000 bpd, but the rise has been offset by falling output from California, Alaska and offshore fields in the Gulf of Mexico.
The U.S. Energy Information Administration (EIA) has identified 22 potential shale oil and gas prospects, known as plays, across the continental United States, but so far all the increase in oil production has come from just three: the Bakken in North Dakota, and the Permian and Eagle Ford in Texas.
Substantial amounts of gas are being produced from a number of other formations, including the Barnett in Texas and the Marcellus in the U.S. Northeast, but oil production remains confined to fairly small areas of south and west Texas as well as North Dakota.
No significant quantities of either oil or gas have been produced from shale anywhere outside the United States. Small-scale drilling programmes in Poland and China have proved disappointing. Only a handful of exploratory wells have been drilled in the UK, Argentina and other countries identified as having potentially substantial shale resources by the EIA.
Shale sceptics question whether the regulatory and geological conditions which underpinned successful production in the Bakken, Permian and Eagle Ford areas are replicated elsewhere. If those conditions are unusual, they say it may be hard to transfer the revolution to other parts of the United States, let alone internationally.
Drilling in other parts of the United States has yielded very low flow rates for crude and liquids, adding to the pessimism, and causing major companies like Shell as well as niche shale specialists like Chesapeake and SandRidge to scale back their drilling programmes in more speculative frontier areas.
WIDE VARIETY
Despite the disappointing results outside Texas and North Dakota, sceptics may be being too quick to write off the potential for new Bakken, Permian and Eagle Ford-sized plays elsewhere in the United States and internationally.
Shale plays are enormously variable. The term "shale" is applied to a wide range of different rock types that differ in terms of porosity, organic content, thermal maturity, formation thickness, buried depth, the pressure on them, and susceptibility to fracturing.
Fracturing operations must be tailored to the specific play to optimise flow rates. The length of the horizontal wells, the number of fracturing stages, the amount of pressure applied, the chemicals used in the fracking fluid, and the spacing of the wells must all be customised.
Some lessons learned in one shale play can be applied in others. But in practice much of the know-how can only be achieved through experience operating in the specific play, "learning by doing".
In most instances, dozens or even hundreds of wells need to be drilled to acquire the necessary experience and prove the potential of the play.
PATIENCE REWARDED
Developing a successful new shale play can take years. The Bakken, Eagle Ford and Permian plays, as well as gas plays like Barnett, have all taken many years to reach production maturity.
Fracking operations began in the Bakken around 2005. Initially, however, drilling and output increased only very slowly.
The number of wells drilled into North Dakota's Bakken, Sarnish and Threeforks formations climbed from 219 at the end of 2005 to just 834 by the end of 2008, before leaping to 5,047 by the of 2012. Output grew from 4,000 bpd in December 2005 to 112,000 by December 2008 and then surged to 704,000 by December 2012.
Most of the sceptics who currently doubt whether the shale revolution can be replicated outside Texas and North Dakota were also very sceptical about whether it would really work in those states, and have been repeatedly proved wrong.
They underestimate the perseverance needed to make a new shale play work. George Mitchell's role in pioneering shale gas production is rapidly becoming a modern parable, but the technologies he employed had been around for decades. Fracking has been around since the 1940s and 1950s. Horizontal drilling is even older but has been in widespread use since the 1980s.
Mitchell's obsessive genius was to keep trying them for more than a decade until he figured out how they could be made to work successfully in the conditions that occurred in the play, ignoring the sceptics who said it would never work. Harold Hamm's Continental Resources has played a similar role developing the Bakken and now dominates the play.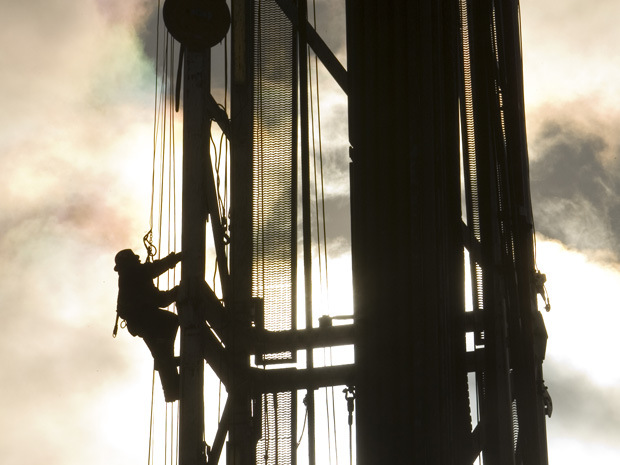 Courtesy Nexen
THE NEXT BIG PLAY?
Continental is investing heavily in part of the Woodford shale it has dubbed the South Central Oklahoma Oil Province (SCOOP).
SCOOP is a "world class resource shale" according to Continental and an "excellent siliceous and highly fractured reservoir". Production has already increased more than 400 percent since the end of 2012, according to Continental's October 2013 investor presentation on its website.
Not all shale plays will prove successful or easy to develop. Some will be failures. Some will require very different approaches to drilling and fracturing the reservoir rocks.
But it would be wrong to focus on the setbacks and failures to write off the potential to develop new shale provinces. If Mitchell and Hamm had given up in the face of initial difficulties, the Bakken, Barnett, Marcellus and Eagle Ford would not exist today.
In a report published in June 2013, the EIA identified and assessed more than 150 potentially oil and gas-bearing shale formations around the world (including 137 formations in 41 countries outside the United States) and concluded shale oil and gas resources were "globally abundant".
Even if only six to twelve are put into production and prove as high-yielding as the Bakken, Eagle Ford, Barnett and Marcellus, it would have a globally significant impact on oil and gas supplies.
For that reason, the skeptics are wrong to bet against the technology's long-term transformational impact.
© Thomson Reuters 2013