SIR #7: Oil, Coal and Natural Gas Master Limited Partnerships (MLPs) – Attractive Yield or Dangerous Bubble?
This report was sent to subscribers on October 20, 2010.  Join our free mailing list to receive this actionable info 48 hours before the public…
EXECUTIVE SUMMARY: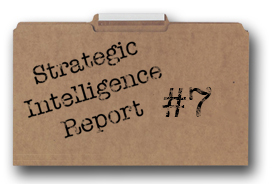 • Investors are bidding up prices of MLPs as generous distributions compare favorably to low fixed income yields.
• MLP prices have increased significantly over the past several months, but bulls can still make a compelling valuation case.
• Rising interest rates could dramatically change the landscape for MLP investors.

• Three MLP investments could offer opportunity to employ excess trading capital:
Energy Transfer Partners (ETP)
Enterprise Product Partners (EPD)
Penn Virginia Resource Partners (PVR)
~~~~~~~~~~~~~~~~~~~~~~~~~~~~~~~~~~~~~~~~~~~~~~~
Over the past two years, the Federal Reserve has focused heavily on reducing interest rates in an attempt to stimulate economic growth.  The result has been a dramatic decline in yield for securities ranging from treasuries, to traditional corporate bonds, to high-yield or "junk" bonds, and even for dividend paying equities.
Unfortunately, many investors who rely on fixed income to generate necessary cash flow are finding it difficult to find attractive yield investments without accepting significant risk.  As yield-hungry investors continue to scour the market for cash flow, shares of MLPs (Master Limited Partnerships) have attracted a significant amount of capital.  The appeal is that many MLPs feature stable earnings and distribute yields between 5% and 8% annualized.
Buyers have pushed prices of these securities significantly higher — but are there still opportunities to capture gains and generate income?
The MLP Structure
Master Limited Partnerships have some interesting and attractive features.  Most MLPs operate in the energy industry (with a heavy focus on natural gas), and the companies generate cash flow through one of three categories:
Upstream partnerships are engaged in exploration and production of energy assets
Midstream partnerships handle the gathering, transportation, and storage of assets
Downstream partnerships are active in the refining and marketing businesses
Since the midstream partnerships are much less sensitive to the price of natural gas or oil (these businesses typically generate cash flow based on the volume of product and the distance of transfer), the cash flows are typically much more predictable.  That has led to an industry practice of paying out healthy distributions to "unitholders" or investors.
MLPs feature tax advantages for typical investors because distributions are broken into two categories:
A portion of each distribution is considered taxable income
Part of each distribution is characterized as "return of capital"
This means that for many investors, the tax-adjusted yield far exceeds the fully taxed yield they might receive from a competing security.
But the tax consequences have a less attractive side too…  MLPs can cause accounting headaches when held in a tax deferred or tax exempt account such as an IRA or pension.  While there is no legal restriction against holding these securities in a "qualified" account, many pension or retirement managers simply choose not to be involved because of the accounting complexity.
This means that a significant portion of typical investment capital is not pursuing opportunities in MLP investments – which may help to explain the attractive yield characteristics for much of the industry.
Risk versus Potential Return
Although the relatively high yields and stable cash flows are expected to offer stability to the majority of MLP securities, there are some significant risks associated with the industry which should be considered before accepting the yield at face value.
First, most MLP stocks have rallied significantly over the summer.  This is largely a function of investors chasing yield and looking for safe vehicles that still offer something in the way of total return.  Buying extended patterns always entails a certain degree of risk even if the fundamentals warrant such a rise.  Because of the 20% to 30% price move in many of these vehicles, vulnerabilities to the second risk category become even more pronounced…
The second and possibly more important risk factor is that of rising interest rates.  Now, conventional wisdom points to an extended period of low rates as the Fed artificially holds yields lower in order to stimulate risk taking and economic growth.  But keep in mind that the current prices for MLP securities are higher as a direct result of these low rates in other asset classes.
Much of the easy policy environment may already be priced into the securities and, at this point, even the expectation of future rate increases could cause capital to leave the sector in search of higher-yielding assets.  If the velocity of money is successfully kick-started, we could see inflation ramp quite quickly — and interest rates adjusted accordingly.
With any high-yielding security, investors need to continually monitor the rate environment!
Still, at the present juncture, a few MLP securities appear to offer attractive opportunities for traders to park a portion of cash balances with the benefit of capturing an attractive yield.  The best MLPs should continue to generate capital appreciation as earnings grow and infrastructure is built out.
Here are the three MLPs that we believe have the best prospects for total return…
Energy Transfer Partners (ETP)


• Wide assortment of pipeline assets spanning six states in the western US.
• Actively expanding portfolio to capture market share in key producing areas.
• Dividend yield of 7.2% with a stable payout for 10 consecutive quarters.
• Retail propane business offers additional diversity and revenue growth.
Energy Transfer Partners operates roughly 17,500 miles of natural gas pipelines connecting producers to end markets across the western United States.  With operations in six states (Arizona, Colorado, Louisiana, New Mexico, Utah and Texas), the company can offer producers a number of different options when terms of end markets – which gives ETP a significant competitive advantage.
Rather than simply collecting royalties for its existing properties, management is actively expanding ETP's footprint, connecting new fields to its massive network and in turn generating new sources of revenue.  The company's most recent investor presentation noted an additional 360 miles of 42-inch pipe, which is expected to be in service early next year.
Additionally, on Monday (October 18th 2010) ETP announced additional agreements with shippers, which will require the company to construct two additional pipelines adding another 133 miles of pipe and eventually increasing capacity by 700 million cubic feet per day.  The first pipeline should be in place by the end of the year, while the second will be operational in Q2, 2011 with additional capacity added later in the year.
Attractive Yield, Liquidity for growth
The company currently pays a distribution of $0.894 per unit each quarter, and has kept the distribution steady for the last 10 consecutive quarters.  The distribution equates to a 7.2% yield which is very competitive within the MLP sector.  The company shouldn't have any trouble maintaining this yield as ETP has significant available cash and access to $1.95 billion in credit.
Management has successfully raised $1.4 billion over the last 12 months, which is available to fund growth opportunities such as the projects announced on Wednesday.  And on top of all the liquidity, the company produces significant profits with the first half of 2010 generating $841.5 million in EBITDA.
The company's long-term growth prospects make a good case for the robust, but acceptable, PE of 19.6 (using 2011 estimates of $2.55 per share).  Earnings from the natural gas transportation business are relatively stable as the demand for natural gas continues to be strong (even if the price declines due to over-supply).
On top of the pipeline earnings, ETP also operates a healthy propane business covering 41 states and roughly 1.2 million customers.  The "bulk" propane business enjoys healthy margins, and with a client base spread out across the entire US, revenue is somewhat hedged against isolated weather patterns.
While distributions have been steady for the past 10 quarters, dividends have actually grown by an annualized 13% since the fourth quarter of 2005.  Management has been plugging cash into accretive growth opportunities for the last several quarters, but we wouldn't be surprised to see an increase in payout sometime in the next four quarters.
If management increased the payout by 10% in the next few quarters, and investors bid the price up to a point where the dividend yield was just 5.5%, we could easily see the stock trading above $70.  That would represent more than a 40% increase from the current price, along with the income for holding the units during the period.  So while the risk of higher rates should still be considered, ETP could very well have much farther to trade.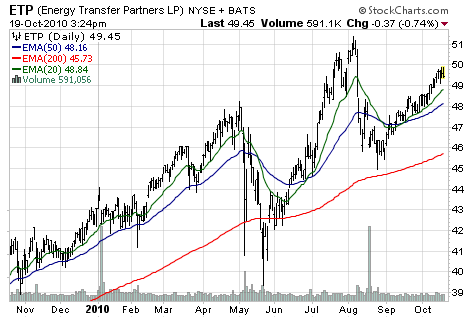 Enterprise Products Partners (EPD)


• The largest publicly traded energy partnership with an integrated network connecting producers from the US, Canada, and the Gulf of Mexico.
• More than 41,000 miles of onshore and offshore pipelines.
• Impeccable history of increasing cash distributions to investors.
• Sound financial position to fund long-term growth.
While Energy Transfer Partners could be considered the dominant player in the western US, Enterprise Products Partners is the strongest competitor in the mid-west and eastern North American market.  The company manages more than 41,000 miles of oil and natural gas pipelines, owns 200 million barrels of NGL, crude oil and refined product storage capacity, and manages 25 natural gas processing plants and 6 offshore hub platforms.
EPD may be the largest publicly traded MLP, but the company is still focused on growth.  Over the past 12 years, management has set aside 16% of distributable cash flow to fund new growth initiatives.  Since management owns roughly a third of the giant partnership, they have a vested interest in reinvesting for long-term growth.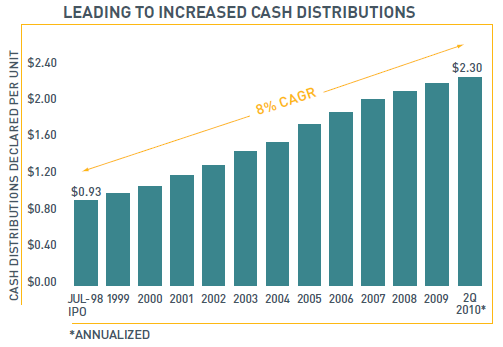 But that doesn't mean investors are forced to deal with sub-par distributions.  Since the company came public in July of 1998, cash distributions per unit have grown by 8% annually and have reached an annualized level of $2.30 per share – good for a 5.5% yield.
The yield may be a bit lighter than other MLPs, but with the strong growth trajectory and diversified business, the investment still looks attractive.
Strong Earnings and Manageable Debt
EPD has a history of strong cash flow which not only funds growth projects but is also distributed to unitholders.  From 2007 through 2009, distributable cash flow increased from $1.0 billion to 1.6 billion and is on track to reach $2.2 billion in 2010.
The company currently has debt of roughly $10.4 billion, compared to total assets of more than $28 billion.  While debt certainly adds some risk to the situation, the resulting growth has benefited unitholders and considering the profitability of EPD's assets, the debt level is more than manageable.
Trading Opportunities
EPD is currently trading at a PE of 21.3 using 2011 expectations.  The multiple appears reasonable given the historical growth and the capital management has put into future growth projects.  However, with the stock up more than 30% on the year and trading near a 52 week high, there is certainly a risk of a pullback in the share price.
Traders could put EPD on the watch list and look for an opportunity to buy shares on a pullback. Another approach may be to buy the stock at its current price and sell the March $42 calls, which are currently offered near $1.10.  Selling the calls would obviously cap future profits, but would also add  roughly 5.3% annualized to the total return.
With a commanding presence and a growing geographic footprint, EPD appears to be a strong growth investment with an attractive yield attached.  Picking inflection points or hedging against potential losses is likely the best way to play this energy titan.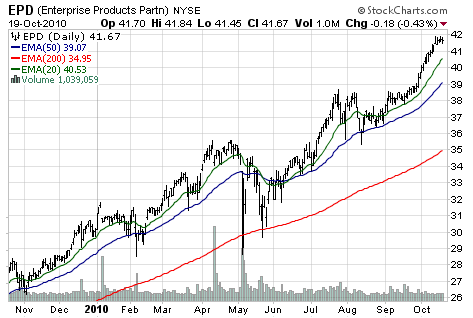 Penn Virginia Resource Partners LP (PVR)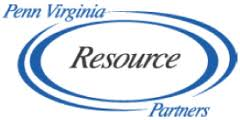 • Diversified base of both coal and natural gas assets.
• Coal royalties create income without expense or liability of mining operations.
• 4,118 miles of pipeline combined with 6 processing facilities.
• Attractive dividend yield of 7.3%.
Penn Virginia Resource Partners is a smaller niche MLP with some very attractive characteristics. PVR has significant assets in both coal as well as natural gas resources which allows the company to diversify its revenue stream.
But rather than engaging in the traditional coal mining business, PVR has elected to take the royalty approach where the company leases its property to mining companies and receives payments based on the coal production.  PVR is currently sitting on roughly 829 million tons of high quality coal reserves.
The majority of contracts with operators allows Penn Virginia to receive the greater of:
a percentage of coal sales, OR
a fix price per ton.
This allows the company to participate when prices surge, but still shelters the company from risk when the price of coal drops.
Natural Gas Pipeline
Although PVR's footprint is much smaller than that of ETP or EPD, the company does operate eight different pipeline systems with a total of 4,118 miles in service.  The system averaged 332 million cubic feet per day in 2009 and has the capacity to process up to 400 million cubic feet.
Additionally, PVR owns six processing centers and the company is focusing on reducing exposure to natural gas prices and moving towards fee-based business.  This will create a more stable cash-flow position and will likely benefit the share price as investors become more confident in the stability of distributions.
Speaking of distributions, PVR continues to increase its distribution level each year and is likely to increase its yield again in 2010 to keep the "bragging rights."  Unitholders currently receive a 7.3% yield and that number will obviously improve with a stationary unit price and an increase in the quarterly payout.
Growth through Equity and Conservative Debt
Management has committed to financing growth evenly through equity as well as debt.  At this point the company has $647 million in debt compared to a total capitalization of $1.1 billion.  The company has access to another $500 million through a revolving credit line and plenty of cash flow to service the interest costs while still paying distributions.
With the stability of both the coal AND natural gas resources, PVR should be able to continue to grow its level of distributions while still investing in future growth prospects.  As the US demand for electricity continues to grow, PVR is positioned to benefit from increased velocity of natural gas, along with the stability of legacy coal assets.
If the company is able to grow distributions by just 5% over the next year, and investors bid the stock to the equivalent of a 5.5% yield, the unit price would approach $35.90 – good for another 39% run from current levels.  This sort of transition could easily take place over the course of 12 months, but in the mean time, investors will likely be paid close to 7.5% on current capital (assuming an increase in distributions) while they wait for capital gains to accumulate.
Given the stability of Penn Virginia's business, the opportunity looks very attractive.