Simon Johnson and James Kwak on Learning – or Not – from the Past
I've been reading some history, from Simon Johnson and James Kwak's new book, White House Burning. And it strikes me how ahistorical (or just plain ignorant of history) so many of the prescriptions for fixing up the economy are. For instance, the tax cutting ideology of today is merely a recapitulation of what has caused America to come to grief at the Nation's birth.
From White House Burning, on the lead-up to the War of 1812:
... the War Hawks were ideologically and politically opposed to taxes—particularly the excise (internal trade) taxes that Gallatin wanted to impose. As the party of small government, the Democratic-Republicans believed that higher tax revenues constituted a threat to individuals' and states' rights. Perhaps more importantly, they feared that raising taxes to fight a war could hurt them at the ballot box. ...
Hampered by Congress's reluctance to raise taxes, the Treasury Department struggled to pay for soldiers in the field and ships at sea. ... Congress finally agreed to impose excise taxes in 1813, but it was too late to build up a world-class military. ... In August 1814, British forces sailed into Patuxent. ... The soldiers marched overland ... and eventually reached Washington, where they encountered little resistance. On the night of August 24, they burned the Capitol, the Treasury Building, and the White House ..." (pages 3-4)
So when I see the Ryan Plan promising a balanced budget with all Federal spending (excluding Medicare, Medicaid and Social Security) equaling 3.75 percentage points of GDP in 2050, all I can say is we deserve what we get if we go down that path. (As an aside, here's a cautionary tale of military disaster avoided by deferring tax cuts, from the Classical Age.)
White House Burning is an excellent explication of how sheer ignorance of history (not to mention economics) can lead to policy prescriptions sure to lead to disaster. At the same time, Johnson and Kwak do not engage in indiscriminate fear mongering. In particular, they understand that the US is not in currently running headlong into an instant replay of Greece. In particular:
... As a matter of logic, the United States is not immune to fiscal crises at some point, if the debt is big enough, the deficit is high enough, and the chances of reducing the deficit appear slim enough, we could go the way of Greece. It probably isn't anytime soon. But no one knows when it could happen.
No one knows because there is no other country in the world quite like the United States – and there never has been one, either, for several reasons. Two centuries of fiscal responsibility count for something. So do a generally healthy economy and the ability to borrow money in our own currency ... But what really matter are our unique status as the world's safe haven in a financial storm and the dollar's unique status as the world's reserve currency. (pages 153-54)
Difficulties in arranging debt limit increases and the refusal by certain policymakers to raise taxes are of course fast eroding the reputation for fiscal responsibility, but for now we retain reserve currency status and the ability to borrow in our own currency. (For more on the dollar as an international currency, see here and here).
One thing I have learned about writing books (as opposed to articles) is that the enterprise is fraught with hazards, since the last word is written long before the book comes out – but in this case, one of the last sentences sticks in my mind, as certain individuals call for military action against Iran.
In 1812, the Democratic-Republican majority in congress pushed for war with Great Britain yet was unwilling to raise taxes enough to pay for it. . . .
We just started a war nine years ago, and then cut taxes. Will we do it again?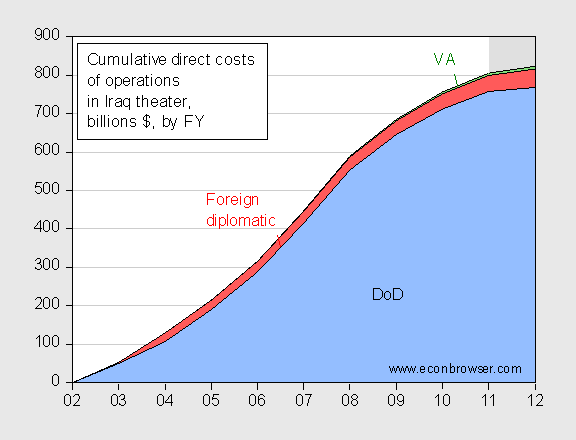 Figure 1: Cumulative direct costs, in current dollars by fiscal year, in the Iraq theater of operations ("Operation Iraqi Freedom"). Does not include resulting debt service. Source: Amy Belasco, "The Cost of Iraq, Afghanistan, and Other
Global War on Terror Operations Since 9/11," RL33110, Congressional Research Service, March 29, 2011, Table 3. Data for FY2011 is for continuing resolution, for 2012 is Administration FY2012 request.
By the way, the words "Veterans Affairs" never shows up in the Ryan plan. So much for caring for our men and women who served in uniform. (More on the Ryan plan and scoring thereof here).
As Jeffry Frieden and I stated in Lost Decades:
[T]rue fiscal responsibility involves a willingness to raise sufficient tax revenue, over the longer term, to pay for the programs the government implements. Fiscal responsibility should not be equated with a small government, but rather with a commitment to pay for the government services provided. ...
... If the nation affirms that enhancing national defense and improving health care for the poor are legitimate goals, fiscal responsibility entails raising the revenue to fund these programs, rather than borrowing for them. (Chinn and Frieden, 2011, pp. 202-03.)